Historical Fiction
FICTION INDEX

Barrington Series

From the Ashes
Deena: Face of Fear
A Maid of Honor
Lady Comfrey and the Secret of Cambraige Castle
Lord Leister's Daring Rescue
Confederate Valentine
Deena: Face of Fear
A Season for Joy

Harlequin Series: A Proper Guardian,
     The Earl's Ward, The Lady's Hero

Click here for Barrington series: Historical Saga
---To Keep Faith
---Where Hope Abides
---Second Chance for Charity
---And Then There was Grace

Click here for more info or to purchase
FROM THE ASHES
Dawn thought she'd witnessed the worst of humankind during the War Between the States when she lost her home and most of her family. Mute from the horror of watching her sister defiled and murdered, Dawn, with the aid of her younger brother Caleb, leave the ashes of their once magnificent plantation home Fair Greens on a dangerous trek North to find their Uncle.
Dawn's only positive memories of that last day are those of the tall, broad shouldered Union Lieutenant who eased her sister's last moments.
But even in Boston things aren't what they seem and Dawn and her brother are forced, as orphans, to head West tor the Kansas plains. How can a loving God allow more horror into their lives? When Dawn discovers her Lieutenant, she wonders if even He can save them from what awaits?
Lieutenant Austin Andreeson hates the war. All he wants is to return to his Kansas home. Ever with him is the memory of the young woman who died in his arms asking him to take care of "Dawn." That he was unable to help Dawn then, haunts him.
When he finds Dawn in disparate need in his own home town, he can do nothing less than offer his protection. In the midst of threats, danger, attempted murder, and fire, will Dawn and Austin learn to trust God and each other enough to reveal the secrets of their hearts to find healing...and love?

FROM THE ASHES Amazon print edition
REVIEW
"From the Ashes" is a compelling book that pulls you immediately into the turbulent times of the Civil War. A war that was not just about slavery, but about State's rights and how it affected every way of life.
Author, Carolyn R. Scheidies takes us through the heartbreak and despair of two main characters, Dawn Taylor and Lt. Austin Andreeson and how fate has brought them together. Questioning God and her faith throughout this journey, Dawn realizes that it was she who left God and how he never left her.
As always, Carolyn's research into the smallest details provides for an educating as well as enjoyable read. --Cathie Yager, Wichita, KS

Click here for more info or to buy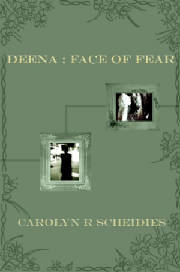 DEENA: FACE OF FEAR
The War of 1812 is over, Napoleon has been disposed, but not everyone is at peace.
Lady Deena Heyford discovers that on the death of her father, there is nothing left of the estate but a crumbling manor. Having no other options, Deena's solicitor and friend arranges to send her to America to her sister Lizzy who married a colonial many years earlier.
She is in for a shock. On her arrival at Three Oaks, she discovers Lizzy is dead. While Lizzy's young daughter accepts Deena, Lizzy's husband, and now guardian, does not want her around.
Deena is torn between frustration and anger, and her desire to trust that God knows what he is about.
Further, the more she learns about her sister, the more Deena suspects that there was more to her death than she has been told. Kyle won't listen to her suspicions--is it because he knows more than he's willing to say?
Will Deena discover the truth before she follows her sister in a dance with death?
Click here for the Kindle version of Deena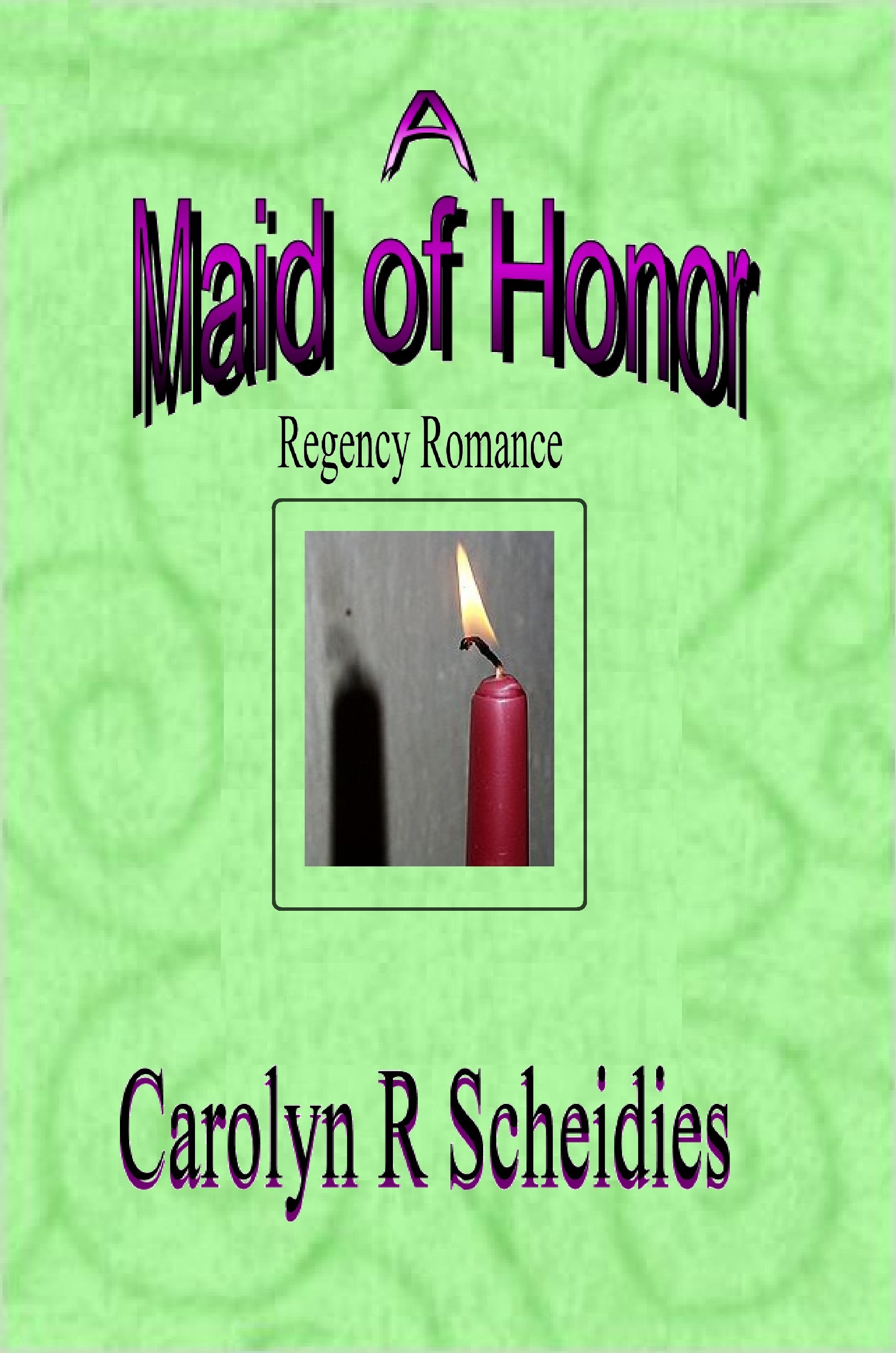 A Maid of Honor
An expanded, updated version of the Heartsong Presents novel MAID OF HONOR.
Regency England was a time of pleasure seeking for the upper classes. Damion, the Marquess of Provost fell into the profligate ways of his society after returning from the war in which he lost the ideals and faith of his youth. All that is left is cynicism and his image of his ideal wife, a wife he does not truly expect to find in London.

A riding accident left Catherine unable minister in northern England with her Preacher father. She is not sure what to expect when he sends her to live with her great Aunt Sofia. But Catherine finds a welcome with her aunt whose limitations keeps her from realizing the run-down condition of the estate. Catherine blames it on the absence of her distant cousin, Damion, and does what she can to alleviate the situation. But she can only do so much...

Bored with the fast life of the ton, the Marquess returns to his country estate with some of his fast friends, only to discover a vulnerable, yet fiery and opinionated, young woman established as his mother's companion. His glimpse of her purity, innocence and faith as well as their fiery encounters makes him question not only the behavior of his friends, but also his own. Most of all, he begins to question his standards for his ideal wife.

Click Cover for more information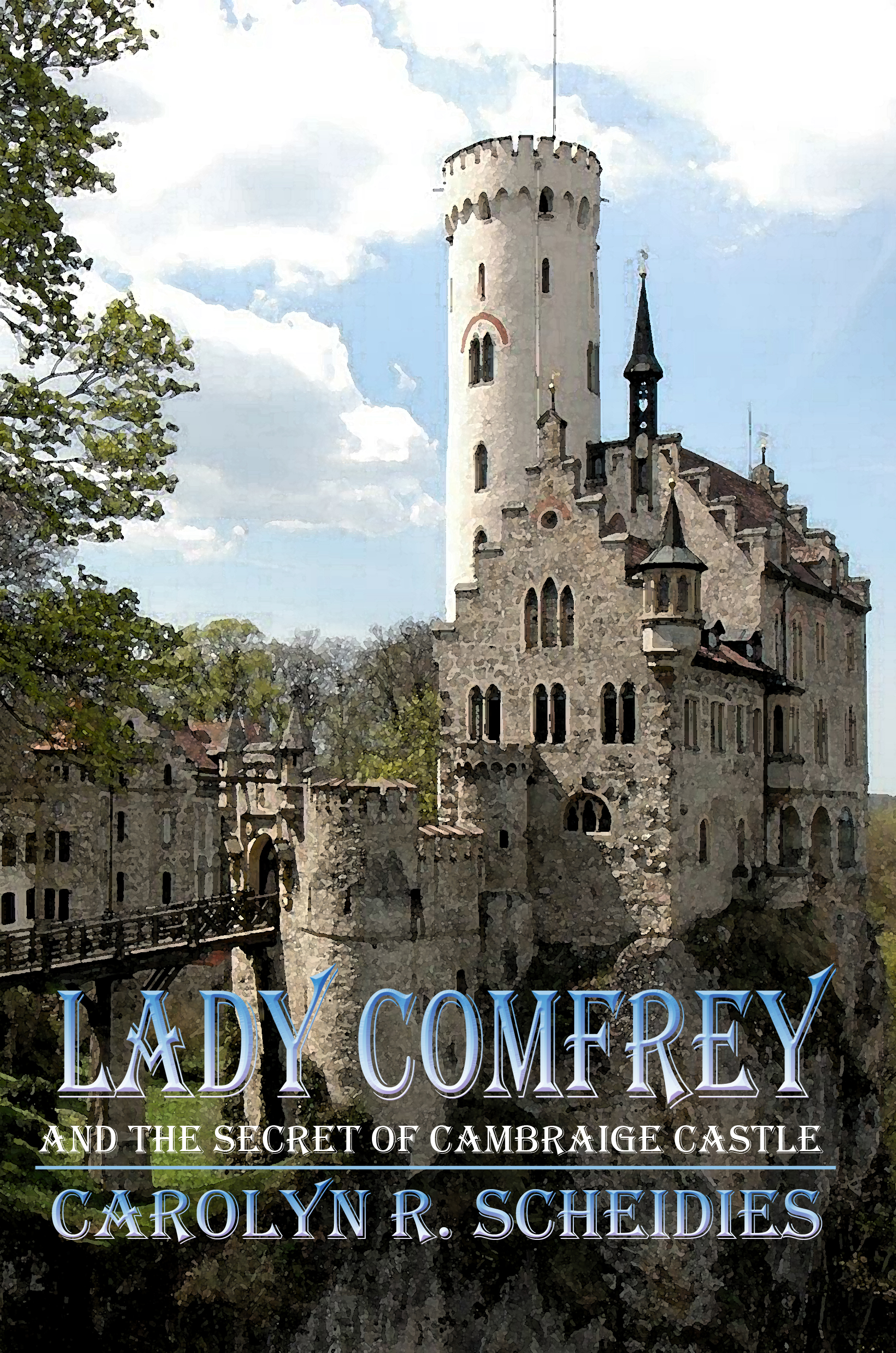 LADY COMFREY AND THE SECRET OF CAMBRAIGE CASTLE
Bitter and angry, Lady Laural Comfrey has every intention of discovering her father's murderer, and she is not about to forgive the man she believes responsible. Instead she uncovers a plot so bold it leaves her shaking and speechless. Torn between duty to her Savior, her King, and love, Laurel must find the courage to act on the horrific truth—maybe at the cost of all she holds most dear. *** A medieval tale of adventure, betrayal and love..

>>>Bonus story: LADY SIMONE'S SECRET Lady Simone's guardians intend to steal her future and her brother's inheritance. Simone eludes their grasp only to face even great danger when she is kidnapped and forced to serve aboard a ship heading for battle with the notorious Napoleon--a ship carrying military secrets. Somehow, Simone must find her brother, safeguard the secrets and defend the man who has stolen her heart. But at what price?

***An adventure on the high seas during the Napoleonic War.

Scheidies said, "This is a story of the consequences of secrets and hiding the truth, something many of us struggle with to one degree or another."

Click here for print trade version

LORD LEISTER'S DARING RESCUE
(Original Title: VENGEFUL FIANCEE)
Regency
From fear to faith.
God works all things out as we hang onto Him.
What people mean for harm, God can turn to good.
KINDLE VERSION COVER!
Click here for Amazon--more info or to purchase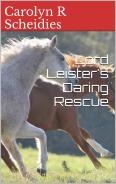 Click for more info on the print ed or to order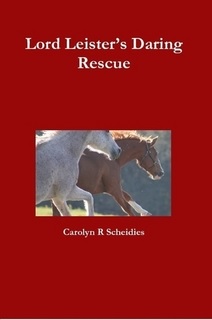 Regency England was a time Aristocracy favored arranged marriages, often without regard to the "illusive" emotion called love. But, when Leister rescues a young woman from a fire, he discovers love is much more than merely an illusion of the weak minded. Will the Earl and Kit's love and faith prove stronger than his fiancée's lies, family disapproval, scandal, jealousy, and separation? When his former fiancée kidnaps Kit, will he be able to rescue her before their secret is revealed? At what cost?
Review of original version
If you are enchanted with the England's Regency period, (this book) by Carolyn R Scheidies is a perfect book for you. It is a time when Aristocracy rules, a time of arranged marriages and life without love. VENGEFUL FIANCEE will keep you reading long after your bedtime. With its action-packed plot, realistic characters and authentic dialogue, readers also discover a twisted tale they will throughly enjoy.
Scheidies is a gifted writer with an insight into what snares readers. Grab a copy and pass it around to your friends, none of you will be disappointed by this author's easy flowing prose. If you love romance you will be delighted with this narrative. --Beverly J Scott author of RIGHTEOUS REVENGE and RUTH FEVER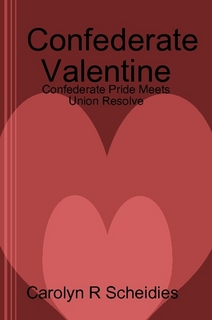 Kindle Cover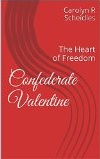 Click for more infor or to order
Confederate Valentine
The Heart of Freedom
Confederate Pride Meets Union Resolve
Inspirational Historical Romance
Left on her father's plantation with only her father's black manager Tom, his daughter and a young child, Sara is not sure whether to be more afraid of the Confederate soldiers who viewed her deceased father as a turncoat for freeing his slaves, or the Union soldiers who threaten to burn her out.

When the house is set ablaze, Sara discovers Tom has been harboring a wounded Union soldier, a soldier who carries her picture in a frame around his neck.

As Sara searches for answers, she finds herself ensnared in a diabolical plot that threatens not only her future, but her life.

When she is kidnapped Sara must decide whether to trust her fears, or her faith. Will her newly discovered love survive the choice?
Kindle version--different cover
Click to order CONFEDERATE VALENTINE pocket edition.
Click to order CONFEDERATE VALENTINE Trade Edition.

*
Click cover for more info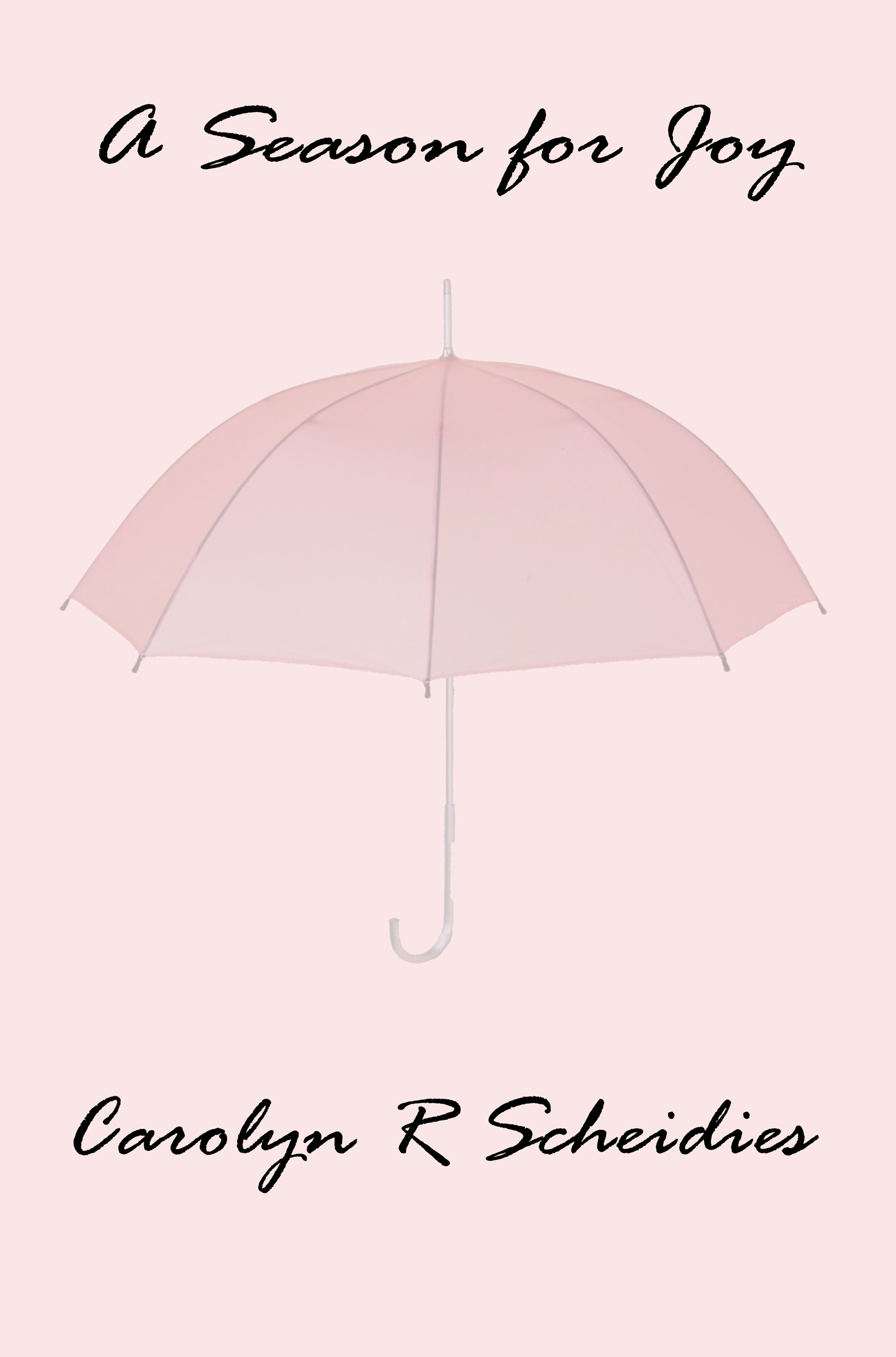 Click here for information on pocket & trade editions.
Click here to download first chapter of SEASON FOR JOY
Though she tried to hide it, never again did she feel safe even in her own bedchambers and each night after the maid departed, she carefully locked the doors. Always she associated that time of betrayal and mourning with Lord Bleim.
But that was years ago and now her parents talked of taking her to London for the season. The thought made her shiver, was it from anticipation...or fear? Under her covers, Chris closed her eyes and prayed.
Lady Christmas Joy DeVries arrives in London filled with anticipation of finding her knight in shining armor. She also brings along fear and a secret she has buried deep inside. Nevertheless, Chris is determined to forget her past, especially after losing her heart to the kindhearted, generous Dane, Lord Addingdoon. Though others warn her about keeping the truth from him, Chris cannot risk losing him.
However, her nemesis, Lord Bleim also takes in the season. When he threatens to tell Dane a twisted version of the truth, Chris must find a way to share her secret before she loses Dane forever. Or is it already too late?
A story of fear and betrayal, forgiveness, joy—and love.
A Proper Guardian
Harlequin Heartsong Presents
Regency Romance:
She was left her father's estate and was doing fine, "Thank you very much," until she discovers she has a guardian and he insists on a London Season.
Winter has no intention of being sold to the highest bidder, but can she keep her heart from warming to the guardian who has too many secrets for her peace of mind?
Click for go to the Amazon link of the book.
THE EARL'S WARD
Angella Denning needs a protector
After rescuing her from near ruin, the Earl of Lucashire dutifully takes in the vicar's orphaned daughter. But he discovers Angella is a beauty too lovely to ignore. Soon the rakish earl is falling for his innocent ward.
Despite his reputation, Angella has no choice but to place herself under the earl's protection. Even as she resists his charms, when he accepts her faith as his own, she finds herself drawn to him. But then a secret from his past threatens their growing bond. Is it possible her beloved protector is not the man she believes him to be?
Click for more info and an excerpt of THE EARL'S Ward
THE LADY'S HERO
The third in the Harlequin Heartsong Presents series is THE LADY'S HERO that continues the story from THE EARL'S WARD.
Is the man Betsy's been dreaming of and praying for all those years, really the man of her heart or does Edward have feet of clay?
Fun, romantic Regencies suitable for teens on up. Check FICTION for more information.

Many of my ebooks are in PDF format. Click here to learn how to download them to your Kindle.