Barrington Saga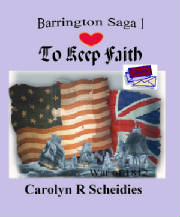 Click here for more info or to order print version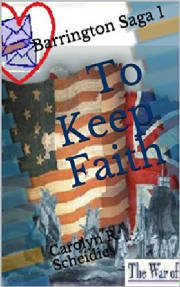 Click here for Kindle version
TO KEEP FAITH
Barrington Saga #1 War of 1812 Historical
If we trust God, He can weave something beautiful from the tangles of our lives and choices.
Forgiveness
God is good.
Spiritual healing
A sweeping story of war, betrayal, death, forgiveness... and love.
Amazon Review: TO KEEP FAITH is a tightly written novel of a family torn apart by war, betrayal and death. It is also a novel of how bonds of family and faith can heal the deepest rift. A real page turner.
Did you know the War of 1812 has been called America's second war for independence? Until we defeated the British a second time, they still considered us their cousins who'd just lost their way. They stopped our ships at high sea and forcefully dragged off our sailors to fight their wars with no consideration that the sailors on American ships were citizens of another, a sovereign country.
Forcing our people to involuntarily fight their wars, and refusing to recognize the United States as a separate nation was a primary reason, among others, why we went to war.
The British were already fighting Napoleon and certainly didn't need their former upstart colony declaring war on another front, using manpower and supplies badly needed to fight the Corsican who schemed to take over the world.
The American and British viewpoints serve to deepen the plot of TO KEEP FAITH, the first of my Barrington Saga. Nathaniel Fairen, the Fourth Earl of Thorwall, left England to visit Boston relatives to heal after the death of his wife. He didn't realize he'd be caught up in talk of war, or that he'd find something more than healing.
His daughter Faith doesn't understand why her father left, and she doesn't understand why God has taken so much away from her. Still, she holds onto the promise made by her fiancé Carter, the Marquess of Aven, who is fighting Napoleon.
But when war keeps her father from returning, when his sentiments becomes decidedly American, and when they get word that Carter is badly injured, and worse, Faith must find a way to go on. Will her faith be enough to sustain her?

Click here for more info or to purchase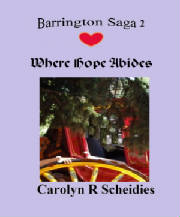 WHERE HOPE ABIDES
Barrington Saga #2 Historical Fiction
Running from our problems only causes more problems.
Need to learn to not give up hope and trust God to work things out for our best.
Running ahead of God's will.
When her social-conscious mother forces Hope into an engagement with a cruel nobleman, she flees. When she falls ill, she finds herself recovering in the home of Carter Glynis, the Marquess of Aven.
Afraid to reveal her identity, Hope nevertheless comes to care about the Glynis family even as she begins to lose her heart to Cousin David. But, when her erstwhile fiancé shows up, Hope runs again,
Will she stop running long enough to listen and trust God, or will she destroy her future forever?
A loving and hopeful story of love. RENDEZVOUS
Best Inspirational 2003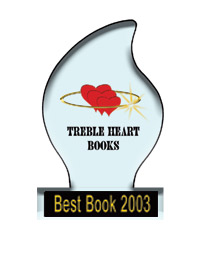 Click for more information/to order from publisher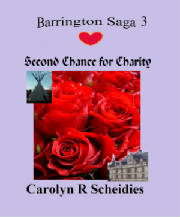 SECOND CHANCE FOR CHARITY
Barrington Saga #3 Pioneer Era Historical
God is in control and brings the pieces together even though we can't see the whole picture.
Things aren't always what they seem.
We view things through our "glasses" and often miss what God has for us.
Trust & healing
An historical panorama that sweeps from Boston and the American Frontier, to the drawing rooms of London. It is a novel of hopes and dreams shattered by murder, scandal and worse. It is a novel where pioneer ideals meet the reality of the frontier, and where perseverance and God's grace renews hope for the future.

Click for more to order PRINT version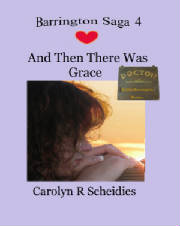 AND THEN THERE WAS GRACE
Barrington Saga #4 Victorian Historical
Fear vs. faith
Grace vs. works
Jumping to conclusions based on faulty evidence.
Forgiveness & reconciliation.
Gwendolyn Glynis has grown into a quiet, withdrawn young woman. The circumstances surrounding the death of her beloved brother still haunt her along with questions of her own worthiness.
Still, nothing prepares Gwen for a confrontation with the evil man who destroyed her childhood. When Grace withdraws into a nightmare from which she cannot escape, her parents take her to America hoping Dr. Robin Barrington will be able to help. As Gwen begins to live again, the woman who wants Robin for herself, once more destroys Gwen's world.
Will Gwen find the forgiveness she craves so much? What about Robin, can he admit his love for the withdrawn young woman? Can they build together a love rooted in God's redeeming grace?