Journey of Faith
Click for more info or to order print version
Click for more info or to buy PDF ebook version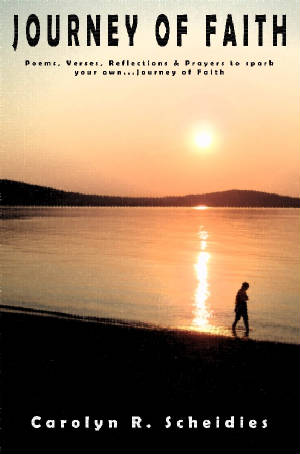 JOURNEY OF FAITH
Combines verse, with selected Scripture and practical prayers for everyday as well as special prayers in a separate section all in a handy format that allows the reader to use for simple inspiration, for use as devotional to start the day, or for thought provoking discussion in a study group.
There are also rhymes suitable to share or pantomime with the children.
As a devotional journal, there is plenty of space for you to record your own thoughts, ideas, poetry, --your own Journey of Faith.
LOVE, FAMILY, FRIENDS, LIFE,
PAIN & DISCOURAGEMENT
TRUST & FORGIVENESS
DAILY STRUGGLES
COMPASSION
WHEN DEATH & SORROW COME
WHERE THERE IS HOPE
SHARING THE GOOD NEWS
PRAYERS
KNOWING CHRIST
More REFLECTIONS
WILDERNESS

But they that wait upon the Lord shall renew their strength;
they shall mount up with wings as eagles;
they shall run and not be weary;
they shall walk and not faint. Isaiah 40:31

Like the children of Israel
who wondered in the desert,
Autumn winds blow,
Heralding Winter's chill,
Leaves shiver and fall,
Birds escape south and are gone,
While snow settles in, deep and cold and still.

The ground is frozen, deathlike,
Under the snow so pristine and white,
While above, skeletal fingers etch the sky,
Of the cold, dark, wilderness night.

But, deep within
This scene devoid of vitality,
Seeds of renewal gather strength, seek their own,
Burst forth as the warm Spring sun sets them free.

So like the Son of God,
Who entered my cold wilderness,
Warmed me with His touch of love,
Brought me home with gentle blessedness.

Jesus, sometimes I feel I am wondering, lost, alone,
in a wilderness within my own soul. Lord, even during those times of wondering, help me trust that You are near, seeking to teach me, stretching my faith,
waiting to restore our loving fellowship. Amen.

(C) 2001-2016 Carolyn R Scheidies Journey of Faith pg 26