Journey of Faith
Click for more info or to order print version
Click for more info or to buy PDF ebook version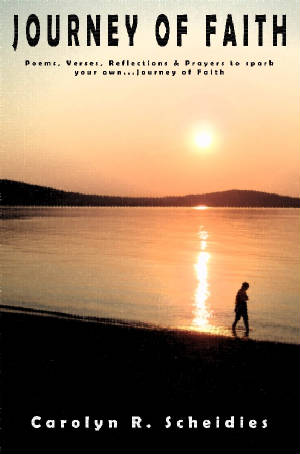 JOURNEY OF FAITH
Combines verse, with selected Scripture and practical prayers for everyday as well as special prayers in a separate section all in a handy format that allows the reader to use for simple inspiration, for use as devotional to start the day, or for thought provoking discussion in a study group.
There are also rhymes suitable to share or pantomime with the children.
As a devotional journal, there is plenty of space for you to record your own thoughts, ideas, poetry, --your own Journey of Faith.
LOVE, FAMILY, FRIENDS, LIFE,
PAIN & DISCOURAGEMENT
TRUST & FORGIVENESS
DAILY STRUGGLES
COMPASSION
WHEN DEATH & SORROW COME
WHERE THERE IS HOPE
SHARING THE GOOD NEWS
PRAYERS
KNOWING CHRIST
More REFLECTIONS
CREATION

In the beginning God created the heaven and the earth. Geneses 1:1

Creation reveals...
God's attention to detail,
His appreciation for beauty,
And His infinite grace
...toward you and me.

Thank you, Jesus, we aren't some cosmic accident, but the unique creation of a loving, caring creator. Amen.
(C) 2001-2016 Carolyn R Scheidies Journey of Faith


© 2002-2017 By Carolyn R. Scheidies--All rights reserved.
Please do NOT use anything on this page or web site without permission. Thank you.