Contemporary Fiction
FICTION INDEX

†"Easy on the Eyes"

The Austen Addiction

TWO VACATION ROMANCES
Thundering Heart
Reunion at Thunder Lake
The Blue Sapphire
Beyond Fear

Katalina-Catalyst to Murder
When Murder Wakes
Snapshots of Murder


THE AUSTEN ADDICTION
A contemporary romance of pain, restoration, healing and love
Quick, easy read!
Sharon is healing from the accident that took her parents and left her with physical and emotional scars. Trying to move into her aunt's house with her uncertain balance and crutches is more than she can handle.

Outside, her collapse lands her in the lap of Devon, the handsome neighbor, who breaks her fall. As he helps her move in, he finds himself drawn to her.

Still, it is his sister Clara who bonds when the women realize they are both addicted to all things Jane Austin. But as Sharon escapes from reality into her fantasy, she is hit with the knowledge the handsome neighbor is a lawyer who many not be on her side. He also warns her against further misleading his sister into the Austen addiction when it means not dealing with reality.

Will Sharon be willing to release her addiction to find her faith, her healing--and love in the real world?
Click here for publisher print version

Click here for Kindle version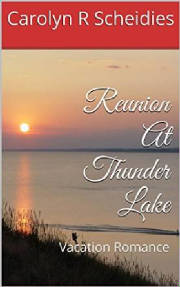 Click for print version

REUNION AT THUNDER LAKE
If you like adventure, vacation romance, you'll like this story that takes place at a resort in Northern Minnesota.
Megan has escaped an abusive marriage only to find herself running away again, this time to the family reunion at a resort along Thunder Lake in Minnesota. Only she soon discovers her problems are never far away. When she meets two very different men, Bryce and Mark, Megan feels the pull of her past against the thread of her faith that has held her up for so long.

Add in Mark's adorable but needy son Michael, an arrogant suitor, jealousy, a crisis of faith, an accident, and a run away, and you have a fast-paced story of faith, forgiveness, healing…and love.
Both Megan and Mark have to forgive themselves of their past before they can move on not only in their walk of faith, but also in their love for each other.

When Megan begins to "rest" in the Lord, she finds not only forgiveness and healing from her past, but also love and sweet promise.

Click here for KINDLE version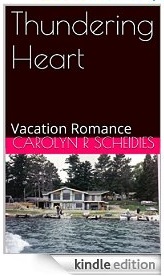 THUNDERING HEART
Contemporary Vacation Romance
Theme: Everyone is a unique creation of a loving Heavenly Father
Issues:
Self-Esteem
Questioning faith/values
"Missionary" dating
Click here for PRINT Paperback version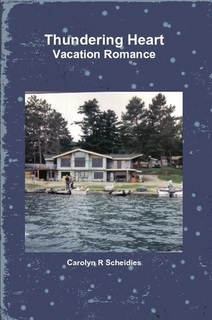 Andrea, a journalist, deals with her budding career, her faith, and a broken romance. Enter the hero and candidate for an exposť as well as a handsome charming stranger.
Not only does Andrea have to choose between the two men, but also between her career and love. Will she chose the man of her heart or go for the story of a lifetime? Can she have both? And what about her faith? What part will it play in her choice?
COMMENT: So I just got done reading THUNDERING HEART. Man...you're a good writer! I started it this morning & didn't put it down until 3:30 when I finished. I didn't even eat lunch...even when Andrea snarfed all the time. More books like this would be fabulous! About a week ago, I finished BLUE SAPPHIRE. That was really good too. It was sorta weird tho, to read about Lindsborg & Mac, but I think it's just 'cause I grew up there. Anyway, you done good. --Kelly (niece)
Click for Paperback Version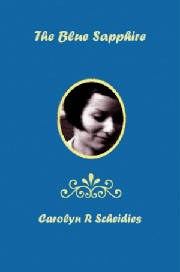 THE BLUE SAPPHIRE
Fingering the softly curved ends, Jeanette wished she had never cut it, but then if she had not tried to please Brad by cutting it, she would never have realized how much she liked the longer style...or the girl she used to be--young, naive, believing fairy tales came true. They didn't. She knew that now. Even a fairy princess had choices, but it was all so much easier in stories.
There are problems at home, at college, and with relationships gone awry, Jeanette is left searching for answers. As two different young men vie for her future, will Jeanette discover the true meaning of faithfulness in the gift of a blue sapphire?
Click here for Kindle version.

Click cover to purchase print copy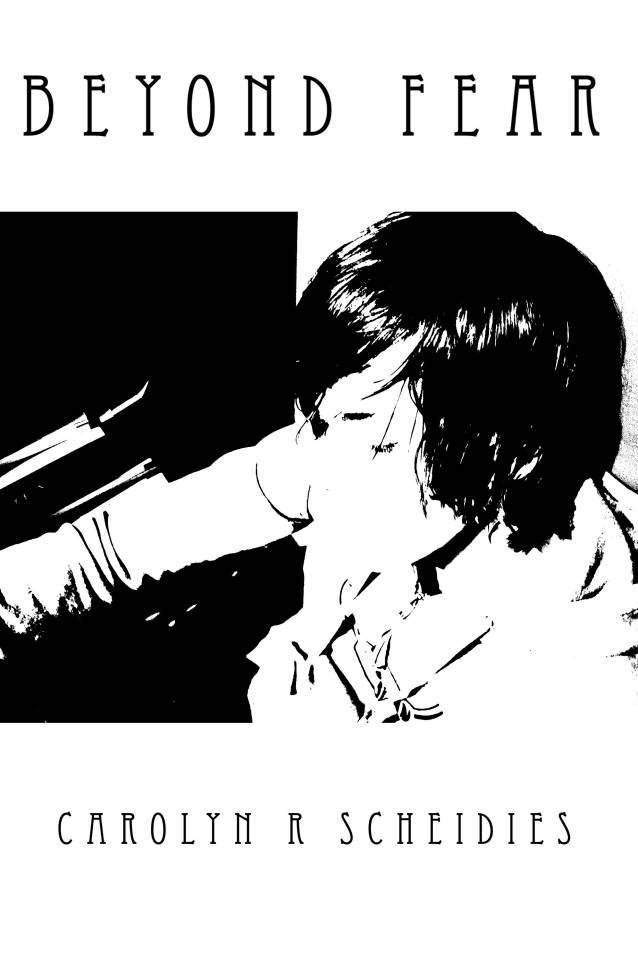 BEYOND FEAR
From Fear to Faith.
Four stories of betrayal, disability, abuse, restoration...and love.

Then Came Joy
Beyond Fear
Moment in Time
Desire of Her Heart

Fear. It wraps us up and spits us out in little pieces. Fear causes us to hide, to react in anger and to hurt others as well as ourselves. Fear is the basis for many TV comedies from the earliest days when Lucy tried to hide one disaster after another from Ricky--out of fear.

BEYOND FEAR tells four fictional stories of women whose lives shattered by abuse, disability, rape or disfigurement find wholeness through faith, God's love, and romance.

Author Carolyn R. Scheidies understands disabilities and limitations on a personal level. Read her bio.
Counselor Endorsement
In a world where fear can paralyze even the bravest person, BEYOND FEAR shows the reality of those who conquer abuse, violence, and betrayal in a very real way. This collection of stories show that in the depth of the abyss, victory can still be found. The strength of these characters will allow the reader to see that hope in Christ can still exist, even in their darkest hour. --Cassandra H. LMHP, LMHC, LADC

Click here for more info or to order print version
KATALINA--Catalyst to Murder
Contemporary Mystery Romance
LARGE PRINT
Self-acceptance
Cannot earn salvation
Problems are not necessarily a sign we've failed God
Trust
Dealing with disabilities
While still struggling with her new limitations, Katalina is summoned to her dying grandmother's bedside. Her presence in the household starts a chain of events that begins to unravel a family secret that someone will do anything to prevent...including murder.
Readers of Katalina will come away refreshed, feeling certain that love does indeed conquer all and that with implicit faith in the Lord, all things are possible. Mary Lynn www.wordweavers.com
Click here for the Kindle version

Cover images: Chris Scheidies
When Murder Wakes
Large print
Available in print, Kindle and PDF formats.
For ten years, Robert plotted revenge. For ten years, Rachel tried to deal with the murder of her sister and the assault on her own life. For ten years, Scott ran from his guilt.
But when Rachel tries to excise her pain by writing a fictional book based on her life that becomes a blockbuster TV movie, she finds not only does she not excise her memories—they become a living nightmare. The movie draws together the players for one more nightmare of murder. But this time, will anyone survive?
A book of pain, heartbreak, murder, restoration, faith…and love.
TOP TEN REASONS FOR READING SUSPENSE
10. It helps keep the publishers in business.
9. It's an excuse to pretend you are not an insomniac.
8. It gives your mind something to do if you're bored.
7. Keeps you from thinking about all those chores that need to be done.
6. It beats reading e-mail and is more likely to keep you awake.
5. More relaxing than playing a computer game.
4. Makes you feel "literary." (Hey, I read a book!)
3. It increases your vocabulary: murder, mayhem, investigation, stalker, victim…
2. More fun than a crossword puzzle.
1. And…it's less scary than the six o'clock news.
Click here for the Kindle version of WHEN MURDER WAKES.
Click here for print version of "When Murder Wakes"
Well, I just got done reading WHEN MURDER WAKES. LOVED IT! You should write another book like this. Great job! --Kelly
Click Cover for info or to order Trade Paper size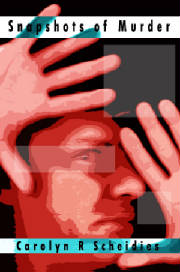 Click here to order KINDLE version.
SNAPSHOTS OF MURDER
Two stories of mystery and romance

Ties That Blind
When Scott is run down near the city park, everyone but Rebecca believes it is merely an unfortunate accident. But she witnessed the whole thing and is convinced the "accident" was somehow tied in with the pieces of a treasure map she discovered. Who wants to find a treasure hidden for generations so badly they would kill even for the possibility of finding it? Will Rebecca find the truth before the murderer turns on her? Or will discovering the truth, destroy her heart forever?

Who Are You Mr. Smith?
Waking up in a hospital, she has no idea where she is, why she's there, what's happened or, even, WHO she is. Who is the gorgeous man who claims to be her husband? And just who is the midnight intruder? A romance of danger and intrigue.†