Special Christmas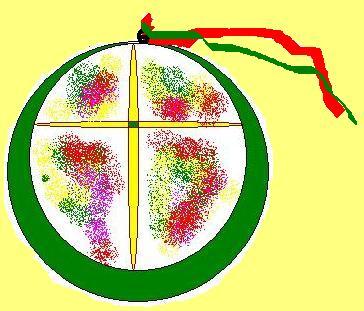 CHRISTMAS ORNAMENT
By Marcia Alice Mitchell

This Christmas, the place of honor on my tree will go, not to an angel or a star is in previous years, but to a handmade, country-style mailbox. This red needlepoint decoration is a reminder to me of just how much God loves and cares for me.
Several years ago, I dreaded the holidays. My forty-one-year-old husband had recently gone on disability retirement due to a diagnosis of Alzheimer's disease, and we'd put our home up for sale.
Then three weeks before Christmas, a friend from church asked Lee and me to visit his Sunday school class that week. His reason: "We've been praying for you and Lee, and praying for the house to sell. Not all the class knows who you are; they would like to meet you."
After we arrived, they presented us with a small evergreen tree covered with tiny decorations, small envelopes, and the hand made mailbox. Our instructions from the class were to "Take this home. Open the envelopes with all your children."
Our oldest was away at college, but the other five children (ages six to fourteen), Lee, and I sat around the kitchen table and opened envelope after envelope. The ones, fives, tens, and twenties added up to over $200. Inside the mailbox they'd told us to open last, we found a check from the class for $100 and instructions that all this money should be spent on Christmas presents only. Overcome, the tears came. However, for the first time in several months, these were tears of joy. I knew God did care what happened to us!
However, evidence of God's care and love didn't end there. A few days before Christmas, we received a food basket from my husband's former employer, which not only included all the fixings for our holiday dinner, but present for the children as well.
Then each day thereafter until the 25th, we continued to receive baskets of groceries from various people at our church. For the first time in several months, our cupboards were full to overflowing. All this food lasted until April when escrow closed on our house and we moved from Southern California to Oregon.
The food is gone, the clothes have long worn out, the toys have been given to other children, and most of the games are missing pieces. However, the love God shooed my family and me at a time when I felt that Christmas should be erased from the calendar, is something I'll never forget.
Other Christmases have come and gone, the kids have families of their own, and the Lord took Lee home last year, but that little country mailbox will be on my tree to remind me that God does love and care for me through people who also care.
Bio: Marcia has sold over 350 articles, short stories and one book and led a critique group for about 17 years. She's taught at writers' conferences and will be teaching at the Northwest Christian Writer's in February on "Writing the Personal Experience Article." Marcia is working on a biblical novel on Mrs. Job.
My Special Christmas ~ This Year 2007
Bonnie Engstrom

Santas. Reindeer, especially Rudolph. Glitter, glitz, the smell of turkey roasting, laughter and hugs. My grandchildren. Especially my grandchildren.
I used to put a "Happy Birthday, Jesus," sign in my front window. Now I don't have a front window, but I do have a two-year-old granddaughter. She understands that Christmas is about the baby Jesus, points him out with glee in every manger scene she sees. But, she's too young to understand he came to save her from sin. If she could explain sin, she might describe it as what she does to get a "time out" now and then. Her six-month-old sister only knows she is loved.
Both girls delight in my Santa tree. Mookie, the two-year-old (actually, "two-half" according to her), picks the soft, stuffed Santas off the tree with chubby fingers and sets them up on her little bench by the fireplace. Arranging things is her current forté, besides dancing in her Disney Princess nightgown. Teagan, at six-months, grabs them and puts their velvet caps in her mouth. She's teething.
My tree-trimming was always a special time for me. When my kids were young I would wait until they were in bed, then open the boxes of heirloom ornaments. Some from Grandma, some they'd made in school and the ones I bought every year for each of them – two male skiing bunnies and one female; two blue angels, one pink; a Santa surfing for Tony, a Santa on his computer for David and a Mrs. Santa for Jenny. The tree would be lighted before bedtime the next evening to oos and awes. It was special. But, it wasn't their tree. It was mine.
Since Santa is a concept Mookie can understand, although she calls him "Clause," probably because she can't quite form her "Ss" well yet, she is having a ball. She picks up the Baby Jesus from my antique Nativity and the one her Uncle Brian made from a clothespin when he was seven. "This one?" It's her way of asking what anything is. She knows He's important, and she loves that He's a baby. Grandpa explains to her. But, for now, Baby Jesus shares the stage with "Clause." Maybe next year when she's "three-half" she will comprehend better and I will bring out the heirloom ornaments and hang up the Happy Birthday, Jesus sign. For now, this grammy is just happy to make it a very special Christmas for my Mookie.
Bonnie Engstrom is a mother, a grandmother, and a former education columnist. She resides in Arizona with her psychologist husband of forty-two years.