Book Reviews You Can Use!
Searching for a particular book? Check the Index, then use the FIND button on your browser.
Christmas of the Dolls and Other Stories of the Season
By Valerie Lee Vierk
Dolls we received as children leave positive memories. "Christmas of the Dolls" brings to mind those past Christmases where the ornaments on the trees danced and the gifts under the tree were gifts of love.
"Christmas of the Dolls" combines reminiscences, memories and fictionalized stories all focused around the Christmas holiday in all its glory. It is a book about giving, receiving and reaching out.
A gift book for that special someone.
PRAYING FOR YOUR FUTURE HUSBAND
By Robin Jones Gunn and Tricia Goyer
ISBN 978-1-60142-348-1
Multnomah
Reviewer Clint Walker
Have you been waiting for Mr. Right, and wondering if he is going to ever come around? Are you tempted to settle for someone who might be "good enough" instead of waiting for God's best choice for you to marry? Or do you keep looking for love, and finding that your ability to choose an appropriate partner is just a little bit "off"? If so, you might want to pick up PRAYING FOR YOUR FUTURE HUSBAND by Robin Jones Gunn and Tricia Goyer.
Gunn and Goyer have written a smart, entertaining guide for single women of all ages. Each chapter takes on a new issue in looking for a husband, and then there is room for journaling at the end of every chapter. Each chapter also is divided into wise words from each of the authors—and while they rarely disagree they often have differing perspectives. My favorite chapter is on "the list", and the benefits and pitfalls of developing a list in what you are looking for in a future mate.
Many readers may dismiss a book written on future husbands written by romance novelists. Before I had this book in my hands I might have too. However, I believe this dismissal would be misguided. This is a fun book with helpful reminders to pray for and set godly standards in one's dating life. It is well worth paying attention to.
DIG DOWN DEEP
By Joshua Harris
Multnomah
Reviewer Laura Sherwood, PhD
How can a book on doctrine be credible from the same bestselling author who wrote I KISSED DATING GOODBYE? For that matter, aren't books about doctrine with words like propitiation, sanctification, systematic theology, Canon, penal substitution, and orthodoxy stuffy and mostly for academic maniacs? Joshua Harris shows how every-day people can indeed build their lives on these eternal truths. By writing basic doctrinal tenants in a concise and understandable way, Harris reveals them as foundational pillars of the Christian faith and shares practical applications. Interspersed with real-life stories and examples, readers comprehend theology from a new perspective and crave being established in their faith.
Who could have guessed that a book about doctrine could be not only a page turner, but also humorous? Harris has proved to be a master writer of both romantic and theological subjects.
Dug Down Deep incites readers to "dig down deep" into their own beliefs and world views.
Faith Element: High
64 LESSONS FOR A LIFE WITHOUT LIMITS
By T.D. Jakes
ISBN: 978-1-4516-2524-0
Atria Books: Simon & Schuster
Reviewer Cynthia Hickey
Most people want to be successful, to be confident, to prosper. To step outside the box other people want to put us in. We have dreams, but often don't know the steps to take to grasp that dream. We want to be flexible, but find ourselves stuck in a rut.
In 64 LESSONS FOR A LIFE WITHOUT LIMITS, T.D. Jakes gives us an easy to read book divided into eight chapters with eight points in each chapters. Broken up this way, taking the steps to a better you is easy. Now, we can break unfruitful patterns. Being a leader is obtainable. Embrace the new one and hold on.
Low on the faith scale.
WHEN YOU CAN'T FIND GOD
How to Ignite the Power of His Presence
By Linda Evans Shepherd
ISBN 978-0-8007-1978-4
Revell
Reviewer Carolyn R Scheidies
Sometimes the darkness is so pervasive you wonder if God can, will or wants to penetrate that darkness. It's at such times you may wonder if God is there or really cares. Linda Shepherd, no stranger to heartaches or tragedy, takes us on a journey. Using Scripture, true life experiences and teaching, she draws us out of ourselves and into that knowledge we need to understand the basic truth—God is good, He cares and He's always there.
She points out, "If God's own Son didn't get through life without pain and difficulties, why do we expect to do so?" Pg. 11
We live in a fallen world and we're far from perfect. Yet God extends not only the mercy of unmerited favor, but also grace—blessing us.
Chapters clarify our relationship with God with the following: When Difficulties Come, Finding God in Your Circumstances, Five Keys to Surviving Difficult Times and many more. This book met me at a point of need. Shepherd is practical and organized and shares from the heart.
Faith element: High. Recommended
A PEOPLE TALL AND SMOOTH
Stories of Escape From Sudan to Israel
By Judith Galblum Pex
Cladach Publishing
Reviewer Clint Walker
Eilat is a resort city on the southernmost tip of Israel. It is on the border of both Jordan and Egypt, and on the coast of the Red Sea. One day in this sleepy little city a number of tall, black homeless people walked into town with little to no resources and a big story to tell.
A PEOPLE TALL AND SMOOTH is a story about these refugees, and a husband and wife who ran the hostel to which several of these folks came to live. The refugees were refugees from religious persecution in the Sudan. They trekked several miles on foot to escape ethnic persecution and to find a place where they could exercise their Christian faith without fear of punishment.
Will the refugees find a safe place to live and worship in Eliat? Will the town be able to adapt to this strange new presence? A PEOPLE TALL AND SMOOTH tells this story. By the end you will be endeared to both the owners of the hostel, and their intriguing, courageous new friends seeking safety and freedom.
PROJECT DAD
The Complete Do-It-Yourself Guide for Becoming a Great Father
By Todd Carmell
ISBN 978-0-8007-01999-9
Revell
Reviewer Cynthia Hickey
We all want to be great parents. In PROJECT DAD we are introduced to five key areas that help men become the dads they desire to be. From everything to car trips to dinners around the table, we are given simple tasks to bring our children closer and enjoy the relationship between a parent and their child.
In society, we are pushed toward being our child's friend. In PROJECT DAD we are given tools to stand in the role ordained by God, thus giving a father and their child what they were created to have; a strong nurturing relationship. The reader is led along the path of creating household rules that work for all members. Teach your child to respect authority and live life to its fullest.
Medium on the faith scale
LEADERSHIP: It Takes More Than a Great Haircut
By Terry L Sumerlin
ISB 978-0-9659662-3-8
SE Publishing
Reviewer Clint Walker
Terry L. Sumerlin is a barber and a businessman. He is also now an author and an inspirational speaker. As a speaker and writer he is known for his "Barber-osophy", which often consists of aphorisms and proverbs created after years of listening to people's stories while cutting their hair.
LEADERSHIP: IT TAKES MORE THAN A HAIRCUT is a collection of these wise and witty sayings, followed by one or two pages expanding on the truth Mr. Sumerlin is attempting to convey. Each chapter is ended by a leadership principle to apply based upon the truth the reader has just been taught.
The presentation of the book leaves a little to be desired. The cover is cheesy. The layout of book could be more visually appealing. The content of the book, however, is solid. Any leader would benefit from the people skills, helpful hints, and reminders that Sumerlin teaches.
Faith Element: Low
THE BIBLE SEARCH ENGINE
By Pamela L. McQuade
ISBN 978-1-60260-988-4
Barbour Publishing
Reviewer Carolyn R Scheidies
The cover pops, inviting a look inside. And what a look. Have a topic, but don't know where to look in the Bible for it? Check it out in THE BIBLE SEARCH ENGINE. Under a topic such as "Infertility" you find a list of applicable Bible passages. This is a topical, usable, concordance where you find both Biblical and contemporary topics listed.
I've already used this book to find passages for articles I write. A valuable resource for the Christian household, library, church and pastor's study. Highly recommended.
Faith element: high
THE INVITATION
By Greg Sidders
ISBN 978-0-8007-3403-9
Revell
Reviewed by Clint Walker
Greg Sidders, like many of us, did not know what he was getting into when he accepted Jesus as Savior. He just knew he wanted to have a relationship with Jesus and wanted to spend eternity in heaven. As he began to read the words of Jesus, he discovered that Jesus often offered this invitation, "Follow me". After discovering this invitation, he began to discover Jesus' instructions on how He asked believers to follow. He found this call to be a disciple challenging.
THE INVITATION is a book about the joys and challenges of taking up Jesus' invitation for others to follow him. It is part memoir and part teaching on what it means to be a disciple. The whole book is very conversational, full of memorable illustrations from history and popular culture, as well as the authors own life.
It would be an excellent book for a small group of young believers. THE INVITATION is also a great book for any individual wanting to get back to the basics of following Jesus. I recommend it highly.
Faith Element: High
SECURE DAUGHTERS CONFIDENT SONS
How Parents Guide Their Children into Authentic Masculinity and Femininity
By Glen T Stanton
ISBN 978-1-60142-294-1
Multnomah Books
Reviewer Cynthia Hickey

Parents often set standards for their children. I want my son to be a pro ball player, or my daughter to be a ballerina, but what if the child shows signs of being something less...boy? Or girl? What if the child shows an equal number of both gender traits? Good. The world would be a boring place without differences. We don't want cookie cutter children, do we?

This book will help us have a clearer understanding of what's truly masculine or feminine. Growing from boy to man and girl to woman is a journey.. It's up to the parents to help them recognize this and to get there. Sometimes, Moms and Dads disagree on the best way to do this. SECURE DAUGHTERS CONFIDENT SONS offers handy advice on how to work this to the advantage of your child.

Low on the faith scale
THAT'S MY TEENAGE SON
How Mom's can influence their boys to become good men
By Rick Johnson
ISBN 978-0-8007-3384-1
Revell
Reviewer by Cynthia Hickey

Parents want their boys to grow up to be Godly men, and although a father's influence is great, it's a mother's communication, nurturing, and gentle touch that often makes all the difference. Written with questions for thought, THAT'S MY TEENAGE SON causes the reader to search their mind and heart, giving insight with wisdom.

In today's society, our young men are inundated with sex, violence, video games, and television. It is up to the parents to fill in the gaps and offer alternative ways of entertainment. Mother's can use their God-given gift of communication to speak with their sons to discover what's in their heart and to share from their own life experiences. Not to discount the importance of a male role-model, THAT'S MY TEENAGE SON gives women the tools to relate.

High on the faith scale
FEAR NO EVIL: A Test of Faith
A Courageous Church and an Unfailing God
By Brady Boyd
ISBN 978-0-3103-2770-7
Zondervan
Reviewer Carolyn R Scheidies
The church had already been through so much before they called Brady Boyd as senior pastor. They'd had to dismiss their founding paster, Ted Haggard, for moral failure and were just starting to recover. Then the unthinkable happened. After a Sunday morning service a gunman entered the premises and opened fire. Two teenage girls, both from one family, died. How could the congregation recover from such a tragedy? How could Pastor Boyd?
FEAR NO EVIL:A Test of Faith chronicles the journey from tragedy and devastation to renewed faith and healing. This isn't a "God waves His hand and everything is instantly restored" book, but one of deep searching, deeper grief and the commitment to trust God even through the darkness.
What sounded a cord with me was Pastor Boyd's solid belief that we must allow time for grief.
That minimizing or hurrying past it, only sets us up for more trouble and heartache. We must let go and allow time for grief before we can move on to all God has for us. But that, too, has to be a goal and a commitment.
A moving story and a challenge to live life Biblically.
Faith element: high
14 SECRETS TO BETTER PARENTING
By Dave Earley
ISBN 978-1-61626-225-6
Barbour Publishing
Reviewer Carolyn R Scheidies
Parenting isn't easy and isn't for cowards. Being a buddy or allowing kids to do what they want isn't parenting. Parenting is about not just giving directions, but by being an example worth following. 14 SECRETS TO BETTER PARENTING takes us through parenting principles from Proverbs. The author uses Scripture and personal experience to guide parents into being the parents God intended.
How do we become better parents? By laying a good foundation of faith, setting a positive example and constant communication not just with our children, but also with God. Parents need to define problems and correct them, even when doing so is inconvenient, takes time and makes them the "bad guy" for a time.
Parenting can't be done in a vacuum. You must absolutely pray for your children and offer them to God. You must walk the walk yourself, not just talk the talk. Provide ministry opportunities for your children as you teach them God's Word. Encouragement and interaction is vital as is giving your children opportunities to experience God for themselves.
Most of all, like the prodigal father, never, never, never give up on your children or give up praying for your children.
14 SECRETS TO BETTER PARENTING is a small volume, with information critical to today's parents. Be great for parents ad well as Sunday School, Bible Study and Parenting Classes.
Faith element: high
YOUR MIND AT ITS BEST
40 Ways to Keep Your Brain Sharp
By David B Biebel, Dmin; James E Dill, MD and Bobbie Dill, RN
ISBN 978-0-8007-3292-9
Revell
Reviewer Cynthia Hickey

As we age, we begin to worry about the physical path our mind is taking. Are there things we can do now to prevent problems later? What about playing sports when we're young? How will that affect our brain in our later years? Do you worry about Alzheimers?

YOUR MIND AT ITS BEST is forty chapters dealing with everything from sports to medicine to stress and what we can do now to prevent further decline and sometimes even heal previous damage. With easy to read language, the authors show us how exercise, food, and medicine affect our brain. Protecting the gray matter inside our skull can be fun.
This book shows us daily ways to increase brain power and prevent diseases.
WHO ARE YOU REALLY, WHY?
By Ed Renegar
ISBN 978-1-4141-1552-8
Pleasant Word
Reviewer Clint Walker

Humanity is always asking identity questions. Who am I? Who am I called to be? What is my purpose? What is God calling me to do? Ed Renegar attempts to answer some of these questions with sound theology in his recent book WHO ARE YOU REALLY, WHY?

WHO ARE YOU REALLY, WHY? is a brief book introducing the Christian doctrine of humanity in everyday language to contemporary people. Renegar brings his considerable acumen in the Greek and Hebrew languages to explain to his readers what people are like without Christ, and how Christ wants to make us new.
The text engages spiritual seekers with plain-spoken, concrete explanations of what God is doing in regard to making a way of salvation for believers. WHO ARE YOU REALLY, WHY? also encourages believers to claim their identity in Christ and act like they believe what the Bible says about them and their neighbors.
This book will be helpful to those who want to become more knowledgeable about what people are like and who also wish to respond to God's call to give their lives completely to Christ.

Faith Element: High
THE NEXT CHRISTIANS
How a New Generation is Restoring the Faith
By Gabe Lyons
ISBN 978-0-385-52984-6
Doubleday
Reviewer Carolyn R Scheidies
Those who call themselves Christians deal with their cultures in different ways. Some isolate themselves, fearing even the scent of "sin." Others confront, but without caring or concern for consequences. Still others become social activists seeking to help others, but leave behind the truth of the gospel. They believe change comes more from the outside than the inside.
There is another brand of Christian who holds to the truth of the gospel, knowing change comes only from the love of Christ. But they don't isolate themselves or confront with anger or signs. They believe in reaching out with God's love and being part of the solution rather than part of the problem. But they don't leave their faith behind. They live their faith in their everyday life.
The book "THE NEXT CHRISTIANS" informs, takes us back to the foundation of the faith and shares how restorer Christians are deliberately engaging the culture while keeping themselves grounded in the Word. There have always been Christians with this outlook.
Today Christianity has lost it's majority, lost credibility and lost the hearts of the average person due to isolation, confrontation and criticizing anything different from one person's, church's or denomination's narrow point of view. Restorers live their faith, speak the truth, but do so in love and with a practical application of faith.
Recommended read.
Faith element: high
COACH WOODEN
The 7 Principles that Shaped His Life and Will Change Yours
By Pat Williams with Jim Denny
ISBN 978-0-8007-1997-5
Revell
Reviewer Clint Walker

Author Pat Williams is a prolific author. Although he writes about several different subjects, Pat writes best when he writes about leaders and leadership. In addition to writing, he works as a Senior Vice President for the Orlando Magic of the National Basketball Association. So when you see a book written by Pat Williams about John Wooden, you know that the book is going to be good.

For those who do not know, John Wooden is the most successful coaches in basketball history. He was also a committed Christian. He developed a system of team development based upon integrity and character. His teaching has impacted players and coaches around the world with guidance on not only how to play basketball, but how to live.

COACH WOODEN is a stellar book. It combines biographical information about John Wooden and his father Joshua "Hugh" Wooden with the Seven Point Creed that John taught all of his players. The "creed" came from Hugh Wooden, and is thoroughly based in a Christian ethic. Most of the book was written in cooperation with John Wooden during the last year of his life, which makes the book even more special.

Faith Element: High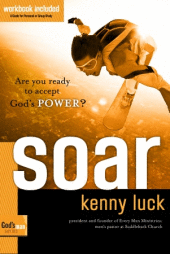 SOAR
Are you ready to accept God's power?
By Kenny Luck
ISBN 978-1-57856-98-2
WaterBrook Press
Reviewer Carrie Padgett
SOAR is a man's book written by a man for manly men who enjoy doing manly things. SOAR, Kenny Luck's newest addition to his God's Man series, joins the three other titles: RISK, DREAM, and FIGHT.
SOAR is a primer on the Holy Spirit and a how-to guide for learning dependence on his strength for our daily lives. It takes its name from Luck's four principles for embracing a Spirit-filled life of faith:
Say 'Yes' to the Holy Spirit
Open Doors
Actively Pursue
Release the Power
The book is divided into three sections. The first helps the reader to transition their thinking about the Holy Spirit and to reframe him. The transformation section focuses on what the Holy Spirit wants to change in us. Transactions is what the Holy Spirit wants us to do for God.
Luck uses lots of illustrations and stories that will capture the reader. Discussion questions are included making this an excellent resource for small group study.
Men who are serious about their faith will be challenged by SOAR, and if they adopt its principles, they too can . "renew their strength. They will soar like eagles ." (Isaiah 40:31.
Faith element: High
90 DAYS OF GOD'S GOODNESS
By Randy Alcorn
ISBN 978-1-60142-344-3
Multnomah
Reviewer Clint Walker

Are you the kind of person that sees the glass as half-empty instead of half-full? Are you often discouraged because you life is not all you hoped it would be? Are you discouraged and desiring a way to find hope and encouragement? If any of these questions describe you than you need to grab Randy Alcorn's 90 DAYS OF GOODNESS.

90 DAYS OF GOODNESS is a tour de force in seeing God's grace in the middle of discouragement, disability, loss, and heartache. It is, as the title suggests, a three month devotional. Each chapter is two to three pages long, and offers encouragement to those in trying circumstances. Alcorn's theology is firmly Reformed, and well-researched. It is easy to tell that this topic is near and dear to his heart. 90 DAYS OF GOODNESS is full of contemporary historical examples of people who overcame significant setbacks, and who in turn discovered joy and blessing in their life's journey in the midst of their circumstances.

This book is sure to be a blessing to a heavy heart, and an encouragement to all who read it.

Faith Element: High
PURSUING INTIMACY WITH GOD
Life's #1 Priority
By Randy F Madison
ISBN 978-1-936417-07-0
PCG Legacy
Reviewer Carolyn R Scheidies
Our Christian life starts out exciting and fresh. God is near, dear and present. But time and life happen. We allow other things to crowd out those close intimate times with our Lord until He feels distant. We go through times of dryness, boredom and busyness.
Our priorities get all out of whack. In the process we forget who gives peace and joy and hope. We grow empty and dissatisfied. Madison in his book PURSUING INTIMACY WITH GOD shows us how to search after God with intensity and renew that intimate relationship to a place of joy. It means letting go and letting Christ into the fabric of our heart, our being and our daily lives.
PURSUING INTIMACY WITH GOD is a call back to a transparent and real faith that, like marriage, takes commitment, time and effort, to receive unbelievable rewards.
Faith element: high
WHAT ARE YOU WAITING FOR?
The One Thing No One Ever Tells You About Sex
ByDannah Gresh
ISBN 978-1-60142-31-3
WaterBrook
Reviewer Carolyn R Scheidies
Gresh takes the subject of love, sex and marriage back to the truth of the Bible. Instead of the Bible shunning the subject, it is clear God is not ashamed of something He, himself, created and sanctified as "good" and "holy"--in the right context. God created distinct males and females. These distinctions are holy and good. The author points out on page 51, "Any other view of gender is little more than one of the Villian's battleground for eliminating our belief in the existence of God."
Those who use sex as a sport or outside the bounds of the security of marriage find emptiness and often abuse rather than freedom. Yet, too many believe Satan's lies. On page 64 the author gives the progression of a lie:
1)We listen to a lie
2)We dwell on a lie
3)We believe a lie
4)We act on a lie (sin)
The author tracked down the roots of "Yada" a word used in sexual contacts in Scripture and found it means "intimacy" --close, loving, intimate relationship. She says on page 68, "...if we follow God's design for Yada, we celebrate the beautiful diversity of maleness and femaleness."
This book isn't for the faint of heart. It deals with the sexualization of today's culture with realism, Scripture and truth. Highly recommended for Bible Studies for teens on up.
Faith element: high
PERSONALITY PLUS AT WORK
How to Work Successfully with Anyone
By Florence Littauer and Rose Sweet
ISBN 978-0-8007-3054-3
Revell
Reviewer Carolyn R Scheidies
Why are you having trouble with your spouse, friends, others at work? It might be because you don't understand the personalities of those around you. Instead of working with your strengths and theirs, you try to fit yourself into a mold that doesn't "fit." PERSONALITY PLUS AT WORK not only helps you understand your own personality, setting your free to be who you are, but helps you also appreciate the personalities of others, setting them free as well.
The categories go back to Hippocrates: Sanguines are fun loving, popular and optimistic—disorganized and forgetful (and like to shop when depressed!); Cholerics are take-charge people, like to be in control—but can be insensitive, bossy and easily angered; Melancholies are introspective, perfectionist, and detail-oriented—they also tend to be overly sensitive, shy and easily depressed; Phlegmatics are the laid back people who stay calm and get along with others—but since they are not goal oriented they can be indecisive and unmotivated.
No one is entirely one type, but understanding how personalities work together helps you better relate to others around you. PERSONALITY PLUS AT WORK shows how to function in marriage and at work—especially in the ministry, medical fields, in marketing and more.
PERSONALITY PLUS AT WORK is one of those must-read books that benefits everyone!! It is easy to read and draws on experiences and anecdotes as well as practical information. There is even a personality profile to take to figure out who you are. Highly recommended.
Faith element: low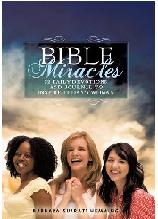 BIBLE MIRACLES
32 Daily Devotions and Journal to Inspire Today's Woman
By Barbara Surratt Hemming
ISBN 978-1-60957-130-6
Xylon Press
Reviewer Carolyn R Scheidies
BIBLE MIRACLES was an easy to read devotional because of the text format. My eyes aren't what they used to be and appreciate text that doesn't strain my eyes. A devotional always includes a key verse. I appreciated that BIBLE MIRACLES also included a key passage. This was followed by a devotional based on the key verse and passage with practical applications and prayer.
Topics covered include the Bible, creation, the power of the cross, worship, faith, healing, dreams, blessings, wisdom and so much more. The writing is informal and down where we live.
Faith element: high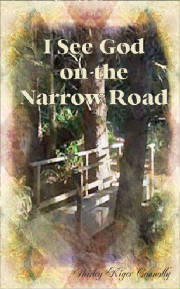 I SEE GOD ON THE NARROW ROAD
By Shirley Kiger Connolly
ISBN 978-0981989679
Vinspire Publishing
Review by Cynthia Hickey

We all make life choices that altar the path we were created to take. Although life is full of forks in the road, sometimes we choose which way to go without seeking God's will first. Life is full of wonder and mystery; gifts left for us to find. We serve a God full of wonder. A God with an enormous sense of humor who delights in bestowing gifts of his children's hearts. Sadly, we often forget to pray for these gifts or knowledge or direction. Then, we sadly wonder why the consequences of our actions often seem harsh.

I SEE GOD ON THE NARROW ROAD is an easy to read Bible study that will help the reader listen to God's voice when making decisions and will teach us how to find the gifts God has so joyously left for us. We can begin to make a positive impact on those around us with the choices we make.

High on the faith scale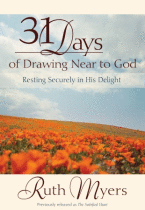 31 DAYS OF DRAWING NEAR TO GOD
Resting Securely in His Delight
By Ruth Meyers
ISBN 978-0-307-72944-6
Multnomah
Reviewer Carolyn R Scheidies
Ruth's life hasn't always been easy and she chronicles her own story to lay a foundation for 31 DAYS OF DRAWING NEAR TO GOD. Ruth doesn't speak in generalities, her journey of faith included missionary work overseas, her husband's cancer while they still had children at home and his death. Yet, she finds solace in Christ.
31 DAYS OF DRAWING NEAR TO GOD shows us the God who loves us, not for what we can do for Him, not just when we're good, but always just because we are. God treasures us and desires for us to know Him and grow close to Him that He can bestow His loving kindness upon us.
Through devotionals, scripture and prayer, 31 DAYS OF DRAWING NEAR TO GOD helps us, as the title says, draw near to God.
Faith element: high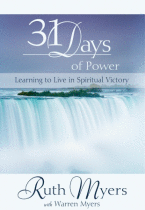 31 DAYS OF POWER: Learning to Live in Spiritual Victory
By Ruth Meyers
ISBN 978-0-307-60142-338-2
Multnomah
Reviewer Carolyn R Scheidies
This isn't your typical devotional book. You aren't going to get a verse, a short devotion based on the verse and a prayer.
Instead, 31 DAYS OF POWER focuses on the power of prayer with Scriptural prayers based on Biblical passages grouped under specific themes to help us live in Spiritual victory. The book ends with a section on spiritual warfare.
This is a powerful book. Starting your day with the passages indicated and the prayers will change you life. Recommended.
Faith element: high+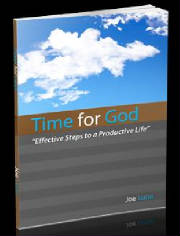 TIME FOR GOD: Effective Steps to a Productive Life
By Joe Luna
ISBN 978-0615361826
Reviewer Clint Walker
A few years ago, THE SHACK broke into bookstores everywhere as a self-published book that went on to sell millions of copies. This was good news for aspiring authors everywhere, convincing them that they too could put their best ideas on paper, influence countless lives for eternity, and maybe, make millions.
Unfortunately, no one advertises the pitfalls of self-publishing such as poor layout, lack of editorial oversight, and poor flow of the material. Joe Luna demonstrates each of these pitfalls, despite his best intentions, in his book TIME FOR GOD.
TIME FOR GOD is an attempt to help people be more productive. It moves the reader through a step by step process that is intended to help people become more efficient. As the reader grows in efficiency, that person will then be able to have more time and ability to bear fruit for the kingdom of God.
Luna puts heavy emphasis on the exercises that he includes at the end of each chapter, which are intended to be the catalysts for the life change he intends to create in his readers. These exercises are a hybrid of spiritual formation activities and basic administrative organization. I have no doubt TIME FOR GOD's teaching will be a blessing to folks who need a little more order and structure in their lives.
If a reader can get past the shortfalls mentioned above, this book could be a good resource for someone leading or participating in a class on leadership or self-management at their church or in their civic group.
Faith element: High.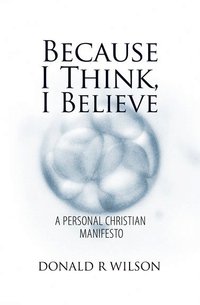 BECAUSE I THINK, I BELIEVE
A Personal Christian Manifesto
By Donald Wilson
ISBN 978-1-58982-754-7
American Book Publishing
Reviewer Keith Scheidies
As a college student in the 1970's, I read Paul Little's book KNOW WHY YOU BELIEVE. The book made a strong case for how logical the Christian faith was and how it should be accepted as the truth about the way the world actually works. For me, the 2011 equivalent of KNOW WHY YOU BELIEVE is Donald Wilson's BECAUSE I THINK, I BELIEVE: A Personal Christian Manifesto.
Wilson starts with the question of absolute truth in Chapter One: What Do We Really Know about Anything? And covers a wide range of issues from the purpose of our existence and the existence of suffering to the Christian view of tolerance and inclusiveness.
As I read this book, I kept thinking of who I wanted to pass it on to because of all the excellent points the author makes on issues and questions that have come up in my conversations with people over the years.
Highly Recommended to anyone not afraid to examine the realities of life.
Faith element: high
MERE CHURCHIANITY
Finding Your Way Back to Jesus-Shaped Spirituality
By The Internet Monk, Michael Spencer
ISBN 978-0-307-45917-6
Waterbrook Press
Reviewer Cynthia Hickey

In today's churches full of cookie-cutter sermons and watered-down messages, it is often hard to discern Christ. In MERE CHURCHIANITY Michael Spencer addresses these concerns and guides us to find a true spirituality. Often finding the true Jesus is difficult. We are bombarded by Hollywood's version, by those who give him credit for everything from an academy award to a hybrid car. Amidst the confusion is a nugget of truth. Michael Spencer helps us find that truth.

Sometimes we have to step out of the four walls of church to seek our Christ without the distraction of others' beliefs. Within the pages of this book, with the Bible as our guide, we will find Jesus, the son of God.
GOD ATTACHMENT
Why you believe, act, and feel the way you do about God
By Tim Clinton and Dr. Joshua Straub
ISBN 978-1-4391-8683-6
Howard Books
Reviewer Carrie Padgett
GOD ATTACHMENT is a fascinating book about how human beings relate to God. We're created in God's image with a need to connect with Him and with others.
Drs. Clinton and Straub take the reader through several modes of attachment. Once you know how you relate to others, you can see how relating affects your attachment and relationship to God.
They explore issues that may interfere with an individual's ability to securely attach to others and to God. They also offer encouragement for those learning how to relate to God as Nurturer, Protector, and Pursuer, among others.
The authors take the reader on a journey to healing and rebuilding scarred and damaged relationships. It's not an easy three or four step program, but it's doable and rewarding to enjoy the fullness that a secure God attachment makes possible.
Faith element: High. Scripture quotes are plentiful throughout.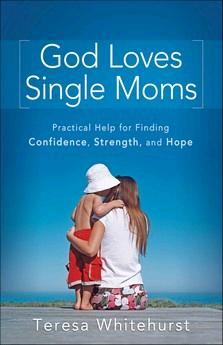 GOD LOVES SINGLE MOMS
Practical Help for Finding Confidence, Strength, and Hope
By Theresa Whitehurst
ISBN 978-0-8007-3277-6
Revell
Reviewer Cynthia Hickey

Being a single mom is tough. Ask anyone who's been there. But there is hope. As difficult as those years as a single parent can be; you aren't alone. And there are benefits, although you might have to dig to find them.

Not a cure all for the weariness of single parenting, GOD LOVES SINGLE MOMS offers practical advice, encouragement, and steers the reader toward the source of all help--God. Take an inventory to see where your family is, then form a plan to move forward. Teresa Whitehurst offers advice on everything from job search to home organization. Dwell in the pages of this book and find advice to improve your life and find joy as a single parent.

Medium on the faith scale.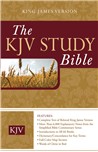 THE KJV STUDY BIBLE
KJV 400th Anniversary Edition
ISBN 978-1-61626-036-1
Barbour Publishing
Reviewer Carolyn R Scheidies
I've had any number of Bibles over the years for my personal use in different translations, versions and formats. I've also reviewed some very cool Bibles. But I must admit, I fell in love with THE KJV STUDY BIBLE. The text is crisp and readable, even for my less than young eyes. The column is a normal two column format, but with added explanations at the bottom of each page. The thin, but sturdy pages have a nice "feel" to them—almost a soft as well as slick texture. Besides 6,000 explanatory notes, THE KJV STUDY BIBLE offers book introductions, along with author and purpose. There are color maps, Christ's words in red as well as a dictionary/concordance. The notes are helpful and practical.
The King James Version is still the Bible you want to read for the beauty and rhythm of the text as well as for a Bible derived from ancient Biblical sources. If you don't mind the Old English language, this Bible is one that you'll want to keep close, use for personal Bible study and carry along to church, Sunday School class and Bible Study. Wish I'd had this Bible 20 years ago. (Of course, since this is a 400th year anniversary edition of the KJV, that would not have been possible. :) )
I highly recommend THE KJV STUDY BIBLE.
DANGER CALLING
True Adventures of Risk and Faith
By Peb Jackson and James Lund
ISBN 978-0-8007-3404-6
Revell
Reviewer Cynthia Hickey

From one end of the earth to the other and to the depths of the sea, DANGER CALLING contains sixteen true life stories that keep you on the edge of your seat and challenge your thinking and your faith. Containing questions to challenge you, this book is an adventure in reading. What is your source of strength in a crisis? Could you lead others into battle knowing some of them will die?

These are a few of the issues presented within these pages. In Bible study form, each chapter contains questions encouraging the reader to dig deep and answer questions from the heart, from the gut, from deep within your faith. Be prepared for a wild ride!

High on the faith scale.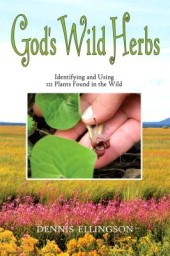 GOD'S WILD HERBS: IDENTIFYING AND USING 121 PLANTS FOUND IN THE WILD

By Dennis Ellingson

ISBN 978-0-9818929-2-4

Cladach Publishing

Reviewer Carolyn R Scheidies

The author takes us on a journey through backyards, gardens, forests, mountains and deserts as he explains--in plain English--the plants God created for our use. He provides the common sense as well as the scientific plant designations.

He explains what each plant looks like as well the benefits of different parts of the plant. From the lowly dandelion and horseradish to cactus and cattails, we learn of plants, shrubs and trees, all tied in to God's Word and His marvelous provision.

This book is practical, a fascinating read and a step to learning how to use the variety of plants God created for our use.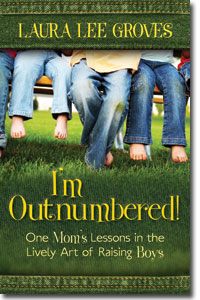 I'M OUTNUMBERED
One Mom's Lessons in the Lively Art of Raising Boys
By Laura Lee Groves
ISBN 978-0-8254-2739-8
Kregel Publications
Reviewer Casey Pitts
Are you up for the challenge of raising boys? As Laura Lee Groves shares, there is no magic formula, but we can learn from each other. She encourages Moms to trust God above all things and then try a few parenting strategies. She includes serious lessons in teaching responsibility, and fun ideas for encouraging appropriate social behavior. Because let's face it, armpit noises should be limited to certain kinds of events.
Groves admits that what works for one child may not work for another, but her witty stories encouraged me to try a little of everything. Instead of being frustrated by sibling rivalry, offer an opportunity for leadership and competition. Struggling with communication? Try playing a game at the dinner table or in the car. Other topics include manners, self esteem and physical needs.
Each chapter gives a multitude of options for different families. I especially appreciated the sections where Groves' own boys gave their thoughts about discipline, fun, and relationships. This book will help you realize you are not alone in raising boys to be well rounded young men.
Faith element: High

UNDER THE OVERPASS
A Journey of Faith on the Streets of America
By Mike Yankoski
ISBN 978-1-59052-402-2
Multonomah
Reviewer Cynthia Hickey

Christians in today's world don't often have their faith tested. Not to the extreme that Christians in other countries might. We have the ease of openly acknowledging Christ, living in our comfortable homes, knowing that church and food are waiting to the asking. Mike Yankoski decides to test his faith in an extreme way.

He leaves behind his middle-class life and hits the streets, literally. He and his friend decide to live as society's outcasts; the homeless. They want to see whether their faith is real. These two men visit five cities and live in, and explore, every dark corner of them. What ensues changes their life...and the readers.

UNDER THE OVERPASS is an eye-opening account of two men's search for realism in their faith.

High on the faith scale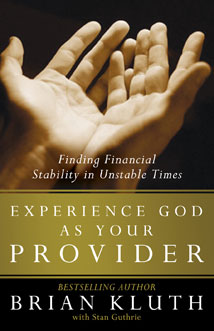 EXPERIENCE GOD AS YOUR PROVIDER
Finding Financial Stability in Unstable Times
By Brian Kluth with Stan Guthrie
ISBN 978-0-8024-4425-7
Moody Publishers
Reviewer Carolyn R Scheidies
We are a consumer-driven society. Things mean more than people, even God. But the very aspect of life that will bring us the greatest satisfaction and provision is the One we relegate to the back seat of our lives—God. God is our provider. If we desire a life of abundance, we need to start with God as our provider. This means putting Him first and foremost in our lives, our relationships—and our finances. The principles are simple: give, save, spend. It is getting those priorities straight that is difficult. The authors are on track with both Dave Ramsey and Crown Financial Ministries.
The three sections of the book are 1) Recognize God's Provisions, 2) Receive God's Principles and 3) Respond to God's Plan. Common sense, practical and a book everyone concerned with finances should read.
Faith element: high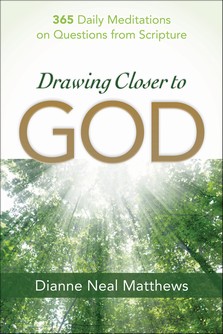 DRAWING CLOSER TO GOD
365 Daily Meditations on Questions from Scripture
By Dianne Neal Matthews
ISBN 978-0-8010-7272-7
Baker Books
Reviewer Carolyn R Scheidies
Each devotion in DRAWING CLOSER TO GOD starts with a question. Example: "Why are your disciples doing something that is not permitted on the day of worship?" Page 264.
Matthews takes the question she poses from the daily portion of scripture to be read for the day and melds explaining the Scripture with application for today. The devotionals flow from Scripture to the challenges and situations we face today. She ends each day's devotion with a question. In the example, she explains how the Pharisees criticized Jesus for his Sabbath day activities and what Sunday really should mean for us. She ends with the question "Do I honor God with the way I spend my Sundays?"
DRAWING CLOSER TO GOD is inspirational, uplifting and challenging. Exactly what we need in a daily devotional.
Faith element: high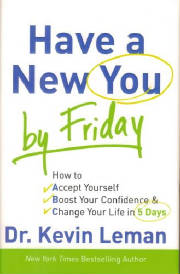 HAVE A NEW YOU BY FRIDAY
By Dr. Kevin Leman
ISBN 978-0-8007-1933-3
Revell
Review by Cynthia Hickey

Dr. Kevin Leman adds another book to his series. After his Have a New Kid by Friday and Have a New Husband by Friday, he now helps us accept who we are in five short days.This book will take us to uncomfortable places; place that may hurt as it forces us to be honest with ourselves.
Forces us to face the lies we've been told or have told ourselves. Dr. Leman makes us dig deep into secret places and answer probing questions, and in doing so leads us to be a better...US.

Five days, ten steps. That's all it takes to improve yourself and your life.
Faith element: low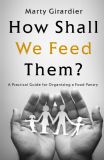 HOW SHALL WE FEED THEM?
A Practical Guide for Organizing a Food Pantry
By Marty Girardier
ISBN 978-1-4141-1504-7
Pleasant Word
Review by Cynthia Hickey

God instructs us to take care of our neighbor. To care for the poor. Especially in today's economy, people are going hungry. Some churches have food pantries to help care for this need. Some communities have food banks. But there aren't enough.
If you have felt led to open a food pantry, this is a practical guide to lead you on your way, from finding people to help, to the most efficient ways to stay organized.

Not only is HOW SHALL WE FEED THEM? a guide to opening a pantry, but it is also a guide to showing us how to give and how to bless others.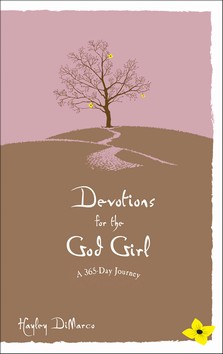 DEVOTIONS FOR THE GOD GIRL
A 365-Day Journey
By Hayley DiMarco
ISBN 978-0-8007-1950-0
Revell
Reviewer Cynthia Hickey

Do you desire to be a better woman? To be more content, less stress-filled? God also desires for us to have these things, and more. He yearns for us to draw closer to him.

As a new year approaches, we often wonder how we can improve our life. How can we get closer to God? DEVOTIONS FOR THE GOD GIRL gives us a relevant scripture and study for every day of the year. When we love someone, we want to spend time with the time. Who better to start our day with than our Heavenly Father?

DEVOTIONS FOR THE GOD GIRL leads us to reflect on where we've been, where we're at, and where we're going. Hard-cover, it's the perfect gift for yourself or someone you care about.

High on the faith scale.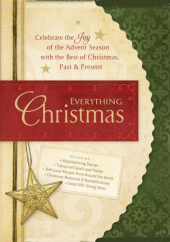 EVERYTHING CHRISTMAS
By David Bordon and Tom Winters
ISBN 978-0-307-72929-3
WaterBrook Press
Reviewer Casey Pitts
Christmas traditions bring families closer together during the holiday season. Everything Christmas combines well-loved stories, scripture passages, and project ideas that will inspire you in new ways.
The book is organized into twenty five daily readings beginning on December 1 and culminating in the scripture story of Christ's birth. Familiar carols and stories are sprinkled throughout, along with clever project ideas for all ages. Many of the stories are perfect for reading aloud during an advent devotion time. The multicultural recipes are sure to be a great success for those who want to celebrate Christmas around the world.
Educationally minded families will find thematic elements in science, history, art, cooking and literature. Boys will especially love the colorful pinecone experiment. My personal favorites included source materials from 1880's newspapers and historic Christmas speeches given by famous people.
A delightful treasury of Christmas traditions. Make memories with your family!
Faith Element: High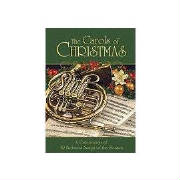 THE CAROLS OF CHRISTMAS
A Celebration of 40 Beloved Songs of the Season
By David McLaughlan
ISBN 978-1-60260-651-7
Daymaker Inspirational Gifts
Reviewer Carolyn R Scheidies
I love reading the backgrounds of songs. In a beautifully created book, the author shares the history of familiar and not so familiar Christmas carols. Even some of what I did know about the background of some of the carols, I found needed some adjustment. THE CAROLS OF CHRISTMAS is done with truth, reverence, reality and just a touch of humor.
A beautiful complement to Christmas. Make a nice gift for a musical friend or family member.
Faith element: medium to high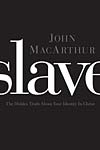 SLAVE: The Hidden Truth About Your Identity in Christ
By John MacArthur
ISBN 978-1-4002-0207-2 (Check)
Thomas Nelson
Reviewer Carolyn R Scheidies
I get concerned when Christian leaders/authors talk about "secret" and "lost" teachings. Since Scripture is "God breathed," we need to be careful not to imply God has not been able to supply us with trustworthy Scriptures. However, MacArthur was mainly highlighting some differences he has with translating "servant" in places he feels should read "slave." He uses this to propel the reader in what it truly means to be a Christ-follower. Serving Christ is more than an occasional church stop. Serving Christ means we are slaves to Him. He called us, choose us and bought us with His blood. He calls us to a complete dedication to Him to His will to His service.
Because of our history, we don't like the word slavery in any form. Yet, unless we belong (as in slave) to Christ, we belong (are slaves and in slavery to) Satan and evil. The difference is that slavery to Christ actually sets us free to be all He intended us to be.
From Scripture and Biblical context and from stories of heroes of the faith such as John Newton, MacArthur draws us into what it means to truly be a slave to Christ Jesus.
Faith element: high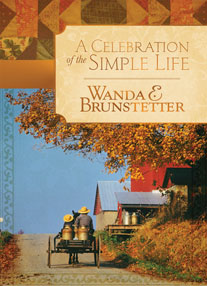 A CELEBRATION OF THE SIMPLE LIFE
Inspiring Thoughts from Amish Country
By Wanda E Brunstetter
ISBN 978-1-60260-772-9
Daymaker Inspirational Gifts
Reviewer Carolyn R Scheidies
Brunstetter has written a beautiful devotional based on her relationship with the Amish/Plain People. This takes their simple way of life out of the fiction she usually writes to showing us how to step back and find God in a less busy, simple way that so characterizes the Amish.
Using her interaction and friendship with her Amish friends, Brunstetter shows us how we all need to step back and see God through the eyes of commitment and faith. There is nothing simple about a people who willingly forgave a man who murdered their schoolchildren in cold blood. They not only forgave, they gathered around the man's family in support and love. Such a faith is anything but simple or easy.
A CELEBRATION OF THE SIMPLE LIFE celebrates a simple but deep faith and, through poems, scripture, devotionals and prayers, leads us to that place of faith as well.
Faith element: high


HEAVENLY HUMOR FOR THE CAT LOVER'S SOUL
75 Fur-Filled Inspirational Readings
ISBN 978-1-60260-992-1
Barbour Publishing
Reviewer Carolyn R Scheidies
Chicken Soup books are poignant and fun to read, but most are not overtly Christian in content and direction. HEAVENLY HUMOR FOR THE CAT LOVER'S SOUL takes the idea of a collection of cat stories and adds a devotional flavor. Each short true-to-life anecdote starts with a Bible verse and ends with a spiritual point. The short devotional-length segments cover several different broader topics such as God's protection, wisdom, contentment, love, trusting God and much more. The stories are filled with all those antics that exasperate yet melt our hearts.
Several devotionals feature different stories of the same cats and I'd go back to re-read the other stories for continuity. I would have liked a better way to connect these stories.
Sometimes the anecdotal story seemed not quite a fit for the Biblical passage used. Overall, the book was fun to read and gave a positive start to my day. Can be read like fiction or used as a devotional—one day at a time.
Great gift for the cat lover you know.
Faith element: medium

MESSAGE IN A WORD
Inspired Succinct Sermons Uniquely Expressed
By Margaret A Blincoe
ISBN 978-0-9827624-0-0
Message in a Word Enterprises
Reviewer Carrie Padgett
MESSAGE IN A WORD is not your usual devotional book. Although, there are daily or weekly selections and there is space for journaling your response, the similarities end there.
MESSAGE IN A WORD is a new twist of a familiar formula.
Margaret Blincoe has taken words that are common in Christian culture, Christian-ese if you will, and written meditations on each word.
What makes this book unique is how the word-of-the-day is expressed. Each word has been turned into an acrostic; each letter of the word represents another word that describes the original word.
For example, the selection on SAVED is titled, Salvation Available Versus Eternal Damnation. Other devotionals include Faith, Lamp, Dread, Yoke, and Selfish.
Each is uniquely expressed, as a message in a word.
The author does a nice job making the message word or phrase easy to comprehend and the devotionals are very readable with plenty of personal application. Lined pages for journaling conclude each day's devotional.
Faith element: High.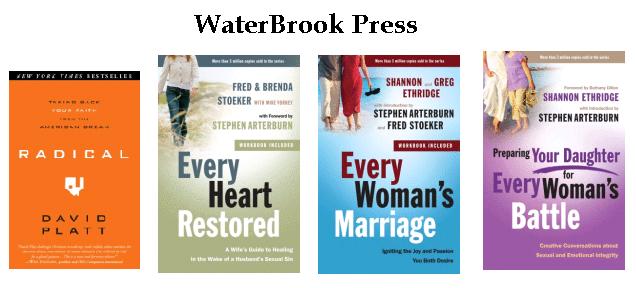 RADICAL
Taking Back Your Faith From the American Dream
By David Platt
ISBN 978-1-60142-221-7
WaterBrook Press
Reviewer Casey Pitts
In a world where people embrace philosophies from television commercials, David Platt offers a new perspective, a "radical" outlook. Trade in your self-made dream for God's vision. Abandon the traditional idea of the American dream and give God one hundred percent control of your success.
Platt recounts his own personal journey to success in the kingdom of God. I appreciated his candor in sharing the truth about the good and bad in pastoral leadership. Stories of faithful men from the past and present influenced his transformation. In the process, he lays out a clear argument for people to give over our dreams to God and let the Holy Spirit guide our success. He lays out a clear plan of action to pray, seek God, and sacrifice worldly desires for the sake of the gospel.
Get ready to be motivated – "Radical" inspires action!
Faith Element: High

EVERY HEART RESTORED
A Wife's Guide to Healing in the Wake of a Husband's Sexual Sin
Workbook included
By Fred and Brenda Stoeker with Mike Yorkey
ISBN 978-0-307-45942-8
WaterBrook Press
Reviewer Carrie Padgett
EVERY HEART RESTORED is a much needed book that speaks to where many women are living today. The subtitle is "A Wife's Guide to Healing in the Wake of a Husband's Sexual Sin."
Written to the wounded wife whose husband has been viewing pornography or had an affair, EVERY HEART RESTORED weaves the author's personal experiences with stories from women and men who have been ministered to by the Stoekers or the "Every Man" Series of books. EVERY HEART RESTORED also includes a workbook making it ideal to use and read through in a support group.
The teaching is solidly biblical. While it doesn't point a finger of blame at the woman for her husband's failings, neither does it let her off the hook for her part in his restoration.
A woman struggling with how to forgive, how to show mercy, how to move on from here, will find EVERY HEART RESTORED a wonderful tool to use on her journey.
Faith element: High.

EVERY WOMAN'S MARRIAGE
Igniting the joy and Passion You Both Desire
By Shannon and Greg Ethridge
ISBN 978-0-307-45857-5
WaterBrook Press
Reviewer Casey Pitts
Conflict in marriage leads thousands of couples into relationship counseling. Resolving these conflicts requires a long-term change. EVERY WOMAN'S MARRIAGE provides useful insight into the hurt, pride, and insecurity that feeds our actions.
The Etheridges dig deep into the foundations that keep husbands and wives from understanding one another. Communication and physical intimacy receive special attention. Each chapter offers suggestions for immediate use as well as opportunities for deeper thought. Do you have a habit of manipulating your spouse? Do you communicate love in a way that best speaks to your spouse? Be prepared to examine the truth behind your motives.
A workbook accompanies the text which inspires great conversation for couples and/or accountability partners. A great book to refer back to for newlyweds or couples in their golden years.
Faith Element: High

PREPARING YOUR DAUGHTER FOR EVERY WOMAN'S BATTLE
Creative Conversation About Sexual and Emotional Integrity
By Shannon Ethridge
ISBN 978-0-307-45858-2
WaterBrook Press
Reviewer Casey Pitts
Is it possible to keep young girls from compromising their purity for the attention of boys? Our world challenges girls with pressure to be beautiful, popular and seductive. This book offers steps to teach parents and teens about being the princess that God wants them to be.
Ethridge presents biblical perspective in two areas. The first part of the book is a series of chapters presenting to parents issues faced by teenage girls, such as how they understand love and how a parent can guide a daughter's modesty? The stories and data are helpful in understanding the pressures teenage daughters feel. The chapter about fathers and daughters outlined good suggestions for dads who might be intimidated by the fact their "little girl" is growing up.
The second part of the book is designed as a journey for parents and daughters to share. Each chapter offers reading, discussion and activities to emphasize sexual and emotional integrity. Be prepared for explicit diagrams and candid discussions about topics ranging from reproductive anatomy and choosing a wardrobe to discerning movie ratings. I found the content to be tastefully presented. However, some sections may be uncomfortable for families with younger children.
Faith Element: High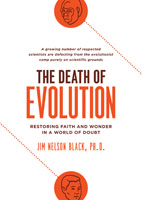 THE DEATH OF EVOLUTION
Restoring Faith and Wonder in a World of Doubt
By Jim Nelson Black, PH.D.
ISBN 978-0-310-32745-5
Zondervan
Reviewer Carolyn R Scheidies
Evolution is a bankrupt and insufficient theory of the beginning either of the world or of humankind. You wouldn't know this by the fervent and extreme dedication of its high priests—evolutionary--so-called-scientists who've traded in their open minds for a religion that leads to despair—a theory that led to the Nazi death camps where human life was of no value.
Using common sense and the writings of evolution proponents from Darwin on, as well as scientists who've followed clues to the truth and away from evolution, the author hammers home what most of us with a Judeo-Christian world view already knew, that evolution can't possibly be true. It doesn't fit with reality and scientific discoveries do not support it.
This book may be small, but it packs a lot of solid facts—much out of the mouths of the evolutionary proponents themselves. Everyone should have access to this book. It should be taught in homes and schools and should be in every library.
Faith element: high Recommended.


BIBLE ANSWERS FOR EVERY NEED
Compiled by Clarence L Blasier
ISBN 978-1-61626-067-5
Barbour Publishing: Matthew Publishing Co.
Reviewer Carolyn R Scheidies
This beautiful packaged volume makes a great gift. The small book has a rich feel to the leather-like cover. The pages are framed in blue and brown and edged in gold. But the text is the real treasure. BIBLE ANSWERS FOR EVERY NEED categorizes aspects of faith and life such as God, Jesus, faith, fear, finances, forgiving, gifts, love, lust and so many more issues with which we deal on a regular basis.
Under each category you will find Bible verses about the subject. Want to know what the Bible says about hope, Heaven or hell? Look it up. Want to know about salvation, doubt, peace and patience? Look up the category and find the verse that applies.
BIBLE ANSWERS FOR EVERY NEED can be used during those times of need, used as a start or end to the day, or used throughout the day when you want a word from the Lord.
A practical gift in a beautiful format. Great gift idea for those you care about, starting with yourself.
Faith element: High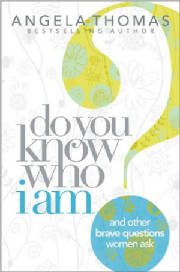 DO YOU KNOW WHO I AM
And Other Brave Questions Women Ask
By Angela Thomas
ISBN 978-1-4391-6070-1
Howard Books
Review by Cynthia Hickey

Does anyone claim to know who a woman really is? God does. Not only is DO YOU KNOW WHO I AM a book about a woman struggling with issues facing women today, but it is about God answering, "I do. Do you know who I am?"

Women today struggle with loneliness, feeling invisible, not measuring up, exhaustion, etc. God can, and does, handle these issues for us. DO YOU KNOW WHO I AM deals with a different problem in each chapter and biblical references to point us to the answers. It doesn't matter where you are in life, or in your spiritual walk, God loves and accepts you. He has the answers.

High on the faith scale.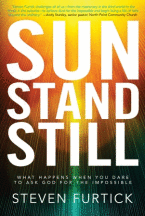 SUN STAND STILL
What happens when you dare to ask God for the impossible
By Steven Furtick
ISBN 978-1-60142-322-1
WaterBrook Press
Review Carolyn R Scheidies
No, this is not "Name it and claim it." It is getting our hearts and minds in tune with God's Word, will and principles. It is trusting God no matter what and knowing Him well enough to step out in faith when He calls.
SUN STAND STILL is Biblical, readable and practical. It is how flawed humans access a holy, but loving God, allowing Him to change our hearts, our lives and our future.
Pg. 51 ...the only job pastors and teachers have is to prepare God's people for their own personal ministry.
Pg. 99 Dream God-worthy dreams. ... Live a life that can be explained only by the existence of a God who is infinitely great.
Pg. 101 What sets the Christian faith apart is an unrelenting hope in the fact that God is good.
Pg. 109 If your faith isn't rooted in God's promises, it's not scriptural faith. It's just wishful thinking.
Pg. 148 Sometimes God lets the sun go down so that he can be our only light. Audacious faith doesn't mean my prayers work every time. It means that God is working even when my prayers don't seem to be working at all.
Pg. 173 If you're going to have the audacity to ask God for something. You'd better be ready to act. Audacious prayer must be tethered to practical obedience. Or else it's not faith. It's just wishful thinking and positive mental energy.
Pg. 175 Sun Stand Still prayers are integrated prayers. They join our faith-filled prayer with our faith-filled action. [Joshua is used as the example here.
Faith element: Very high. Recommended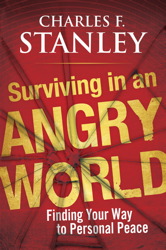 SURVIVING IN AN ANGRY WORLD
Finding Your Way to a Personal Peace
By Charles F. Stanley
ISBN 978-1-4391-8356-4
Howard Books
Reviewer Carolyn R Scheidies
Anger is a word that describes our culture these days. Recently at a pro-life rally, homosexual protesters grew increasingly interruptive, angry and violent. They were so angry, they focused their vile epithets toward the preschool children accompanying their parents until these children were in tears and feared for their safety.
Anger stems from hurt, from choices we make, from habit and rationalization. But out-of-control anger does not bring positive results. Feeding anger is a choice. How we respond to provocation is also a choice.
Stanley takes us on a journey of the roots of anger, the results of anger and how we can live anger-free in a world that almost seems to endorse anger in the form of pay-back, revenge and nursing real or imagined hurts. As always, he brings us back to how to have a heart of peace—by following the Prince of Peace.
Stanley doesn't provide shallow, cookie-cutter answers. Anger is a deep and pervasive problem that destroys individuals, relationships, marriages and lives. He shows us how we can move from anger to wholeness and better choices.
A valuable resource for every Christian.
Faith element: high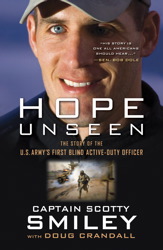 HOPE UNSEEN
The Story of the U.S. Army's First Blind Active-Duty Officer
By Capt. Scotty Smiley with Doug Grandall
ISBN 978-1-4391-8379-3
Howard Books
Reviewer Carolyn R Scheidies
Scotty wanted to serve his God and his country. And he did so, going to West Point and Ranger School to prepare for Iraq. What he didn't expect was the explosion that ripped up his face, blinding him. Though the doctors stabilized his battered body, Scotty's spirit was tested. Where was God in all this? How could God leave him blind, helpless and a burden to his family and his beautiful wife?
But God didn't leave Him alone. Surrounded by friends and family and a wife who wouldn't give in and wouldn't let him give up, Scotty found his way back to life. But could a blind man really remain in active service?
A story of fortitude, courage and God's amazing power to restore, heal and bring blessing out of what seemed like a hopeless situation.
Faith element: high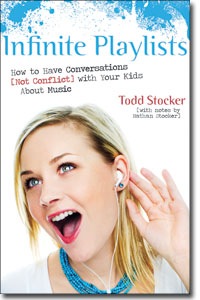 INFINITE PLAYLISTS
How to Have Conversations [Not Conflict] with Your Kids About Music
By Todd Stocker
ISBN 978-0-8254-3656-7
Kregel Publications
Reviewer Carolyn R Scheidies
Black and white. Demanding our children stop listening to certain music seldom works. When it does, often it causes resentment in both children and parents. Stocker takes a much more common sense approach in INFINITE PLAYLISTS. Getting our kids to listen starts with a good, Godly example. We parents need to provide a solid foundation of faith and principles, that we also adhere to, as we value where our children are and interaction with them. With the way things change, sometimes music choice is something parents and children learn together.
Stocker constantly interacts with his son about lyrics and music. He points out that parents need to teach children and themselves to look at lyrics, the mood music draws one into as well as context. Check the musician(s). What is their lifestyle? If the song dishonors God, women or others, if it promotes a degrading or immoral lifestyle, if it is filled with words/phrases not accepted in your home, if it is filled with an explicit or even subtle sexual message, the song is off that playlist. Explain why such music is harmful and allow your child to examine your music as well. You may find you need to remove something as well. Teach by example and, no matter, what love your child.
There is so much more in this small book. I highly recommend it to parents, teens and youth leaders.
Faith element: high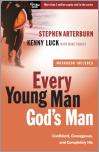 EVERY YOUNG MAN GOD'S MAN
Confident, Courageous, and Completely His
By Stephen Arterburn and Kenny Luck with Mike Yorkey
ISBN 978-0-307-45943-5
WaterBrook Press
Reviewer Carolyn R Scheidies
I've watched young women become beautiful women of God. I and other mothers watch our young women search for Godly young men—and don't find very many. To many of today's young men compromise with a world determined to destroy their integrity as men, as Godly, faithful men and as men determined to remain sexually pure in thought, word and deed.
Too many, even Christians, in today's culture claim to believe one thing, but their actions scream something else and that scream is compromise or complete capitulation to evil that will consume and destroy them.
This book pulls no punches. It lays out truth not just with a dry recital of scripture, but through real life experiences and practical application. While sexual purity is covered, this book deals with the totality of what it means to walk with God wholeheartedly and the rewards of doing so.
The book includes a workbook for use in Bible Study groups.
This is an absolute must for every young man. Rush to buy this book for that young man in your life. Wouldn't hurt older men to read it as well.
Faith element: very high. Highly recommended.
OUR DAILY BREAD DEVOTIONAL JOURNAL
ISBN 978-1-57293-389-7
Discovery House Publishers
Reviewer Carolyn R Scheidies
This journal-sized devotional is perfect for writing down those things that challenge or inspire as you read God's Word throughout the year. OUR DAILY BREAD DEVOTIONAL JOURNAL includes a read-through-the-Bible-in-a-year guide.
Each day of the year includes a key verse, a scripture passage, a short devotional and a place to write down each of the following: Biblical Truth, Personal Application, Prayer Requests and Answers to Prayer. Each day ends with a quote such as "God speaks to those who are quiet before Him.
The devotionals pack a lot of punch for their length, helping the reader/user to better understand the passage, self and God. OUR DAILY BREAD DEVOTIONAL JOURNAL helps us focus on God and allows Him to show us how to grow in our relationship with Him.
Inspirational and practical.
Faith element: high.

PRAYERS WITH PURPOSE FOR WOMEN
By Jackie M Johnson
ISBN 978-1-61626-105-4
Barbour Publishing
Reviewer Carolyn R Scheidies
PRAYERS WITH PURPOSE FOR WOMEN is a small, green and pink book that fits in a shirt pocket. It is not just a devotional. It is a kick-start for each day. Covering any number of topics—home, health, children, emotions, nation and much more, this book includes for each day a Scripture and a prayer that takes the reader to her knees. Both scripture and prayers are very appropriate and moving and certainly starts the day off on the right foot.
This was a pleasure to read, and added depth to my regular morning devotions. A book to reach, teach and challenge a woman's heart.
Faith element: high

PRAYERS WITH PURPOSE FOR MEN
By John Hudson Tiner
ISBN 978-1-61626-106-1
Barbour Publishing
Reviewer Carolyn R Scheidies
A small, pocket-sized devotional filled with scripture on any number of topics such as salvation, marriage, children, home, health, joy, fears, job, finances, church, nations, dreams and more. Each page contains a verse and a devotional prayer that expands on the prayers and giving practical applications.
A wonderful gift for that man in your life.
Faith element: high


SHARED BLESSINGS
Inspiration for a Woman's Soul
Connected in Faith gift book
Circle of Friendship
ISBN 978-1-60260-986-0
Barbour Publishing
Reviewer Carolyn R Scheidies
This small devotional serves up large portions of inspiration, challenge and encouragement with scripture and a short devotional wisdom from well-known writers and speakers, past and present.
The volume easily fits in pocket and purse to take along for those quiet moments that happen during the day or for those times we need a word of inspiration. The pages have a subtle flower background, making holding and reading the book a pleasure.
SHARED BLESSINGS can be used to set the tone for the day as it encourages us in our faith walk. A delightful gift for ourselves or a friend.
Faith element: high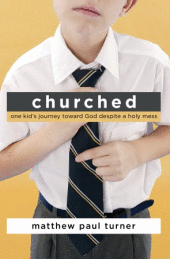 CHURCHED
One Kid's Journey Toward God Despite a Holy Mess
By Matthew Paul Turner
ISBN 978-0-307-45801-8
WaterBrook Press
Reviewed by Cynthia Hickey

Matthew Paul Turner had a normal childhood in normal suburbia. Or so he thought. It wasn't until his family joined a fundamentalist Baptist Church in their search for a church where God resided that he realized how wrong he was. Matthew found himself in a church full of legalism and rules from everything from how he should dress, think, and cut his hair. This had to be the truth, right? God lived within those four walls. From the age of four through adulthood, we live a crazy "weird" life with Matthew, until he finds the Truth.

Funny, often poignant, CHURCHED is a book that anyone raised within a denominational church will be able to relate to. It wasn't until adulthood, when Matthew begins to search for God with his wife, that Matthew finds the real house that God dwells in and finds a freedom that sets him free.

High on the faith scale.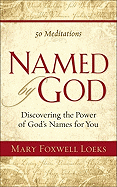 NAMED BY GOD: DISCOVERING THE POWER OF GOD'S NAMES FOR YOU
50 Meditations
By Mary Foxwell Loeks
ISBN 978-0-8007-3420-6
Revell
Reviewer Carrie Padgett
Named by God is 50 devotionals on different names God has bestowed on His Beloved.
Some names are a bit generic and one-size-fits-all, such as Living Stones, Clay, and Branches. Others were for very specific people or circumstances in the Bible. Simon Peter. Mary of Bethany. Saul of Tarsus. Yet each name Mary Loeks talks about has plenty of application for individuals who may not feel that a particular name could apply to them personally.
The meditations begin with a verse, and are followed by a short narrative to reinforce the lesson behind the name. The devotional concludes with an instructional point, application questions, and a prayer.
If you're looking for something a bit different but with plenty of meat and thought-provoking insights, Mary Foxwell Loeks writes her lessons with thoughtful key strokes and gracious exhortation.
Faith element: High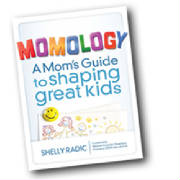 MOMOLOGY
A Mom's Guide to Shaping Great Kids
By Shelly Radic
ISBN 978-0-8007-3449-7
Revell
Reviewer Carrie Padgett
MOMOLOGY is perfect for the reader who must read a book straight through, cover to cover and for the reader who prefers to dip in and look for inspiration at random.
The book is divided into four areas: being a healthy, resilient mom at your CORE; building FINESSE and knowing what you're capable of; building a CIRCLE of support and relationships; and, engaging with God in a GRANDSCAPE.
Each area also has four sections that include anecdotes, field studies, research information and comments from real moms.
MOMOLOGY is a practical, faith-based parenting book, just the kind of guide I would have dog-eared and worn out in my child raising years.
As an empty-nester, I can look back and see the wisdom of many of Shelly Radic's suggestions and guidance.
Faith element: High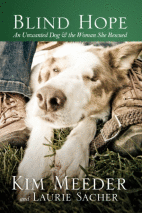 BLIND HOPE
An Unwanted Dog & the Woman She Rescued
By Kim Meeder and Laurie Sacher
ISBN 978-1-60142-281-1
Multnomah
Reviewer Carolyn R Scheidies
Laurie tried to keep up a front of being kind and good and successful, but inside she was dying. As a Good Samaritan she would rescue a dog. She didn't know the dog would be a dog that looked bad, smelled bad and had so many problems that she wasn't sure whether it was worth the effort to keep the dog alive. Except the animal had a joy of life, except from the first the dog called to something in Laurie. So began a journey for Laurie and Mia that leads into the heart of love and back to God's heart.
BLIND HOPE is more like a devotional than a biography or memoir. It is a series of interactions between the author Kim and Laurie that focuses in on the spiritual lessons Laura learns from a very special blind dog.
I loved this quote from page 140: ...the grass isn't greener on the other side—it's greener where you water it.
How true. Something to keep in mind.
Faith element: high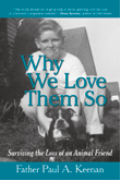 WHY WE LOVE THEM SO: Surviving the Loss of an Animal Friend
By Father Paul A Keenan
ISBN 978-1-4401-4340-3
iUniverse
Reviewer Carolyn R Scheidies
We pet owners can be very invested in our companions. When they die, often we're devastated. Too many pass off the grief of those who've lost a pet as unimportant. They do not understand the depth of loss or that grieving can be every bit as difficult as when losing a human loved one.
Through personal stories of love and loss, Father Keenan in WHY WE LOVE THEM SO shares stages of grief through loss and recovery. He understands the deep grief and helps those who've lost pets, back to wholeness. While some of his spirituality may be metaphysical in nature, the steps to recovery are right on target and useful for loss of human as well as loved pets.
Faith element: low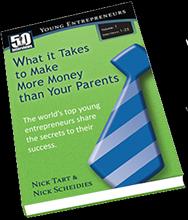 Reviewer Carolyn R Scheidies
Too often we discourage the dreams of the young, because they are young. Most don't know history well enough to know many of the figures of history started young—like Daniel and Alexander the Great. This books shares the stories of entrepreneurs who started before they understood the word.
Their success boils down to family support and encouragement, hard work, passion and a desire to not only succeed, but also to help others. WHAT IT TAKES TO MAKE MORE MONEY THAN YOUR PARENTS should be in every school and every home with kids.
Note: there is a couple of incidences of mild language. This is not a "Christian" book, but a book to help you dream big dreams and go for them—kids on up. If the kids can do it, why can't we?
Faith element: N/A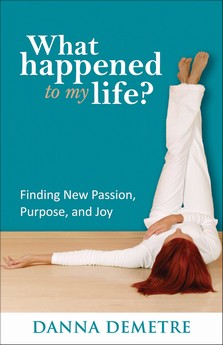 WHAT HAPPENED TO MY LIFE?
Finding New Passion, Purpose and Joy
By Donna Demetre
ISBN 978-0-8007-3352-0
Revell Books
Reviewer Clint Walker

Danna Demetre is the president and founder of Women of Purpose, an outreach ministry to women. She is a well-known and well-respected teacher, especially in women's ministry circles. In WHAT HAPPENED TO MY LIFE? she helps women find contentment and joy in their lives.

The first half of the book teaches about contentment, helping women manage their expectations of themselves, and to have realistic expectations of those people in their life that they love. The other half of the book is a devotional that functions as a workbook to help the reader make the journey from discontentment to a life of peace and joy.

I enjoyed the author's intentionality in both teaching wisdom, and in helping those she is trying to reach to become wiser. Demetre's street smarts often comes from personal failures and lessons she has learned from them. She is easy to relate to. In the process, she encourages women to use their minds to think themselves a happier and more contented life. In the devotional workbook section, Demetre is very practical, often giving the reader some simple steps for personal growth.

WHAT HAPPENED TO MY LIFE? springs from the faith journey of the author. She shares her testimony of accepting Christ amidst failed expectations of herself and of her marriage. Demetre calls the reader to reject the lies of the world, and live by the truth of Christ. Although most readers will find the first part of the book more therapeutic in nature, the devotional half of the book shows that the author clearly intends the reader to bring all of their troubles to the Lord.

This is an excellent book for women of all ages. It is especially helpful for those who are nearing mid-life, are a little dissatisfied, wonder why things don't feel right, and are trying to figure out what to do about it.

Faith element: high.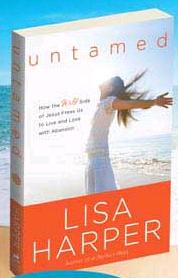 UNTAMED
How the Wild Side of Jesus Frees us to Live and Love with Abandon
By Lisa Harper
ISBN 978-1-4000-7480-8
WaterBrook Press
Reviewer Carolyn R Scheidies
Who is the Jesus we worship? Often it is some meek and mild Jesus with no power, a condemning Jesus always pointing a finger, or some variety we've shaped in our image. In other words, a Jesus who isn't real.
In UNTAMED we find the wild and wonderful Jesus who wasn't afraid to stand up to religious hypocrites and mingled with the hurt, the poor, the unclean. We learn of the Jesus who loves us beyond imagination and only wants us to come and be healed with His love.
As UNTAMED points out, we don't have to dumb ourselves down as Christians or as women to follow Christ. He lifted up women and the roles they played. He didn't tear down or consider them or their roles as "less than."
UNTAMED is amazingly, wonderfully freeing for women as we discover the Jesus we can't put in a box, who isn't yawningly boring and who truly makes a difference in our lives. .
Faith element: high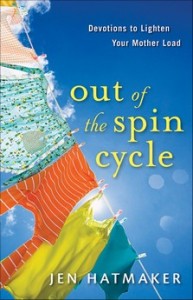 OUT OF THE SPIN CYCLE
Devotional
By Jen Hatmaker
ISBN 978-0-8007-3448-0
Revell
Reviewed by Cynthia Hickey

As mothers, women have to-do lists a mile long. They have other mothers they compare themselves with, other women who give overwhelming advice. How does a woman balance it all? How do you fit time with God into this list that never ends?

OUT OF THE SPIN CYCLE is a devotional for mothers whether you have one child or ten. It leads the reader into a freedom of fellowship with God without adding another thing to be juggled. With humor and scripture, Jen Hatmaker shows us how to obtain relief from the endless cycle of doing more, more, more.
Starting your morning with these short devotionals will help you lean on God for support and wisdom and get your day off to the start you need.
TURN IT AROUND
A Different Direction for a New Life
By Frank Santora
ISBN 978-1-4165-9757-5
Howard Publishing
Review by Cynthia Hickey

What can you do with your life when there seems as if there's no way to turn? When the obstacles seem insurmountable. Turn your life around!

Life is full of second chances. When we take the wrong road, make the wrong choice, or get hit with life's unfair punches, there is a path to take to make it right. There is hope when things seem hopeless.

Frank Santora shows us how to turn our life around and take a the positive way. God's way. God has a destiny for us. We need to find out what it is. Instead of fighting against the challenges in our life, we need to find a way to make them work for us.

TURN IT AROUND is a practical approach to life's disappointments. In easy layman language, we are led on a journey of self-discovery and triumph.

High on the faith scale.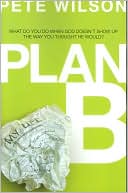 PLAN B
What do you do when God doesn't Show Up the way you thought He would?
Includes CD
By Pete Wilson
ISBN 978-0-8499-4650-9
Thomas Nelson
Reviewer Clint Walker

Have you ever wondered why you have to struggle the way you do? Do you ever feel like your life isn't the way you planned it to be? At one point in your life did you have all your plans together and all of your "ducks in a row," only to have some circumstance or tragedy destroy those dreams and plans that you based your life upon? If you can say yes to any of these questions, then you might find Pete Wilson's PLAN B both enjoyable and helpful to read.

PLAN B is a book for people who are seeking how to move forward when their initial hopes, plans, and dreams have been shattered by life's circumstances. The author does not lay out a step-by step prescriptive plan for moving forward from heartache. Instead, Pete Wilson guides the reader through their heartache like a trail guide walking with a friend on an unfamiliar hike. Each section of the book explains how God works through trying circumstances from a different perspective. For example, one chapter points out the danger of languishing in disappointment. Another chapter explains to the reader how to allow God to care for their injured soul.

PLAN B is a pleasant read. The author is conversational in tone. He is compassionate. The book is well-researched with quotes from Christian thinkers of the past and present. If you are like me, you will not only want to read this book for yourself, you will want to pass PLAN B on to friends and family you love.

Faith element: high.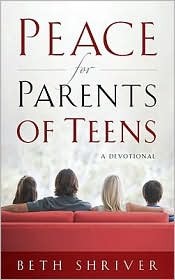 PEACE FOR PARENTS OF TEENS
A Devotional
By Beth Shriver
ISBN 978-0-9824832-5-1
Sheaf House: Journey Press
Reviewer Carrie Padgett
PEACE FOR PARENTS OF TEENS is a wonderful devotional book. While the back cover says it's specifically for parents whose teens are struggling through adolescence, it will be useful to all parents.
The book consists of 365 devotionals, arranged into 52 groups of 7. Each week's readings are grouped around a theme, such as Authority, Brokenness, Faith and Hope. Each day's selection consists of a verse, a response-provoking question, a short homily, an inspirational quote, and a prayer designed to be said with your teen in mind and their name inserted into the prayer.
The questions will be excellent conversation starters with your spouse and would be a great journalling exercise. The readings are designed to be short, but there is lots of good material in there.
Parents of all ages, with children of all ages, will find PEACE FOR PARENTS OF TEENS a great addition to their nightstand reading.
Faith element: High.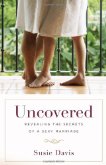 UNCOVERED: REVEALING THE SECRETS OF A SEXY MARRIAGE
By Susie Davis
ISBN 978-0-8007-3392-6
Revell Books
Reviewer Clint Walker

Many authors write books about finding a way to have a happier, healthier marriage. Women buy these books by the millions each year. Men purchase these books at the pace of a few dozen each decade. Thus, author Susie Davis proves herself to be both a wise marketer and a savvy communicator by writing a book about having a "sexy marriage" and orienting that book to women seeking a little spice to their otherwise strong marriages.

The format of the book is very appealing. At the end of each chapter there are questions for the reader to ponder. Following the questions, there is something the author calls the "male room". In the "male room" the author has asked several men to reflect on the content of each chapter by asking these men pointed questions. The guys' answers vary from the cliché to the painfully honest. Mrs. Davis also does a great job of grabbing the reader's attention by putting the chapters on sex at the beginning, and then moving on to deeper relational issues as the book progresses.

Susie Davis is a fun author who comes across as both authentic, and as having a good sense of humor. I found myself laughing out loud at some of the stories she shared about her marriage. She is honest about her stubbornness, the things that her husband does that annoy her, and how they have worked through their struggles to form a happy marriage together. I found her hard won insights about guys like myself insightful, and I found myself hoping this book would find a wide audience.

Faith element: high.

DAD'S BIBLE (New Century Version)
The Father's Plan
Notes by Robert Wolgemuth
ISBN 978-0-7180-1942-6
Thomas Nelson
Reviewer Carolyn R Scheidies
This is as impressive as the MOM'S BIBLE, except, of course, this one is geared for fathers. DAD'S BIBLE has a rugged quality to the pages that draw Dad in with helps, explanations and notes of encouragement. Right from the beginning, I was drawn in by the point that Adam was a wimp who folded under pressure, instead of doing what was right. This "Dads in the Bible" portion, shows the incredible privilege of leadership a father has been given. Later we get a comment on Eli as an absentee Dad who put "serving" God above being there for his family, and the result.
DAD'S BIBLE includes insights and commentary on passages showing how a Dad can have the courage and the strength to stand up for what is right...and take his family with him. Fathering advice gleaned from Biblical passages is practical and doable.
Commentary shows how Dads can raise Godly, caring children by drawing near to the Father and following Christ's example in loving his kids.
While the Bible study guide THE FATHER'S PLAN written as a companion to this Bible is great, DAD'S BIBLE itself is like have a Bible, a devotional and a parenting guide all in one.
As the Insights segment on page 945 states: Being a good dad always starts with being a humble servant...arrogance always makes men lonely and miserable.
And as with MOM'S BIBLE, loved the Q&A section to help dad answer those questions asked by inquiring minds.
A real winner. Highly recommended.
Faith element: high, of course

THE FATHER'S PLAN
A Bible Study for Dads
By Robert Wolgemuth
ISBN 978-1-4185-4305-1
Thomas Nelson
Reviewer Carolyn R Scheidies
While this Bible study references the DAD'S BIBLE, any Bible version can be used with this study as to what a Dad is and the role he can play in the lives of his children. This book really brings home the importance of being a Dad and gives practical ways Dad can be the father the kids need—spiritually and every other way.
From page 72: ...when we consider the many roles every father has to play...the task can seem nearly impossible. But don't let your gaze stop with the job description; let it go far beyond that. Look instead for the fresh perspective that comes with knowing God is with you and that He has promised to strengthen you, and fit you—get it?--for the task ahead.
A study I wish every Dad would go through.

Faith element: high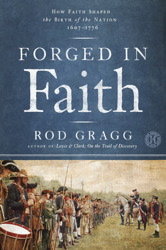 FORGED IN FAITH
How Faith Shaped the Birth of the Nation 1607-1776
By Rod Gragg
ISBN 978-1-4165-9629-5
Howard Books
Reviewer Carolyn R Scheidies
In one of my newspaper columns, I dealt with our faith-based founding. My column was inspired by a letter to the editor from a professor who claimed otherwise. It amazes me how twisted and revisionist history has become and what is being taught to our children and grandchildren in some public schools.
FORGED IN FAITH takes us back to the beginning and brick by brick builds the case that, indeed, America was based on the principles of the Christian faith and that our foundations were solid, because they were built on the belief that God is our highest authority. The author is careful to document his conclusions.
Though much primary material is used, the book is not ponderous, but a refreshingly practical, effortless read. My copy is well marked and has already inspired another column.
This is one book that is a must for every public, school, church and home library. I'd like every school child to have access to the truth about America.
Faith element: high
Highly recommended.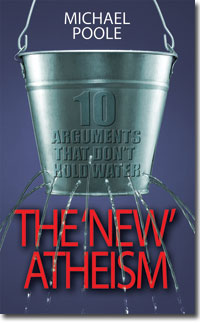 THE NEW ATHEISM
10 Arguments that Don't Hold Water
By Michael Poole
ISBN 978-0-7459-5393-9
Lion Hudson
Reviewer Carolyn R Scheidies
Poole takes the arguments of several well-known atheistic scientists on how God cannot exist and, through their own logic, shows how the arguments just don't "hold water" or anything else. Often these scientists confuse the process with the act, they twist reality and stretch credibility.
While many scientist have been led to a position of faith because of their work and because their work reveals an ordered universe, others refuse to see anything beyond their own dogmatic perceptions. They put themselves in a box and stop allowing the evidence to lead--as it will if a person has an open mind.
THE NEW ATHEISM gives the Christian, especially students, more than a leg to stand on in their exchanges with teachers/professors.
I was disappointed at the author's dismissal of ID and young-earth creationism--his own blind spot maybe. However, THE NEW ATHEISM has valuable insights for those who find themselves wondering about or dealing with the issues of God and creation.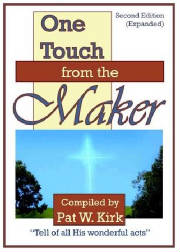 ONE TOUCH FROM THE MAKER (2nd Edition)
Compiled by Pat W Kirk
ISBN 978-0-97776522-5
Puckett Brown Publishing
Reviewer Carolyn R Scheidies
Think "Cup of Comfort" or "Chicken Soup" books and you have some idea of this book. ONE TOUCH FROM THE MAKER contains stories of people in crisis and how they found comfort and healing through God's intervention and grace. These are not a pat "everyone is healed" or "everything is all right" stories.
Yes, there are stories of healing and amazing "coincidences" of God's intervention. But there are others stories of great personal and family tragedy and how God worked in those situations as well.
Unlike the book series mentioned above, ONE TOUCH FROM THE MAKER fits into pocket or purse. The stories are real, drawing the reader into the arms of a God of love.
Faith element: medium to high

GOING ROGUE
By Sarah Palin
ISBN 978-0-06-193989-1
Harper Collins
Reviewer Carolyn R Scheidies
Most of what you've heard in the national media about Sarah Palin is trash talk with very little substance or reality. Unfortunately, too many in the national media are more interested in seeking attention-getting "sound bites" than in truth, especially for those of a different political persuasion (read Conservative/Christian).
Like Sarah herself, GOING ROGUE is a down-to-earth, common sense telling of her story. She is a woman who values faith, family and freedom. It is that simple. Everything she does is founded on those three core beliefs.
If you want the true "scoop" on how opponents and the media trashed her and her family in really despicable ways, destroyed her effectiveness as a governor, after the election, and how even truth can be twisted when clips are taken out of context and announced with subtle, but false, implications, read the book.
Sarah has a way of staying positive, even under very awful circumstances, circumstances that would have made me certainly consider some nasty acts of revenge. She appreciates her faith, her family, her friends and the opportunities she has been given. She loves her state, her country and people of all stripes.
The first chapter sets the stage for the rest of the book, a bit slow going, but necessary foundation. With each chapter the book gets better and by the end I wanted to stand up and give a "shout out" not to Sarah Palin, but to America.
Well worth the time and effort to read.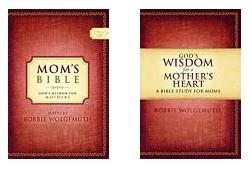 MOM'S BIBLE (New Century Version)
God's Wisdom for Mothers
Notes by Bobbie Wolgemuth
ISBN 978-1-4185-3788-3
Thomas Nelson
Reviewer Carolyn R Scheidies
As a reviewer, I don't have the luxury of savoring the books I review. I succeed because I can speed-read and turn around a book review quickly. Usually, that isn't a problem. With this Bible it is. I love the "feel" of the MOM'S BIBLE. There is a soft "feel" to the easy-on-the-eyes ivory pages. The edges have a sculpted look as though someone took time to make the book extra special.
There is so much to the MOM'S BIBLE. Each chapter has an introductory segment explaining the basics of the book. There are passages to help moms grow in their faith walk, to help them grow as moms and help them "Walk in Joy." The version of the Bible used, The New Century Version, reads without struggle and still feels like God's Word—not the newspaper. The tips, information, helps, enlighten and broaden our understanding of the passages, always from a mother's point of view.
In the beginning .Pg. 2: ...have you considered that God's loving generosity includes the gift of setting boundaries.
Pg. 4: ...work was God's idea. It wasn't the result of sin...
Pg. 965: Insights into Joel uses the tornado shelter as an example. That's an example to which I can relate. We in tornado country know what room to go to when the sirens sound. God is also our place of shelter.
Pg. 1027: In a work this complicated, hard to find all the little things that crop up. Did find this "God has planned every regnancy" ...a misprint of pregnancy, but a concept we need to hear.
At the end of the MOM'S BIBLE, I loved the section of questions and answers. Those kids know how to stump us with questions we're often not equipped to answer without some study. This section asks those questions and provides the answer. When Mom is asked the question, she can flip to this section and have the answer.
This was quite a project. It was worth the time and effort. I wish I'd had this Bible when my kids were small.
So when will a Bible like this be released for Grandparents or for the single gal?
Highly recommended.

GOD'S WISDOM FOR A MOTHER'S HEART
A Bible Study for Moms
By Bobbie Wolgemuth
ISBN 978-1-4185-4304-4
Thomas Nelson
Reviewer Carolyn R Scheidies
While this directly correlates to the MOM'S BIBLE, this Bible study can be use with any Bible. The information at the beginning is helpful and encouraging. There are tips for using the study and tips for leaders. The study itself is very hands on and interactive and even has activities to do with the family.
Scripture passages are the foundation of the questions and suggestions offered. Topics include priorities (we mothers usually have problems with this one), prayers, discipline, obedience, Godly character and more. These studies are not just to help us as mothers grow in Godly character, but how we can instill God's character in our children as well.
There are things to learn, do, review and remember as well as fun activities.
If we don't deal with our own problems, they will and do effect the lives of our children. I hadn't really thought that through before. When I don't deal with my problems—jealousy, bitterness, etc—my children will most likely mirror and magnify my problems. Good motivation to deal with them.
I liked the idea of praying each child's name through the love chapter of I Corinthians 13.
I'm almost ready to gather a group of women and start using this study.
Excellent.
Faith element: high.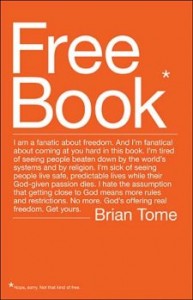 FREE BOOK
By Brian Tome
ISBN 978-0-8499-2006-6
Thomas Nelson
Reviewed by Cynthia Hickey

America, land of the brave and home of the free. But is it? Society puts many demands on people; to be a certain way, live a certain lifestyle, look a certain way. What is true freedom?

FREE BOOK shows us the way to true freedom in God's Word. Using scripture and practical application, Brian Tome shows us the difference between strongholds that lead us down the wrong path and the road God wants us to travel.
He shows us that religion is not a list of rules to keep us in a box, but a relationship that allows us to be who God created us to be. That is true freedom.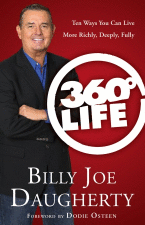 360° LIFE
By Billy Joe Daugherty
ISBN 978-0-307-45932-9
Waterbrook Press
Reviewer Carolyn R Scheidies
Who are we in Christ? This is answered in 360° LIFE, which deals with overcoming fear and anxiety, how to make a difference, the power of our words, hearing God's voice, restoration and more. With a style that draws in the reader, the author draws us to Christ with each new chapter. He uses information, examples as well as personal stories and stories of others to bring home his points.
360° LIFE is very readable and filled with Scripture that helps us find out who we are in Christ and how we can live lives of joy and fulfillment.
It's not about living for yourself.

Pg. 35 God sends you in exactly the opposite direction to find fulfillment. When his love floods your life, you naturally begin to ask, What can I give of my life to help someone else? Fulfillment comes when you discover the divine purpose for which you were born! Once you discover the passion God planted inside of you and you connect your purpose and passion with the opportunity to touch another person's life, supernatural joy is unleashed!
Pg. 43 ..God made each of us special.
Stop comparing yourself with others.
Stop discounting what God counts precious—your life.
Remember that somebody needs your love right where you are—someone whom God has appointed for you to touch!
Pg. 100 People who don't value themselves generally don't value other people properly either. ...He (God) loves you and values you for who you are.
This is a book that should be read, savored, reread, discussed and shared. Highly recommended.
Faith element: high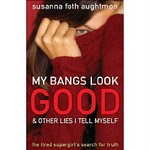 MY BANGS LOOK GOOD AND OTHER LIES I TELL MYSELF
The Tired Supergirl's Search for Truth
By Susanna Foth Aughtmon
ISBN 978-0-8007-3418-3
Revell Books
Reviewer Casey Pitts
Lies are pervasive in our culture: God doesn't care. I am in Control. I can't be real with God. Can I really know that God loves me?
Susanna Foth Aughtmon launches a head-on attack against the lies we tell ourselves and defeats those lies with truth from the Word of God. Conversational, relevant language speaks volumes to women as they face exhaustion from being "supergirls." Imagine a stand-up comedian/group therapist tackling your deepest fears, then replacing them with reassurance.
Struggling with doubt? Give the enemy some Scriptural sassy-ness. Think you have to hide from God? Get real!
This is not just one more formula, one more checklist to be a better Christian. Engaging thought provoking questions and memorable word pictures will make you laugh and cry and want to kick yourself all at the same time. The truth will change your life.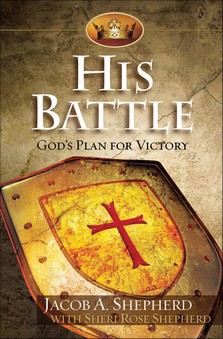 HIS BATTLE
God's Plan for Victory
By Jacob A Shepherd with Sheri Rose Shepherd
ISBN 978-0-8007-1923-4
Revell Books
Reviewer Clint Walker
Everyone has felt discouraged at one point or another in their spiritual journey. HIS BATTLE is a book written for men who are seeking a devotional guide to encourage them to stand strong in their faith. The book is written in fifty sections. Each section includes a fictional letter from God to the reader. Then, the reader turns the page and reads a prayer for him from the authors of the book. On the opposite side of each entry are Scripture passages that correspond to the letters and prayers.
As one reads through HIS BATTLE, it becomes apparent that the book is not so much to be read through as to be savored. Each day, a person could read one letter and one prayer and feel like they have had their life-coach give them their spiritual pep-talk for the day. The text of this book is challenging, encouraging, and inspires whoever reads it to be strong and stay strong in the Lord. It would be an excellent gift book for a father, husband, brother or son on a special occasion.
Faith Element: 10/High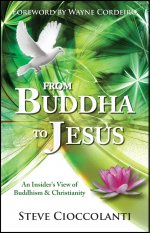 FROM BUDDHA TO JESUS
An Insider's View of Buddhism and Christianity
By Steve Cioccolanti
ISBN 978-1-85424-956-2
Monarch Books
Reviewer Carolyn R Scheidies
What we know about Buddhism is mostly hearsay and the Westernized revisionist practices of this religion. Buddha himself was a seeker of truth and his words often mirror our own truths of the Ten Commandments and other Biblical passages. The author Cioccolanti, a former Buddhist, through stories, and teachings of Buddhism, shares what the founder actually taught.
Cioccolanti shows how American ideas of Karma are not at all what is taught in actual Buddhism. Karma in its most basic form is sin. We sin and all our good deeds cannot make up for the sin or Karma we accumulate. Buddha made it clear he was not god and wanted no one to worship him. In fact, this man who lived 500 years before Christ, pointed his own disciples to someone who would one day come to take that sin.
Buddhism is about escaping suffering, not about bringing about peace—something not possible in the world today because of sin, because of Karma.
Cioccolanti questions the role of reincarnation in Buddhism today. Since Buddha turned away from from Hinduism with its many gods and reincarnation, the author believes that reincarnation became part of the mix as Buddhists intermingled with the people around them and incorporated beliefs not sanctioned by Buddha himself.
The main point of this book is that by using their own beliefs, Buddhists can be led to the one who can offer a way out of their suffering, a way to hope. An excellent book that certainly changed my knowledge base and my perspective.
Recommended for every Christian. We need to understand and share truth with those who talk about Karma and other beliefs they think stem from the Buddhist religion.
Faith element: High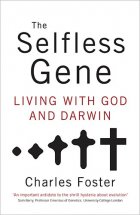 THE SELFLESS GENE
Living with God and Darwin
By Charles Foster
ISBN 978-0-8499-4654-7
Thomas Nelson
Reviewed by Cynthia Hickey

We're bombarded by two main ideologies today. Creation or Darwin. Which is true? Must we choose just one, or see the truth in both? Not a light read, THE SELFLESS GENE compares these two principles with indepth study into each.

Darwin saw the unpleasant in the world, the bacteria that feeds on its host, not realizing the purpose and creativity behind the organism, thus disputing that a benevolent God could have created said creature. THE SELFLESS GENE helps explain God's reasoning behind even the most malevolent life form, rather than Darwin's claim that God would have to be a brutal rather than a loving Heavenly Father.

If you're a scientist, or enjoy scientific reading that digs deep into the earth's living organisms, human and otherwise, this book is a must read.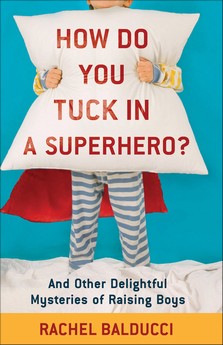 HOW DO YOU TUCK IN A SUPERHERO?
And Other Delightful Mysteries of Raising Boys
By Rachel Balducci
ISBN 978-0-8007-3372-8
Revell Books
Reviewer Carolyn R Scheidies
My best friend and I had our first children two months and one day apart. I had a boy. She had a girl. She never understood how Chris could go all day without stopping or why he had to dump every toy out of the toy box before finding something with which to play. Her daughter neatly took one toy out at a time. She didn't understand until her second...and her third...children were boys. Boys are wired differently. I know this even more now that I have three grandchildren—two of them boys.
Raising any child is a challenge, but raising boys usually means raising the roof—unless you want to raise wimps and unless you want to destroy what makes a man courageous and protective.
Through personal experiences, the author of HOW DO YOU TUCK IN A SUPERHERO? shares how to deal with raising boys, raising them with joy, with faith and to be the men God created them to be. The book is practical and humorous and right on. It takes away that sigma that just because your boys have lots of energy and can think up dangerous activities faster than either parent can forbid stunts that aren't even on their wildest imagination, doesn't make you a bad parent.
A book for every parent raising boys.
Faith element: low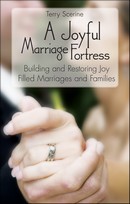 A JOYFUL MARRIAGE FORTRESS
Building and Restoring Joy-Filled Marriages and Families
By Terry Scerine
ISBN 978-1-60696-951-9
Tate Publishing
Reviewer Carrie Padgett
A JOYFUL MARRIAGE FORTRESS is a manual for restoring Biblical marriage.
Scerine asserts that the breakdown of families and marriages can be traced to women with a Jezebel spirit who refuse to give their husbands the honor and respect God's word commands. He uses numerous Bible verses to back up his position and also points out the man's responsibility in the marriage as well.
The author is careful to identify the difference between being an authority and a bully. He makes it clear that women are not to remain in abusive situations where they or their children's physical and/or mental health and safety is at risk.
Scerine lays his groundwork well and does a good job asserting positions he knows will draw fire from both within and out of the faith community.
Faith element: High. Scripture quotes are plentiful throughout.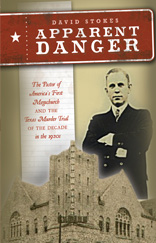 APPARENT DANGER
The Pastor of America's First Megachurch and the Texas Murder Trial of the Decade in the 1920's
By David Stokes
ISBN 978-1-935456-11-7
Bascom Hill Books
Reviewer Carolyn R Scheidies
APPARENT DANGER, the true story of manipulation, arrogance, murder and faith. Texas is big and bold and fit the image of preacher J. Frank Norris. You don't mess with J. Frank Norris, even when he caused waves.
Was the flamboyant Fundamentalist preacher really defending himself when an angry D. E. Chipps marched into his office or was the killing murder most foul?
Well researched, well documented and, while not an easy read, a very interesting one.
Click here to read the complete review of APPARENT DANGER.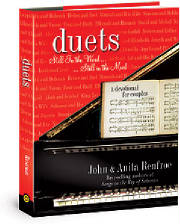 DUETS
Still In the Word...Still In the Mood
A devotional for couples
By John & Anita Renfroe
David Cook Publishing
ISBN: 978-1-4347-6543-7
Reviewed by Cynthia Hickey

The Song of Solomon, the most romantic book in the Bible. Add DUETS to that, and you've got the tools to keep things shaking in your marriage. Full of scripture references and Bible couples as examples, DUETS takes married couples on a sure-fire way to put zing back into your romance. Make your marriage, fun, exciting, and sexy. Whether you've been married one year or fifty, these devotions and exercises will have couples looking forward to their next devotion time.

This book is not just about romance, but also ways to make you closer as a couple. It helps you reach out to others, in return, enriching your own life together. God did not intend a man and woman to be solely alone, but to reach out and share their love with others. DUETS belongs on the nightstand of every married couple.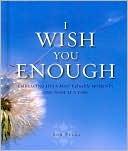 I WISH YOU ENOUGH
By Bob Perks
ISBN 978-1-4041—8763-4
Thomas Nelson
Reviewer Carrie Padgett
I WISH YOU ENOUGH by Bob Perks is a gift book based on an inspirational piece of writing.
The book is divided into segments such as, "I wish you enough sun to keep your attitude bright," and "I wish you enough loss to appreciate all you possess." Each has several stories and quotes pertaining to its topic.
The anecdotes are drawn from the author's work as a motivational and inspirational speaker and are about loss, good-byes, even depression. Rather than being gloomy, each tale reinforces the central theme about developing appreciation for even the hard things in life. Perks reminds us to be grateful for the good and to acknowledge them as blessings.
I WISH YOU ENOUGH is a small, hardcover book designed to be dipped into and savored, like a warm cup of comfort on a dark and cold day.
Faith element: high. Stories are interwoven with homilies and verses.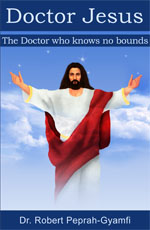 DOCTOR JESUS
The Doctor who knows no bounds
By Dr. Robert Peprah-Gyamfi
ISBN 978-0-9564734-0-0
Thank You Jesus Books
Reviewer Clint Walker
So often we read through the miracles we see in Scripture and take them for granted. For instance, very few of us give much thought to exactly what Jesus is doing on a biological and cellular level when he heals someone. In DOCTOR JESUS, Dr. Peprah-Gyamfi does not let his readers skim over any of the miracles of Jesus and the early church. Instead, he takes away the mystery behind diseases, and gives a visual picture of how Doctor Jesus is performing his healing work.
Dr. Peprah-Gyamfi begins by discussing the miracle of the Virgin Birth. From there, he finds different kinds of health conditions that Jesus healed. With each health condition, he shares the possibilities of the causes of the particular ailment, and thus what Jesus would have to do biologically to heal them.
Once finished discussing the healings of Jesus, the author also discusses the resuscitation of people from the dead, including the raising of Lazarus. As Dr. Peprah-Gyamfi shares about this, he goes into vivid detail on how the body would have decayed after the people died and before Jesus raised them. Then, the author discusses the death and resurrection of Christ.
After talking about the resurrection of Christ, DOCTOR JESUS puts its focus on healings in the early church and today. This is the climax of the book. What Jesus did while he was on the earth, Jesus can do today through his followers.
DOCTOR JESUS is thought-provoking book. It is; however, difficult to read. Much of the writing comes across as disjointed and awkward. If readers can get past the stylistic issues, they will be rewarded. This is especially true if readers have an interest in biology, human anatomy, or medicine.
Faith Element: High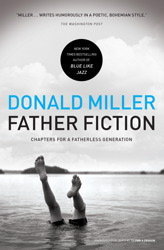 FATHER FICTION: Chapters For A Fatherless Generation
By Donald Miller
ISBN 978-1-4391-6916-2
Howard Books
Reviewer Carolyn R Scheidies
We live in a culture where fathers are often not valued in a family setting. Too many fathers have walked away, never been there for their families, or are so caught up in work and other pursuits they seldom interact in a meaningful way.
Donald Miller, author of BLUE LIKE JAZZ, has written about his experience with an absentee father and the scars it left on his life and his soul. Lacking affirmation as a man, he grew bitter and hurt and angry. In telling his story, Miller shares his heart and hurt with so many other young men. He also shares what makes a man and how to overcome the lack of a positive male role model father.
I was not happy with his use of "sh..." in the Introduction. I see no need for such language in a book meant to share faith. The book also uses the anatomical term for the male part several times, not in a graphic way, but to get his point across. It is startling and unexpected, but should not keep someone from reading this book.
This book has unexpected depth and is a real need for the many men questioning if they are men, wondering if being a "real" man is some sort of club, and curious how to become a man worthy of love and acceptance.
Faith element: medium to high. Recommended.
WHEN YOU DON'T KNOW WHAT TO PRAY
By Linda Evans Shepherd
ISBN 978-0-8007-3313-1
Revell Books
Reviewer Carolyn R Scheidies
Sometimes we're broken, angry, frustrated and don't think God is listening, don't think He cares and won't do anything to help. But the problem isn't God. Sometimes it is what we believe about God, how we approach Him and our problems or that we give up because we hurt so much.
God can't be bossed around.
God isn't a Sugar Daddy waiting to do our bidding.
He doesn't follow our plans or time schedule.
And He can't be tied up in a nice little box.
What He is, is the God of all the universe.
He is Creator, Lord and Savior.
And He has a plan and a purpose for our lives that is often very different from our own.
Most of all God loves us so much He died for us.
Prayer is interaction with this God who cares, and it is a two-way communication. We need to come to God with an attitude of seeking, listening and with a willingness to follow His leading. But hearing God's voice takes a commitment to know Him and His Word. We need to trust God even when we can't see the way and know God doesn't give us answers that will have us doing things contrary to His principles.
In WHEN YOU DON'T KNOW WHAT TO PRAY, Linda shares through Scripture and her own experiences, what prayer is and is not, how, what and when to pray and how to find the answers we seek. WHEN YOU DON'T KNOW WHAT TO PRAY is a book that lifts up and draws us nearer to the One who desires our best.
An excellent resource.
Faith element: Very high! Recommended.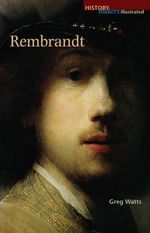 REMBRANDT
By Greg Watts
ISBN 978-0-8254-7925-0
Lion Books: Kregel
Reviewer Carolyn R Scheidies
In his book REMBRANDT, ISBN 978-0-8254-7925-0, Lion Books: Kregel, author Greg Watts, draws from historians, other artists and contemporary records to build a portrait of the artist Rembrandt. Most of those who've research the subject, tentatively place the birth of Rembrandt Harmenszoon van Rijn July 15, 1606. Rembrandt was born in Leiden Netherlands.
This book takes us on a journey of his life, a life filled with ups and downs, of growing popularity and arrogance as well as losing his influence with the royal court and learning humility. He studied with great artists and mentored others. He married, lost babies in infancy and often struggled financially because he didn't handle his finances well.
In a time of deep division between different protestant sects, between protestants and Catholics and Jews, Rembrandt showed remarkable tolerance, partly due to coming from a home where one parent was protestant and one Catholic.
His paintings, over and over, dealt with the subjects of repentance, grace and forgiveness.
While there is still controversy over some of his paintings, controversy to how many paintings in existence can be attributed to him, even controversy about aspects of his life, it is clear Rembrandt made an impact on the world of art. Those who've viewed his paintings, especially his Biblically themed paintings, come away with a deeper appreciation not only for the artist but for His insight into the human condition.
A thoughtful, readable, well-researched book that gives depth to the man Rembrandt and to his remarkable paintings that still impact today.
MOTHER TERESA
Faith in the Darkness
By Greg Watts
ISBN 978-0-8254-7870-3
Lion Hudson: Kregel
Review by Cynthia Hickey
"We can do no great things; only small things with great love." Mother Teresa was famous for her humble quotes and un-expiring love for the hurting people of this world. Often putting her own life in danger, Mother Teresa would storm the battlefronts, invade poverty and disease-ridden countries, and bring love to those who hurting. She rarely asked for anything in return, doing all this for the love of the God who saved her.
MOTHER TERESA is a history book of full-color photos, taking us from the moment Mother Teresa left the convent to follow God's call, until her death. A woman whose heart and faith was unquestionable, larger than the universe, and full of heaven's light. A must read for history buffs and those who yearn to know a humble woman.
A 10 on the faith scale.
THE TWILIGHT GOSPEL
The Spiritual roots of Stephenie Meyer's Vampire Sage
By Dave Roberts
ISBN 978-1-85424-976-0
Monarch Books
Reviewer Carolyn R Scheidies
The Twilight Gospel Provides a Resource for Parents Questioning the Twilight Vampire Series. Is the Twilight Vampire Series Harmful for Your Teen?
Many concerned parents wonder about Stephenie Meyer's Twilight series of vampire books, not to mention the movies. The Twilight Gospel by Dave Roberts will help sort through the good and the bad about this series.
For complete review of THE TWILIGHT GOSPEL Click here.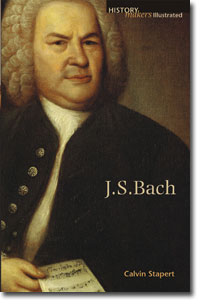 J. S. BACH
By Calvin Stapert
ISBN 978-0-8254-6333-4
Lion Books: Kregel
Reviewer Carolyn R Scheidies
J. S. Bach was born in 1685 into a large, already established, musical family. He also knew loss, losing his parents by the age of ten as well as close relatives. But others took him in and he grew in his musical knowledge, showing exceptional ability.
Bach never lived all that far from home, did not travel widely—though his compositions have traveled not only around the world, but also through time. His music still speaks to individuals and audiences today.
What was he seeking to convey with much of his music? Page 154: ...he saw music as a powerful rhetorical art for conveying the truth of the gospel. Overarching it all, he saw music as an art to glorify God.
He had every reason not to believe. He lost relatives, he lost his first wife and many of his children died young, and yet he believed and lived the faith he was taught as a youth. He loved God, his work, and his family. Unlike many other musicians before and after, Bach did not live a wild life. At heart he was an ordinary man with an extraordinary gift who built his life on faith.
Had he wallowed in sorrow, Bach's story would have been so different. But, as the author of J. S. BACH points out using Bach's life, biography and musical compositions as illustrations, here was a man who trusted God's grace no matter what and allowed God to use him to create some of the most profound and moving music the world have ever known.
This is an excellent read, a great resource and a book that should be in every school and library.
Faith element: high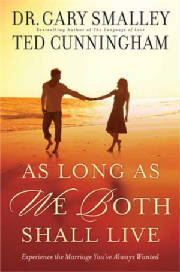 AS LONG AS WE BOTH SHALL LIVE
Experience the Marriage You've Always Wanted
By Gary Smalley and Ted Cunningham
ISBN: 978-0-8307-4680-4
Regal Books
Review By Cynthia Hickey

It's your wedding day. Your heart is full of dreams. Everything is perfect, the honeymoon is magical, and you're off to begin your new life together. Then reality slowly seeps in between the cracks. You realize this person you married comes with dreams of their own--and baggage. When the little ones arrive you discover your parenting skills couldn't be more different than your spouse's. How can you make this marriage all you want it to be?

In AS LONG AS WE BOTH SHALL LIVE, Gary Smalley and Ted Cunningham show us how to leave our past where it belongs and look forward to a brighter future. If you've been married for any length of time, you know how different men and women are; both physically and emotionally. Smalley and Cunningham help us decipher, and appreciate, these differences. Set your expectations high, and use this book as a guide and Scripture as a map to help you and your spouse make your marriage the best!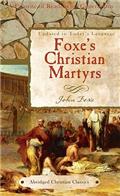 FOXE'S CHRISTIAN MARTYRS
Abridged Christian Classics
By John Foxe
ISBN 978-1-60260-857-3
Barbour Publishing
Review by Cynthia Hickey

In today's world, martyrs in America are few and far between, but in the early world of Christianity, matters were far different. Early Christians were raised on stories of the brave people who died in God's name. Even though we may not be called to this purpose today, the stories of the brave ones who've gone before should be an example of the strength of God's love.

Updated in today's language, FOXE'S CHRISTIAN MARTYRS belongs on every Christian's bookshelf as an example of to-the-death faith. What our ancestors were called to do in His name. This book is not for pleasure reading, but rather for a deep searching of how strong our love for our Heavenly Father is. With dozens of stories, there is bound to be one that will strike at your heart.

A ten on the faith scale.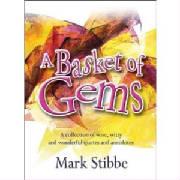 A BASKET OF GEMS
A collection of wise, witty and wonderful quotes and anecdotes
Compiled by Mark Stibbe
ISBN 978-0-8254-6319-8
Monarch Books
Reviewer Carolyn R Scheidies
A BASKET OF GEMS contains, in alphabetical order, any number of subjects from Age and Anger, through Fear and Hope to Wisdom, Worship and Zeal. The tone is British and the content ranges from serious and spiritual to "off the wall" puns, anecdotes and jokes. There are quotes from modern and historical figures and bits that have made the rounds of the Internet. Not everything is "politically correct." Whimsical cartoons embellish the subjects presented.
Pg. 94: The best executive is the one who has sense enough to pick good men to do what he wants done, and self-restraint to keep from meddling with them while they do it. --Theodore Roosevelt.
Pg. 117: I believe in my heart that faith in Jesus Christ can and will lead us beyond an exclusive concern for the well-being of other human beings to the broader concern for the well-being of the birds in our backyards, the fish in our rivers, and every living creature on the face of the earth. --John Wesley (1703-91)
Many of the pieces would add to a talk, a sermon or a newsletter, though because of the restrictive copyright, permission would have to be asked for and granted before such usage. It might be worth the effort.
Faith element: low/medium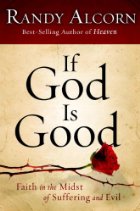 IF GOD IS GOOD: FAITH IN THE MIDST OF SUFFERING AND EVIL
By Randy Alcorn
ISBN 978-1-60142-132-6
Multnomah
Reviewer Sarah Sawyer
In IF GOD IS GOOD, Randy Alcorn delves into the age-old question of the problem of evil and suffering and God's goodness. It is a meaty book, delving into issues such as false philosophies that attempt to diminish God to reconcile apparent contradictions, the problem of goodness for an unbeliever, the origins of evil, why God permits suffering, and so on.
Throughout the book, Alcorn stresses the importance of having a solid, Biblical worldview in relation to evil and suffering so that our faith will not waver in times of trial. He provides ample Scripture and theological discussion along with personal stories of those who have battled through suffering and hardship and grown deeper in faith. At the end, he provides a large index of Scripture along with a topical index for deeper study and consideration. At all times, he emphasizes the goodness of God.
While I don't agree with every conclusion Alcorn draws, overall, this is a valuable resource on a difficult subject that will go a long way toward giving understanding of what the Bible says about evil, suffering, and God's goodness.
HIS PRINCESS WARRIOR
Love Letters for Strength from Your Lord
By Jacob A Shepherd with Sheri Rose Shepherd
ISBN 978-0-8007-1922-7
Revell
Reviewer Carolyn R Scheidies
I loved the format of HIS PRINCESS WARRIOR. The book is compact enough to fit in a purse, but still fits nicely in the hand for reading. HIS PRINCESS WARRIOR has short "Love Letters" on such subjects as The Power of Your Prayers, A Cry for Help, Battlefield of the Mind, Truth is Your Armor and many, many more. Each letter includes a Scripture verse culled from a variety of versions. The background has muted colors and soft photos that draw in the eye while the "Love Letters" and the Scripture draw in the heart.
HIS PRINCESS WARRIOR is a small volume packing a huge punch of spiritual truth and encouragement for the battle we face each day.
Faith element: high.

A great way to start the day. Recommended.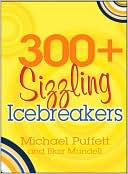 300+ SIZZLING ICEBREAKERS
By Michael Puffett and Blair Mundell
ISBN 978-0-8254-6318-1
Monarch Books
Reviewer Carolyn R Scheidies
This book has a wealth of icebreakers to spice up church, youth and discussion groups. There are single activities and themed evenings. There are silly icebreakers and those that lead into deeper discussions. There are openings provided for dealing with serious, even controversial subjects, and to do so Biblically.
The icebreakers range from old favorites and new twists on old favorites to new and different activities. The book is British, so there is some minor deciphering to do with numbers, etc, but nothing major.
Need one activity to kick off your event or are looking for the whole program, 300+ SIZZLING ICEBREAKERS might just be the answer you're looking for. A good resource for the large or small church.
Faith element: medium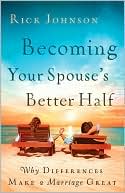 BECOMING YOUR SPOUSE'S BETTER HALF
Why Differences Make a Marriage Great
By Rick Johnson
ISBN 978-0-8007-3250-9
Revell Books
Reviewed by Cynthia Hickey

The old adage of opposites attract may not be as far off the mark as some people think. We meet someone of the opposite sex, we're attracted to them, we form a relationship, get married, etc., then reality sets in. We're completely different! Instead of celebrating these differences, some people pull apart and dissolve something that, with a little work, could be beautiful. Who wants a cookie-cutter marriage?

God designed men and women to be different for a reason. He designed us to complete our other half. In BECOMING YOUR SPOUSE'S BETTER HALF, Rick Johnson points out these wonderful differences and shows us ways to celebrate them. He takes us into the physical and emotional make-up of men and women and shows us why we are the way we are and how to celebrate the wonderful way we're different. This book should be on every married couple's nightstand.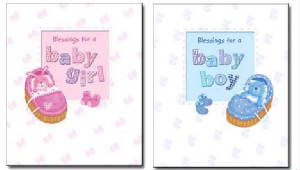 BLESSINGS FOR A BABY GIRL
Written & Compiled by Sophia Piper
Illustrations Caroline Williams
ISBN 978-0-8254-7915-1
A Lion Children's Book
BLESSINGS FOR A BABY BOY
Written & Compiled by Sophia Piper
Illustrations Caroline Williams
ISBN 978-0-8254-7914-4
A Lion Children's Book
Reviewer Carolyn R Scheidies
Through verse, both new and traditional, these books offer blessings for the new little one, along with appropriate illustrations, as well as color—pink or blue. Illustrations are simple and whimsical and just right for a book mother will want to read by herself and to that little one. There is even a place for a picture.
These books would make a lovely addition to any baby shower gift.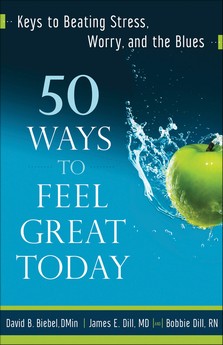 50 WAYS TO FEEL GREAT TODAY
Keys to Beating stress, Worry, and the Blues
By David B Biebel, Dmin; James E Dill, MD; Bobbie Dill, RN
ISBN 978-0-8007-3291-2
Revell Books
Reviewer Elisabeth H. Bantz
David B. Biebel, DMin, is a minister, an award-winning author, a health educator, and editor of Today's Christian Doctor. James E. Dill, MD, and Bobbie Dill, RN, were among the first husband-wife Christian medical teams to help establish a truly holistic medical practice. These authors offer personal expertise as well as practical tips for beating stress, worry and the blues.
Starting with "A" (Accentuate the Positives in Yourself), to "W" (Watch an Inspiring Movie), they work through the alphabet giving practical ways to refresh your perspective. Some suggestions are seasonally specific, like Go Fishing, Fly a Kite, Work in Your Garden, and Go to a Water Park, but there are plenty that are sure to brighten any day of the year, like Count Your Blessings, Do Something Spontaneous, Make Someone Laugh, or Decorate Something.
The chapters are short, just long enough to entice you to step beyond your blahs. Not every suggestion will fit everyone, nor do the authors expect it. But doing the ones you like will take your mind off problems long enough to see life with new eyes. And that is their objective.
Easy to read. And fun. Faith element: light; low.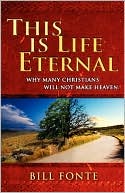 THIS IS LIFE ETERNAL
Why Many Christians Will Not Make Heaven
By Bill Fonte
ISBN 978-0-9819067-0-6
Ranell Publishing
Reviewer Carolyn R Scheidies
We live in a culture of easy grace. Accept Jesus and get a free pass to heaven. Churches often function more as social clubs than a hospital for the hurting to find healing, forgiveness and hope. We also live in a culture where what we say we believe often isn't backed up by actions.
Yes, the author points out, we come to a saving knowledge of Jesus Christ through grace, what Jesus did on the cross, but it isn't enough to "come as you are" unless you leave that person at the altar. Salvation is about repentance, about change, about being new in Christ and letting Him make us whole, holy and new creatures who put Him first and foremost.
Pg. 37: "Going to church doesn't make you a Christian any more than going to a fast food restaurant makes you a hamburger. Christians are known by their love –the love of Christ."
If we truly know Him, we will love and reach out to others regardless of denomination, race, color or status.
Works won't bring us to Christ, says the author, but works after coming to Christ, is an indication of where we are in Christ. If we truly know Him, truly follow Him, what we say and do will reflect that, will reflect who controls our heart, thoughts and behavior.
This is a small volume, but it cuts to the core of much of what passes as Christianity today and what must surely grieve our Heavenly Father. This would make a good guide for Bible Study groups.
Faith element: High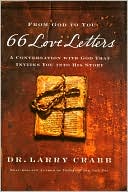 66 LOVE LETTERS FROM GOD
By Dr. Larry Crabb
ISBN 978-0-8499-1966-4
Thomas Nelson
Reviewer Cynthia Hickey

Have you ever wanted to know for certain what every book of the Bible is meant to tell you? Have you wanted a private conversation with God in order to ask questions and receive a direct answer?

66 LOVE LETTERS, A Conversation with God That Invites You into His Story, does exactly that. Dr. Crabb has composed a book that lets you talk to God about every one of books of the Bible. Feeling exactly like you're sitting across the table from God, coffee in your hand, asking probing questions and receiving direct answers. This book is one of the most informative devotionals I've had the pleasure of reading.

Even the "dry" books of the Bible leap off the page when presented as a love letter from God. The most boring sections rendered comprehensible as God tells you exactly what He wants you to glean from His story. A must for every Christian's shelf.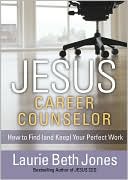 JESUS CAREER COUNSELOR
How to Find (and Keep) Your Perfect Work
By Laurie Beth Jones
ISBN: 978-1-4391-4906-5
Howard Publishing
Reviewer Cynthia Hickey

God wants us to go before him with every decision of our lives. How much more so when we are seeking a job that we will spend forty hours or more a week doing? Do you sit behind a desk wondering why you're there? Have you jumped at job only to find yourself miserable?

Jesus is the ultimate counselor. Seek him to find your talents. Ask him to find the perfect job for you, then be happy in the career you have both chosen.

In JESUS CAREER COUNSELOR, Laurie Beth Jones will help you find your talents, what type of job you're looking for, then lead you to the feet of Christ in order to petition Him. To often we find ourselves leaping ahead without waiting for guidance.
JESUS CAREER COUNSELOR, uses examples from God's Word of people who leaped ahead, and people who waited. God has a plan for us. Let's wait and see what wonder He has in store!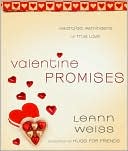 VALENTINE PROMISES
Heartfelt reminders of true love
By LeAnn Weiss
ISBN 978-0-8307-4695-8
Regal Books
Review by Cynthia Hickey

February; the month of love. Valentine's Day, a time for romance and starry eyes. But were we intended to express our love once a year or to celebrate it every moment?

In VALENTINE PROMISES you'll be swept away by beautiful poetry, brought to tears by stories of real-life romance, and how God's valentine to us is beautiful beyond compare. We are to celebrate love every day of the year, between ourselves and God, between ourselves and our mate.
This book, while not entirely a devotional, will have you rethinking your love and striving for ways to make it special. To leap off the pages of your own love story.. And to put God's love above all else. Only when you do this, can you reap the rewards our Heavenly Father intended when he created the wonderful, mysterious love between a man and a woman.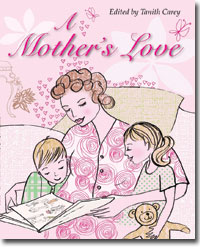 A MOTHER'S LOVE
Edited by Tanith Carey
Illustrations Sam Wilson
ISBN 978-0-8254-7845-1
Lion Hudson
Reviewer Carolyn R Scheidies
We expect a book for mothers to be sentimental and sweet. Sentimental maybe, but this book goes beyond the usual sweet to something a bit deeper. A MOTHER'S LOVE is a collection of true experiences, anecdotes, folklore and traditional stories from around the world that seeks to encapsulate what motherhood is all about.
There is sacrificial love, bonding and passing on what we've learned to our own children. Each piece is short and easily read in a couple of minutes, moments that encourage us as mothers and help us know our value and worth. There can be no price on motherhood.
This would make a nice gift for that special mother in your life.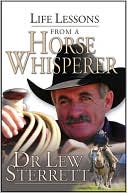 LIFE LESSONS FROM A HORSE WHISPERER
By Dr. Lew Sterrett with Bob Smietana
ISBN 978-0-8254-6316-7
Monarch Books: Kregel
Reviewer Carolyn R Scheidies
Life Lessons From A Horse Whisperer is a Primer on Relationships With Both Horses and People
Click here to see full review of LIFE LESSONS FROM A HORSE WHISPERER

DEWEY
By Vicki Myron with Bret Witter
ISBN 978-1-60751-259-2
Grand Central Publishing: Doubleday Large Print
Reviewer Carolyn R Scheidies
Dewey was just a cat, rescued by Vicki and the library staff of Spencer, IA from the book drop box. Who could have known how many lives Dewey would change just by being who he was, the cat who loved the patrons of the library in one small town. But Dewey's story is also the story of the librarian who found him that freezing Iowa morning and began a journey of mutual respect and love that, through ill health and other personal heart-aches, lasted 19 years.
Having lost my cat last fall after 18 years, reading Dewey's story brought back memories, made me swallow, tear up...and smile.
A very special book about a very special cat.
More about Dewey the cat and the library He "owned."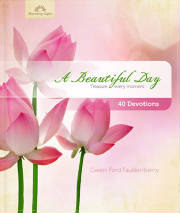 A BEAUTIFUL DAY
40 Devotions
By Gwen Ford Faulkenberry
ISBN 978-1-935416-59-3
Summerside Press
Reviewer Carolyn R Scheidies
Many devotional books are large and cover a long span of time. Others are thick, some are themed, some meant for a year. Most have a Scripture passage, a short devotional, which includes a personal experience, and a wrap up prayer. There is nothing wrong with most of these devotionals. Each serves a purpose. Over the years, I've enjoyed many different devotional books.
A BEAUTIFUL DAY is different. It is small—purse sized, should I say "cute," with a pink flowered cover and 40 devotionals. But these devotionals are more like short articles, drawing the reader deeper into important subjects and encouraging the reader to dig a little deeper into the subject and into the Word for answers.
A BEAUTIFUL DAY is small, short and deep enough to give the reader the incentive to start all over again once the 40 days are over.
Faith element: medium to high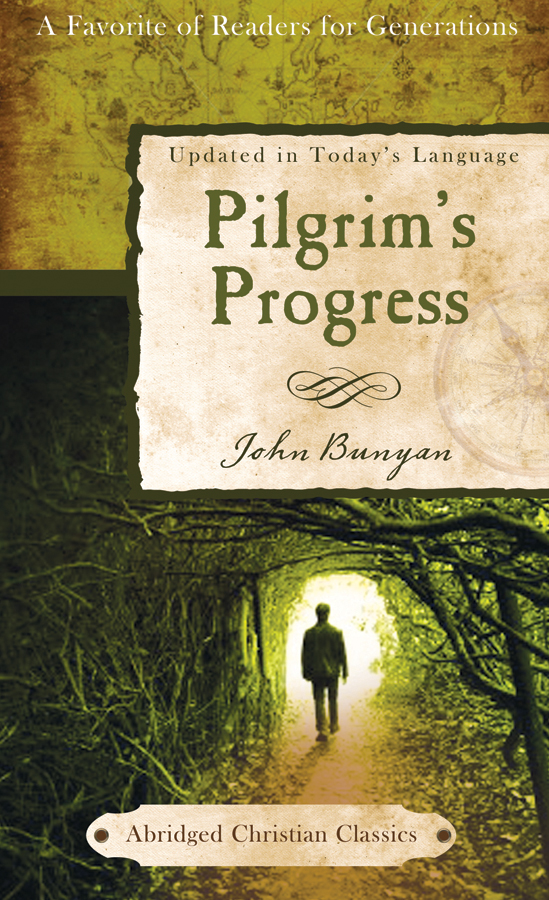 THE PILGRIM'S PROGRESS
Updated in Today's Language
Abridged Christian Classics
By John Bunyon
ISBN 978-1-60260-853-5
Barbour Publishing
Reviewer Carolyn R Scheidies
I've read the original Bunyon's classic work several times and wasn't sure what to expect from the updated, abridged version.
As intended, I found it readable. I also found that while this contemporary version does not convey all the nuances of the original, this version does convey the story in a way that will reach today's reader. I was drawn in to the story and was amazed at the depth of Bunyon's wisdom and reminded me again of all the ways we can be drawn away from Christ, even into "good" pursuits.
This is book for every Christian, and every seeker's, library.
Faith element: high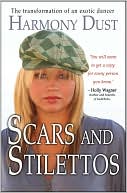 SCARS AND STILETTOS
By Harmony Dust
ISBN 978-0-8254-6309-9
Monarch Books: Kregel
Reviewer Carolyn R Scheidies
Harmony was abused in some fashion her whole life. All she knew was making her own way. She pursued an education, while holding on to the "relationship" with the man that took everything, gave little, cheated on her and left her feeling valueless. She held on because it was her one security even though she was doing all the giving, supporting him. She had dreams. He had expenses. Harmony sank lower and lower until finally she began to strip to support them. Only stripping didn't solve her problems. Stripping shredded her soul.
But Christ didn't leave Harmony in her darkness. A Christian reached out. She found friends, a church and slowly God began to work, enough to begin to heal, enough to tell her boyfriend good-bye, enough to stop stripping. Freedom came with a price—a burden for those still trapped in a system that used, abused and spit out.
With Christ's love, Harmony led other women back into the clubs on a mission of caring, rescue and hope. This is not a nice, cleaned up story. It is story of hurt, of horrible choices, and a God who rescues and restores.
SCARS AND STILETTOS is Harmony's journey, a journey that touches the heart and helps us see beyond the tawdry, glitz to the broken women who need our love, our prayers and maybe more.
Faith element: high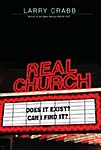 REAL CHURCH: Does it Exist? Can I Find it?
By Larry Crabb
ISBN 978-0-7852-2920-9
Thomas Nelson
Reviewer Sarah Sawyer
What is "church" at its core? In REAL CHURCH, Larry Crabb gives his answer to this question. From his thoughtful presentation, it is clear he has considered this extensively, combining his life experiences, those of individuals he has counseled, and Scripture to formulate his opinions.
This is a significant topic, and one worth considering, rather than simply continuing to do church as usual. While I did not agree with some of his conclusions and would have liked to see a stronger Scriptural backing for some of his statements, I appreciated that he addressed with sensitivity very real problems in modern day church and presented potential solutions. I found a tendency to be more people-focused than God-focused at times, but he is clear to state that at the heart of things, he wants a church that encourages him to participate in the dance of the divine—the growing in intimacy with God's heart which is vital to the Christian walk.
If you've ever experienced frustration with the current state of the church or longed for something more, you are not alone and you may find insight in REAL CHURCH. At the very least, it will provide fodder for thought. As always, I would encourage you to weigh everything shared against Scripture.
Lord, when I am hurt or I see what many are doing to undermine my country, help me pray for them, help me stand up for truth and to do so without hated. Amen.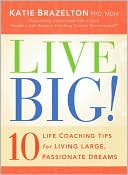 LIVE BIG!: 10 LIFE COACHING TIPS FOR LIVING LARGE, PASSIONATE DREAMS
By Katie Brazelton
ISBN 978-1-4391-3560-6
Howard Books
Reviewer Narda McCarthy
Relax, face your fears and expect miracles.
With action steps and reflections on every chapter, Katie Brazelton reminds readers that trusting God and asking Him for guidance are the key to achieve life dreams and fulfill our purpose as designed by His might hand.
Faith element: Strong.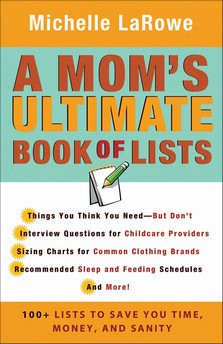 A MOM'S ULTIMATE BOOK OF LISTS
By Michelle LaRowe
ISBN 978-0-8007-3382-7
Revell Books
Reviewer Carolyn R Scheidies
I love lists. They help me organize my time and my life. But all lists are not the same. Some lists are much more helpful than others. The lists in A MOM'S ULTIMATE BOOK OF LISTS are very helpful. As a mom (who wrote HELP! I'M A NEW MOTHER when my daughter-in-law was carrying our first grandchild) I know how overwhelming motherhood can be.
Having several children in the home gets to be a nightmare of scheduling, figuring out what each person needs in food, clothing, education, socializing, and attention gets complicated. And then there is time for hubby.
A MOM'S ULTIMATE BOOK OF LISTS takes those stresses and, through lists and practical information in all areas starting with pregnancy and up through handling a household with multiple children, helps tame the time monster and gives control back to Mom. There is information and lists to deal with medical treatment, pregnancy, shopping, conflicts, and so much more.
If a mom has one book this year, this should be it. Highly recommended.
Faith element: high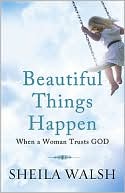 BEAUTIFUL THINGS HAPPEN WHEN A WOMEN TRUSTS GOD
By Sheila Walsh
ISBN 978-1-4002-0243-0
Thomas Nelson
Reviewer Carolyn R Scheidies
I always liked Sheila on the 700 Club and followed her after she left. I admired her courage in admitting she'd spent time in a psych ward and struggled with depression. She found wholeness not in an instant healing, but in walking day by day, moment by moment in God's way and timing. Eventually she wrote a book about her journey. BEAUTIFUL THINGS HAPPEN WHEN A WOMEN TRUSTS GOD is "the rest of the story."
In BEAUTIFUL THINGS HAPPEN WHEN A WOMEN TRUSTS GOD Sheila shares her brokenness and how God showed her she didn't need to be "the perfect Christian." She just needed to walk with God and not be afraid to share her brokenness with others. While some could not accept her journey in depression and a psych ward and medication, others find release to share their own hurts.
And that's OK. If we could be perfect in and of ourselves, we wouldn't need a Savior. Through her story and the truths gleamed from ten Biblical people including Anna, Paul, Tabitha, Joseph, Samson and more, Sheila reveals our need and helps us come to a place of freedom and hope.
Recommended.
Faith element: high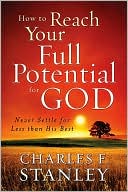 HOW TO REACH YOUR FULL POTENTIAL FOR GOD
By Charles Stanley
ISBN 978-1-4002-0092-4
Thomas Nelson
Reviewer Carolyn R Scheidies
Feel like a failure? Feel your life is going no where—fast? Feel like you've disappointed God or others, or God has failed you? Then HOW TO REACH YOUR FULL POTENTIAL FOR GOD is the book that could change your life.
Using Scripture, his and the experiences of others, Charles Stanley shows us how much God loves us, that God has a plan and purpose for our lives, and how to appropriate God's best—how to, in fact, HOW TO REACH YOUR FULL POTENTIAL FOR GOD.
While I enjoyed reading and learning from this book, it would have had an even greater impact if used with a Bible Study group. Another solid, Biblically grounded, practical book from Charles Stanley.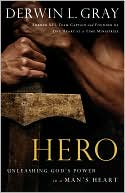 HERO: Unleashing God's Power in a Man's Heart
By Derwin L. Gray
Summerside Press
ISBN: 978-1-935416-22-7
Reviewer Kristine Pratt
Every man has a hero's heart.
From the time a boy first picks up a stick and pretends it's a sword, holds in his heart to be a hero. As he becomes a man, society and secular life wear away at those desires. But they linger still, in the heart of every man. And in this devotional by Derwin Gray, the hero will live again!
Set forth in an outline that's easy to follow, Hero gives short stories that carry enough bite to make a man think. This is followed with a call to action, starting with your head…getting your thoughts in line with God's. This is followed by the Heart…a look at what feelings have arisen in the devotion. Lastly the man is called to put faith into action, though his Hands.
Although this devotional is written for a man, a woman can also get a lot out of this slender volume. Derwin's wife gives her thoughts in each section, and the questions asked will stay in your heart and mind long after you've shut the book and gone about your daily life.
This is a book I want to give to every man in my life. The world needs more heroes…especially Godly ones.
Faith level: High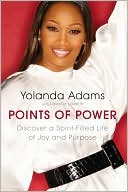 POINTS OF POWER: Discover a Spirit-Filled Life of Joy and Purpose
By Yolanda Adams
ISBN 978-0-446-54578-5
FaithWords
Reviewer Carolyn R Scheidies
Yolanda, through her experiences and those of others, shows how each of us can live victorious, joyous, lives in Christ. Yolanda points out that God is our protector, provider and our peace and that there is real power in prayer and praise. He is with us during and on the other side of problems and pain, as we rely on Him.
Though we are to work with diligence, we work knowing God has a plan and purpose for our lives. As we depend upon Him, He will guide us to our life's purpose. Being open to God's direction, and following in faith--not fear, will lead us to discover what He created us for and to find fulfillment and joy in following the passion He's placed within.
Over and over, Yolanda shows us that God is real and He works in our lives for His, and our, ultimate good.
A book of God's power and presence in our lives. A book that lifts up and encourages. A book that draws us to praise.
Faith element: Medium to high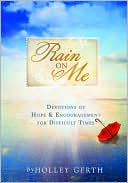 RAIN ON ME
Devotions of Hope & Encouragement for Difficult Times
By Holley Gerth
ISBN 978-1-934770-49-8
Summerside Press, Inc.
Reviewer Narda McCarthy

Every Storm Begins with One Drop that might become a hurricane and then, where is God when it rains? Right there, ready to walk through the storm, side by side the painful soul until it can step beyond the rain and stand in the midst of a garden of blessings. He might not be the cause of the rain, yet, he will redeem every drop of it.

Forty beautiful, insightful and Biblically-based reflections that can be read over and over, tirelessly, knowing that with the Lord's presence in one's life, hope and resilience will be within reach, regardless of how strong the storm can be.

With space in every chapter for the reader's own reflections and prayers, these book is a great and comforting companion in every day's journey.

Element of faith: Strong.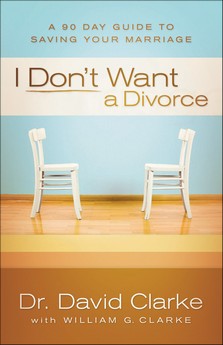 I DON'T WANT A DIVORCE
A 90 day guide to saving your marriage
By Dr. David Clarke with William G Clarke
ISBN 978-0-8007-3401-5
Revell
Reviewer Kristine Pratt
Is any marriage past repair?
In I DON'T WANT A DIVORCE by Dr. David Clarke argues that there is hope. Whether your marriage needs a little fine tuning, or whether you've already decided to end things, you won't save your marriage with this book. Instead you'll rebuild it into the marriage that God intended for you and your spouse all along.
This book is no quick fix, nor is it a pat supply of ready answers. This is no book to read in one sitting, rather it's a course meant to last several weeks – 90 days to be exact. The only way to succeed is to commit fully to the assignments, and to your marriage.
While this book isn't for the faint of heart, it is for the troubled and hurting. There is healing within this pages…and a chance to change your life. This reviewer never expected the impact upon her own marriage…and it forever grateful for the ways in which God has used Dr. Clarke to impact her life.
I would highly recommend this book to anyone with marital issues, be they large or small. The communication skills alone are worth the cover price. Isn't your marriage worth it?
Faith level: Moderate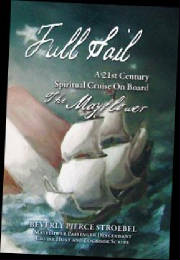 FULL SAIL
A 21st Century Spiritual Cruise on Board The Flower
By Beverly Pierce Stroebel (Mayflower Passenger Descendant)
ISBN 978-1-933204-94-9
VMI Publishers
www.mayflowerfullsaillogbook.com
Reviewer Carolyn R Scheidies
A descendant of Mayflower passengers has released a book tying the past to the present. FULL SAIL takes us on an imaginary journey that addresses the foundation of the nation, the positive and spiritual aspects of America's history as well the failings. Readers come away having a much deeper appreciation for those who went before and what they accomplished with so little. There is an appreciation and an acknowledgement of our very real spiritual foundations.
But all that America and Americans have done has not been positive. This book takes the reader on a journey of repentance and restoration for the sins we've also committed.
FULL SAIL is filled with quotes, Scripture, lyrics, information and interaction between past and present "passengers." When the reader closes the book, there is the sense that FULL SAIL accomplished what it set out to do...a voyage of discovery of our past and of hope for the future.
Faith element: high

CALLED TO WORSHIP
By Vernon M. Whaley
ISBN 978-1-4185-1958-2
Thomas Nelson
Reviewer Sarah Sawyer
CALLED TO WORSHIP examines portions of the Bible that speak about worship in order to impart an understanding of what worship is and what role it should play in our lives. Whaley uses a simple, straightforward style that makes this discussion of worship easy to grasp and apply.
We were created for worship and intimate communion with God, and from that perspective, Whaley delves into what the Old and New Testaments reveal about worship and God's heart. He addresses some important points, such as the importance of worship as a lifestyle, reflected in obedience to God and personal integrity, and the value of worship in increasing our intimacy with God. In addition to his review of Scripture, Whaley shares from his personal experiences as a worship leader and gives principles for worship today.
Starting in Genesis with creation and God's desire for fellowship with his people and culminating in Revelation with a reminder that we will have an eternity of worship and communion with God to enjoy, CALLED TO WORSHIP offers a solid overview of Biblical worship and its importance in our lives.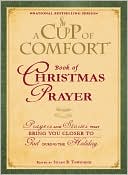 A Cup of Comfort BOOK OF CHRISTMAS PRAYER
Prayers and Stories that Bring You Closer to God During The Holiday
Edited by Susan B Townsend
ISBN 978-1-4405-0051-0
Adams Media
Reviewer Carolyn R Scheidies
This book was given to me as a gift from a writer friend whose heart-warming experience is told on page 234. I noticed another friend has a piece just before this. Both stories drew me to tears, partly because I know both women.
But I didn't need to know the different authors to be brought into their stories or to have them bring me, over and over, into the very heart of Christmas—Jesus come to earth. The collection of stories made me smile, sometimes through tears as I had to read just one more true story.
Whether you are in the Christmas spirit or struggling this year, BOOK OF CHRISTMAS PRAYER is truly A Cup of Comfort.
Highly recommended.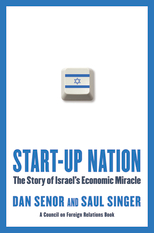 START-UP NATION
The Story of Israel's Economic Miracle
By Dan Senor and Saul Singer
ISBN 978-0-446-54146-6
Twelve: Hachette Book Group
Review by Cynthia Hickey

START-UP NATION takes the reader on a text-book style journey of Israel's rise to economic power. The facts within the pages will help any CEO or entrepreneur use helpful insight into creating their own economic dynasty.

God's chosen nation rises above chaos and conflict, giving the world great minds and people of strength to use as inspiration for any nation downtrodden and persecuted. With quotes from some of the financial genius's of our time, the reader is led down a path of triumph.

Although not an inspiration self-help book, START-UP NATION definitely shows God's hand in the rise of a nation.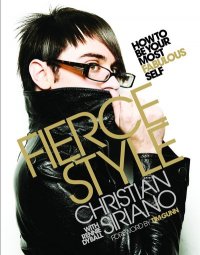 FIERCE STYLE
How to be your most fabulous self
By Christian Siriano with Rennie Dyball
ISBN 978-0-446-54601-0
Grand Central Publishing
Reviewer Carolyn R Scheidies
This book didn't quite "fit" the guidelines for ACR due to some common language profanities. OM---, etc. They are not pervasive and this book has many other good qualities about looking and feeling self-confident.
Faith element: N/A
Click here for the FIERCE STYLE review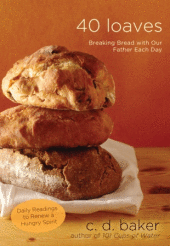 40 LOAVES: BREAKING BREAD WITH OUR FATHER EACH DAY
By C D Baker
ISBN 978-0-307-44490-5
WaterBrook Press
Reviewer Sarah Sawyer
In 40 LOAVES, C.D. Baker asks and answers difficult questions of the faith, such as "why am I so uncomfortable with doubts?" and "why can't I overcome sin in my life?" He succeeds in authenticity and honesty, but at times his answers fall short of Scripture.
This is perhaps due in part to the fact that the short, daily devotional format doesn't lend itself to delving into tough questions, and in the brevity of answers there is room for misunderstanding.
Despite its weaknesses, 40 LOAVES does encourage the reader to approach God with questions and may impart comfort in knowing you are not alone in times of doubt and questioning. Just be sure to examine all the answers through the lens of Scripture.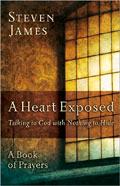 A HEART EXPOSED
Talking to God with Nothing to Hide
A book of prayers
By Steven James
ISBN 978-0-8007-3173-1
Revell
Review by Cynthia Hickey

Sometimes, even in our darkest moments, words fail us when we bring our petitions to our Heavenly Father. We groan with frustration. Our spirit yearns to grow closer to God.

In A HEART EXPOSED, Steven James has crafted beautiful words of prayer to fill these empty moments when we feel as if our prayers don't get past the ceiling. With Bible quotes and words of poetry, James has given us the words to pray when we can find nothing else to say. Words that lay us bare before the throne.

No formula, no empty phrases, just beautiful beseeching prayers to draw us closer to God.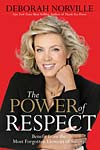 THE POWER OF RESPECT
By Deborah Norville
ISBN 978-0-7852-2760-1
Thomas Nelson
Reviewer Elisabeth H. Bantz
Just like love is a decision, respect is also a decision. A wise decision. For instance, "treat others as you would like them to treat you," and "honor that which [God's] fingers have made," illustrate the power of respect.
Norville give examples of the consequences of disrespect, as well as the amazing results respect brings. When a parent respects a child, when a teacher respects a student, when a boss respects a worker, an incredible transformation takes place. And they, in turn, gain respect.
"Now that I've seen the research [on respect], I am stunned to see the impact of being respected and giving respect," Norville concludes. "I am also mystified. Why wouldn't someone want to put it to work?" .

This book is the key to successful parenting, leading, marriage, and relationships. I recommend it highly. Faith level: quite biblical, but not religious.
GOD ENCOUNTERS
Stories of His Involvement in Life's Greatest Moments
By James Stuart Bell
ISBN# 978-1-4391-0949-6
Howard Books
Review by Cynthia Hickey

In the hustle and bustle of everyday life, during the uncertainty of the fragile economy, when we feel like giving up, God is there. Often, we miss Him, expecting him to make his presence known with fanfare and trumpets. Most of the time, this isn't the case. Instead, God visits us with a whisper.

From putting gas into an empty tank, to the mission field of Africa, to the center of a tornado, He is there. Knowing what we need when we need it. We only need to stop and listen.

In GOD ENCOUNTERS, James Stuart Bell uses touchy, true-life stories to show us God in the midst of turmoil. To help us see His love and mercy when life seems bleak. It's when we don't take the time to slow down and really "see" Him, that it appears he's forgotten us.

Take a few quiet moments each day, read a chapter of GOD ENCOUNTERS, and spend time with God. You'll see Him in a whole new light.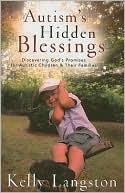 AUTISM'S HIDDEN BLESSINGS
By Kelly Langston
ISBN 978-0-8254-2977-4
Kregel Publications
Reviewer Carolyn R Scheidies
Faith element: high
Click here for the review of AUTISM'S HIDDEN BLESSINGS.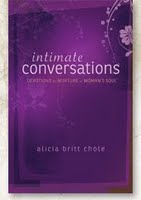 INTIMATE CONVERSATIONS
Devotions to Nurture a Woman's Soul
By Alicia Britt Chole
ISBN 978-0-8007-3289-9
Revell
Reviewer Cynthia Hickey
When was the last time you held an intimate conversation with God? Were you waiting for the right mood? Until you had time? Can you spare a few moments a day? How about fitting it into your already busy schedule? Do you need to sit down and make the time?
God desires a closer relationship with us. In fact He yearns for it. In INTIMATE CONVERSATIONS you will indulge in the rare treat of spending time reflecting on real-life issues. Scriptures and questions will lead you closer in your personal walk with our Heavenly Father.
Alicia Britt Chole helps us find time to grow closer to God in our everyday lives. A few minutes here and there can strengthen and refresh your soul. This book should be on every woman's nightstand.


YOU WERE BORN FOR THIS
7 Keys to a Life of Predictable Miracles
By Bruce Wilkinson
ISBN 978-1-60142-182-1
Multnomah
Reviewed by: Cynthia Hickey

Everybody wants to witness a miracle. Life is full of them. We only need to know where to look. God crafted us in his image. He's given each of us a plan. And, he's given us a map to follow. His Word.

YOU WERE BORN FOR THIS is a helpful guide in knowing what God has planned for each of us and stepping out into faith; knowing He will help us accomplish the impossible. With examples from his own life, prayers, and scripture, Bruce Wilkinson leads us in a journey of discovery. We were not created to sit back and let God do the work, we were created to join Him, hand-in-hand, to perform His works among his creation.

Sit back, grab a cup of coffee, open the pages of YOU WERE BORN FOR THIS, and enter into a partnership with God that will enrich your life and those around you. See the miracles in the everyday.

Life is full of miracles. We just need to be able to spot them.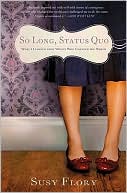 SO LONG, STATUS QUO
What I learned from women who changed the world
By Susy Flory
ISBN 978-0-8341-2438-7
Beacon Hill Press
Reviewer Cynthia Hickey
As women, and primarily American women at that, we collect stuff. Not only material possessions, but things like comfort zones and time schedules. We are often so busy with our lives we fail to see the world around us--and the places where we are needed.
Tired of the cozy little box she lived in, Susy Flory studied the lives of nine remarkable women and decided to get off her couch and do something to show God to the world. Some of the women who influenced her are well-known, others ordinary, like you and me, but all made a powerful impact on the world around them. From giving up possessions to feeding the poor, to getting their hands dirty to build homes.
How are we making an impact? By staying in our comfortable homes, or meeting the down-trodden on their own turf? Jesus walked the streets during his time on earth. Can we do less? Use your God-given talents and change the world!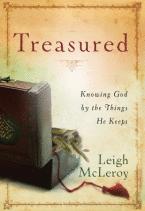 TREASURED
Knowing God by the things He keeps
by Leigh McLeroy
ISBN 978-1-4000-7481-5
WaterBrook Press
Reviewer Narda McCarthy
God is God! The God that covers; the God that includes and provides. With wonderful stories that could be the stories of all individuals, this beautiful book delivers the warm message of his love and presence.
A book to keep always near as a reminder of God's merciful and mighty hand.
Faith element: Strong.
Please note that in page 86 she quotes Harry Potter. The quote is applicable to the message.
EVERYDAY GREATNESS
Inspiration for a meaningful life
Complied by David K Hatch, Stephen R Covey
ISBN 978-0-7852-8959-3
Thomas Nelson
Reviewed by Elisabeth Bantz
A compilation of encouraging stories reprinted from Reader's Digest on twenty-one topics such as Integrity and Respect, EVERYDAY GREATNESS is the type of book that can be read a little at a time. Insightful remembrances of a wide variety of people such as Abraham Lincoln and Jack Benny, this 435-page compilation and commentary is full of meaningful quotes and commentaries.
If stories of human achievements are what you like to read, then this will fill the bill. But if you prefer inspiring stories of what God has done through ordinary people in response to prayer and obedience, then this book will disappoint you.
Faith element: negligible.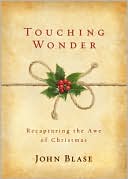 TOUCHING WONDER
Recapturing the Awe of Christmas
By John blasé
ISBN 978-1-4347-6465-2
David C Cook
Reviewer Carolyn R Scheidies
Christmas has been dumbed down to a crèche, a nice little Nativity scene, on the mantel. But the birth of Jesus was neither simple or easy. It required faith and tremendous sacrifice. It meant questions, doubt, even ridicule and the loss of reputation within the community.
A priest who couldn't speak. A young woman pregnant outside of wedlock. A fiancé required to break his engagement to a, supposedly, fallen woman. Yet, God's intervention and their choices brought forth the promised Messiah. But not without cold, rejection, pain and exhaustion.
Using passages from THE MESSAGE, an expansion of the passage as well as author's personal notes, the author brings the story back to reality and, like THE PASSION OF THE CHRIST, helps us see how much God was willing to do to reach us with His love.
Not your typical Christmas book. Not always an easy read. Nevertheless this book brings us back to the heart of Christmas and helps us see the birth with fresh perspective—something we all need.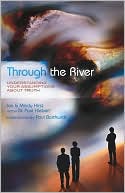 THROUGH THE RIVER
Understanding Your Assumptions About Truth
By Jon and Mindy Hirst with Dr. Paul Hebert
ISBN 978-1-93406-803-8
Authentic Publishing
Reviewer Carolyn R Scheidies
Have you tried to communicate with someone else, especially about matters of faith, but felt you were missing each other? Though you might both have been Christians, somehow your perspectives were so different you could not communicate.
Maybe the problem came from the lens with which each of you viewed the world. This book talks about three different lens.
The Rock Dwellers are founded on truth and knowledge. They seek to persuade through logic and argument, but they are so sold on defending the "truth," they have trouble with the need for relationship. The Island Dwellers are experiential and personal. Faith is so personal, it cannot be shared because everyone's reality is different. They want to dialogue and get along, but are isolated by their self-centeredness.
The Valley Dwellers are anchored in truth, but realize the importance of continual learning and growing and reaching out beyond their own little worlds. They seek to balance truth with relationship and have a strong sense of community.
As the authors take us on the journey of the three lenses, we begin to understand what lens we're peering through and why we miss on communicating with others who see through a different lens. We can also begin to realize we don't need to defend truth for God is truth and we don't need to dump truth for tolerance. What we can do is integrate love, faith, truth and hope.
While I can't say I agreed with everything set forth, it did give me a new appreciation that not everyone sees things through the same lens as I do. If I realize that, I can more readily understand their point of view and, maybe even, truly communicate.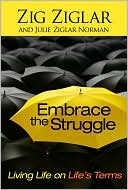 EMBRACE THE STRUGGLE
Living Life on Life's Terms
By Zig Ziglar and Julie Ziglar Norman
ISBN 978-1-4391-4219-6
Howard Books
Reviewer Carolyn R Scheidies
We're used to Ziglar commanding the stage with energy as he encourages, but age and circumstances catches up with every one of us. For Ziglar a fall down a flight of stairs changed everything. He now has little short term memory, changing how he does everything. He needs help now in areas where he was independent.
But, he now touches people who realize he not only understands, but still lives by his faith, a faith that lifts up and encourages. EMBRACE THE STRUGGLE shares not only his own struggle, but also the struggles of others. In the book, he shares stories of physical, mental, spiritual and marital problems and how each person embraced the struggle and through God's grace and the support of caring people, found purpose.
It is a book of hope. It is as he says, "Living life on life's terms."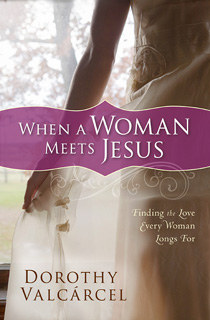 WHEN A WOMAN MEETS JESUS
Finding the love every woman longs for
By Dorothy Valcárcel
ISBN 978-0-8007-3379-7
Revell
Reviewer Kristine Pratt
What kind of woman are you?
When I opened WHEN A WOMAN MEETS JESUUS for the first time and looked at the table of contents I saw some headings that spoke to me. Insecure? Yes. Worried? Have that one down pat. Broken? Well sorta…
But some chapters though, didn't seem to be written for me. Ambitious? Hardly. Hungry? Not a chance. Isolated? Nope, that must be someone else entirely.
What I didn't realize was that every chapter would speak to my soul. Dorothy took eighteen women from the Bible, some that aren't even named in their stories. Through personal anecdote, Biblical wisdom, and a lot of Godly teaching showed me how in fact I am every woman, at least on some level. From there she showed me how God speaks to that aspect of myself, and can bring healing to the woman who is all of these things.
I didn't come away from this book the same person I was when I picked it up. No matter who you are, or where you are in your life this is a book that will speak to you. I'm calling this one a 'Must Read' and is the book I want to give to every woman in my life.
Faith level: HIGH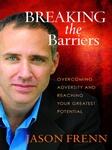 BREAKING THE BARRIERS
Overcoming Adversity and Reaching Your Greatest Potential
By Jason Frenn
ISBN 978-0-446-54620-1
FaithWords
Reviewer Narda McCarthy
"Never judge a book by its cover" comes to mind regarding BREAKING THE BARRIERS. At first glance, it could be just another of the many self-help books so popular today. Dig in, and you will find a gentle book, full of peaceful assurance and encouragement.
The book starts with the fundamentals:
Are you who you want to be?,
Have you a clear idea of what your purpose in life is?,
Do you know where your accountability lies?
Frenn reveals three steps that will guide through the decision making process, and that shows God's unsurpassed peace, while keeping the reader on track, on course.
Good use of the language. This book is a great read, recommended for audiences in their late teens to one hundred.
Faith element: high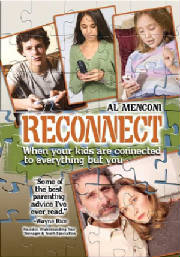 RECONNECT
When Your Kids are Connected to Everything but You
By Al Menconi
ISBN 978-0-942925-11-1
Menconi Publishing
Reviewer Sarah Sawyer
RECONNECTED explores the importance of close family ties and the role of parents as it relates to shepherding children through today's media. Written originally as a series of articles, each chapter of the book explores a single topic. For example, in "Fix my Kid," Menconi discusses how overindulgence in various entertainment—Internet, television, etc—can splinter the family and take away from time better spent together.
This topic ties into a theme developed throughout the book: the importance of parents staying in relationship with their children, so that children gain an understanding of why the correct choices are so important, rather than obeying simply because they must until they are outside their parents' authority.
Each chapter is short and peppered with questions intended to prompt reflection and action. In addition, a Scripture anchors every section. RECONNECTED provides a strong and necessary reminder of the importance of ensuring your family is connected to each other, as well as practical tips on how to do so.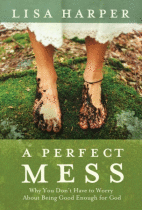 A PERFECT MESS
Why you don't have to worry about being good enough for God
By Lisa Harper
ISBN 978-1-4000-7479-2
Waterbrook Press
Reviewer Sarah Sawyer
A PERFECT MESS brings concepts from the Psalms into modern, everyday life, with a focus on the extraordinary grace and love God has for us even in our brokenness, and his power to heal and transform.
Rather than adopting a traditional devotional style, Harper writes from a personal perspective and weaves life experience together with Scripture in a manner that encourages readers to engage with the Word in their own lives. Through it all, Harper's message emerges clearly: God's love for us is abundant and extravagant at all times. And that is something worth dwelling on.
Julie's personal honesty is at times shocking, but catches us all in the truth that it is easier to criticize and run rather than repent and change and let God move in our lives. An honest portrait of someone willing to not just report a story, but to make a difference across racial and cultural lines.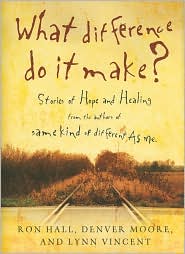 WHAT DIFFERENCE DO IT MAKE?
Stories of Hope & Healing
By Ron Hall, Denver Moore, and Lynn Vincent
ISBN 978-0-8499-2019-6
Thomas Nelson
Reviewer Carolyn R Scheidies
A sequel to the popular SOME KIND OF DIFFERENT AS ME, WHAT DIFFERENCE DO IT MAKE continues the story of Ron and Denver, a former homeless man, since the death of Ron's wife Deborah, whose desire to reach out to the hurt and hurting started the journey that has led to new hope for thousands of homeless.
Ron and Denver, now solid friends, have criss-crossed the country, making others aware of the homeless and providing the motivation to do something real. WHAT DIFFERENCE DO IT MAKE not only shares what Ron and Denver have been doing, but also includes stories of how the first book made a difference in people's lives, both those who needed help and those who reached out.
A touching book that helps us "see" beyond dirty clothes and smelling bodies to real people with real stories who need healing, help...and hope.

Click here to check out TOUCHED BY A VAMPIRE: Discovering the Hidden Messages in the Twilight Saga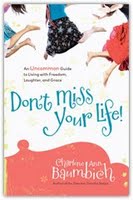 DON'T MISS YOUR LIFE
An Uncommon guide to Living with Freedom, Laughter and Grace
By Charlene Ann Bauumbich
ISBN 978-1-4165-6299-3
Howard Books
Reviewer Cynthia Hickey
In today's world, it's very easy to lose ourselves in busyness. It is easy to shelve ourselves and our family somewhere in the back of a dusty bookshelf, waiting to be pulled out when we have a free moment. We are filled with the guilt of not having enough time.
God wants us to live life to its fullness, to laugh and love,. to forgive and receive his grace. But how can we do that when the days aren't long enough?
We can do it by throwing aside the negative thinking, by forgiving ourselves, by not being afraid to laugh and by forming friendships that last a lifetime--friendships with others and with ourselves.
DON'T MISS YOUR LIFE gives practical advice and lessons on learning to live again, to live each day to the fullness God intended, to not be afraid to take that step offaith and to stop and smell the roses. A ten on the faith scale, this book is a must for every library.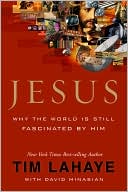 JESUS: Why the World is Still fascinated by Him
By Tim Lahaye
ISBN 9781-4347-6625-0
David C Cook
Reviewer Carolyn R Scheidies
Why is the world still fascinated with Jesus? No other name is so revered or reviled. No other name has made such a difference in so many lives. And no religion can claim as many solid documents to back up the truth of it's claims as the Christian faith.
Yet, this documentation is ignored while many seek to spin another story, without a divine Savior who loves, died and rose again to save humankind. In fact, many so hate the very name of Jesus or Christianity they positively explode with fury at the name.
Many are seeking to revise American history, claiming the US wasn't founded on Biblical principles. To do so, they must bury the words of our founders like President John Quincy Adams who said, "The birthday of the nation is indissolubly linked with the birth of the Savior. The Declaration of Independence laid the cornerstone of human governments upon the first precepts of Christianity."
Lahaye lays out the truth about Christianity, from Scripture, secular sources, and other documentation, in a way to help each of us recognize it's validity and have an answer for those who seek to undermine our faith. He pops the balloons of those who make claims such as that of the Da Vinci Code.
A valuable tool for the Christian, the Christian family and educator.
Faith element: high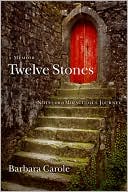 TWELVE STONES: A memoir
Notes on a Miraculous Journey
By Barbara Carole
ISBN 978-0-8307-4606-4
Gospel Light/Regal
Reviewer Cynthia Hickey
Barbara Carole is a misplaced Jew, searching for life's significance. Life's truth. Her journey leads her to exotic places and from relationship to relationship. She knows there's a "higher presence", nature confirms it. But still she is seeking, looking for love and self-worth. Her true love isn't who she thought he was and the dissolution of that relationship leaves her with a lack of trust in love. Her childhood leaves her with a sour taste toward marriage.
Then Barbara experiences her own "Road to Damascus" experience and life will never be the same. TWELVE STONES is the true life story of one woman's search for God through the trials of living life outside of Him. With brutal honesty, Barbara invites the reader into her life with all its up and downs, sins and shames, to find a heavenly Father with open arms waiting to accept His children. A truly inspiring story. A ten on the faith scale.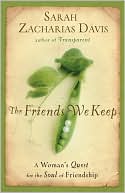 THE FRIENDS WE KEEP
A Woman's Quest for the Soul of Friendship
By Sarah Zacharias Davis
ISBN 978-1-4000-7439-6
Waterbrook Press
Reviewer Cynthia Hickey
Are friendships really important? Can a woman exist through life without bonding with other women? Do we want to? What are the benefits to friendship and are there any bonds that will last a lifetime?
Life isn't meant to be traveled alone. God did not create us to be solitary people. But where do we find these friends? The true ones willing to walk with us through the ugly as well as the beautiful?
THE FRIENDS WE KEEP takes us through the process of bonding with other women and shows us the priceless gift a true friendship can bring. Sometimes, life dissolves a friendship for one reason or another. Sarah Zacharias Davis uses real life accounts of remarkable stories of friendship and shows us how to deal with friendships gone sour. She also helps us with knowing when and how to let go of a relationship going nowhere. A ten on the faith scale.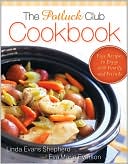 THE POTLUCK CLUB COOKBOOK
By Linda Evans Shepherd and Eva Marie Everson
ISBN 978-0-8007-3349-0
Revell
Reviewer Carolyn R Scheidies
This is a perfect complement to the Potluck Club books. THE
POTLUCK CLUB COOKBOOK is more than a lot of mouth-watering recipes. This cookbook gives us more insight into our favorite ladies from Summit View as well as background on the authors Linda and Eva. It is obvious they have a blast writing about the very individualistic ladies of the Potluck Club.
As for the recipes, there are a wealth of recipes for all occasions. Each recipe includes a short blurb about the recipe, how either Linda or Eva came across the recipe or how they have used the recipe and the occasion.
The perfect gift for that Potluck Club fan.
Faith element: N/A
Gluten note: A glitch got into one recipe—page 106 Yoder's Old Fashioned Oatmeal Cookies. In the blurb, Linda talks about a wheat-free recipe, but the one listed includes flour.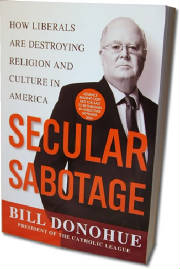 SECULAR SABOTAGE
How liberals are destroying religion and culture in America
By Bill Donohue
Book: ISBN 978-0-446-54721-5
FaithWords
Unabridged audiobook 7 CDs
Read by Bill Donogue
ISBN 978-1-60024-937-2
Reviewer Carolyn R Scheidies
I know too many liberal leaders are doing whatever they can, with whatever tactics they can to change our democratic republic into a socialist state. I didn't realize until I read SECULAR SABOTAGE how many are going far beyond such a freedom-destroying system to one that attacks everything that is moral and good because destruction is their system—and their goal. These are nihilists and they are doing their best to make evil sound good and righteousness, evil. They destroy what they do not like or cannot change.
Worse, within all major Christian faiths both protestant and Catholic, are those who stay not because they hold to the traditional values and beliefs Catholics and protestants hold dear about Jesus being the Son of God who came to save humankind, about faith and family and Scripture, but because they seek to destroy faith from within.
Donohue chronicles what has been going in seminaries, in churches, in the media, in governments and, of course, in Hollywood. The picture is horrifying and grim. But he doesn't leave us in despair. SECULAR SABOTAGE is a wake up call that if we want to pass on our faith and values to another generation, we need to stand up and be counted NOW. We can do it. After all, we're the ones who know almighty God.
Both the print and audiobook versions are excellent.
However, the audiobook version has an interview with the author, giving more details, sharing what has happened since the print book was released and giving some interesting background on Donohue and the Catholic League.
Recommended reading.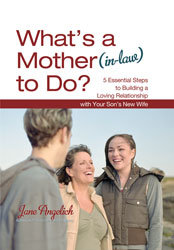 WHAT'S A MOTHER (IN-LAW) TO DO?
5 Essential Steps to Building a Loving Relationship With Your Son's New Wife
By Jane Angelich
ISBN 978-1-4165-8780-4
Howard Books
Reviewer Cynthia Hickey
What should you expect when you son marries? Have you found a new best friend? A daughter? An enemy? Someone who will compete with you for your son's attention? Life is full of horror stories about the relationship between a new wife and her mother-in-law. This relationship is often the brunt of jokes. But it doesn't have to be this way.
With true life stories and practical suggestions, Jane Angelich offers steps enabling you to form a special relationship with the other woman in your son's life. WHAT'S A MOTHER (IN-LAW) TO DO? gives you the tools to deal with the issues from where will they spend their holidays to when will they start their own family, to whether or not she should call you mom.
This book is a handy tool for mothers who are about to welcome a woman into their son's life, and their own.
Although there are no biblical references, this book is straight forward and honest with a common sense approach.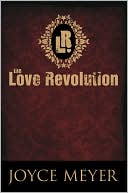 THE LOVE REVOLUTION
By Joyce Meyer
ISBN 978-0-446-53856-5
FaithWords
Reviewer Cynthia Hickey
God commands us to love one another. It's not a request, it's a direct order. Often as we choose to follow this commandment, we are put to the test. The unlovable are put in our path. God wants us to practice compassion and mercy on our fellow man. Just as He did for us. We are to take care of the needy, the hurting, the lonely, the afraid. Even when it takes us out of our comfort zone or away from doing something we'd rather do.
Using examples from her life and others, Joyce Meyer gives us practical advice on how to follow God's desire for us. She gives us scripture to guide us. Often the real-life stories will tear at our heart, prodding us to care for those in war-torn countries. Children forced into unspeakable acts. THE LOVE REVOLUTION forces us to open our eyes and arms and take a step toward making our world a better place. We are to practice forgiveness and to give freely of our gifts. Joyce
Meyer is honest and forward with her own struggles and she seeks to guide us to live more freely in God's will. A ten on the faith scale.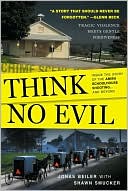 THINK NO EVIL
Tragic violence meets gentle forgiveness
Inside the story of the Amish Schoolhouse Shooting...and beyond
By Jonas Beiler with Shawn Smucker
ISBN 978-1-4165-6298-6
Howard Books
Reviewer Carolyn R Scheidies
Click here for the full review of THINK NO EVIL.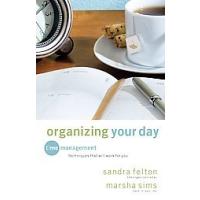 ORGANIZING YOUR DAY
Time Management Techniques That Will Work for You
By Sandra Felton & Marsha Sims
ISBN 978-0-8007-3315-5
Revell
Reviewed by Elisabeth H. Bantz
Time management can be fun, well, maybe not at the beginning of the day, but at the end when you see what you've accomplished and can say, "I did a good job." And it's even more satisfying when you get in the habit of doing "a good job" every day.
The authors take us gently through the process of making the right choices to bring about the desired results, like settings aims, staying focused, doing it now, controlling your projects, delegating work, managing interruptions, scheduling, using the right tools, developing useful habits, and organizing your stuff.
Each chapter begins by identifying a problem, and concludes with helpful tips to implement solutions. And the end of the book even includes ten sessions for those studying the book as a group, listing several activities for each session.
Has this book changed the clutter in my life? Well, it's changed my outlook at least. One has to actually work at it in order to see results. Yes, I'm working on it, and yes, it does feel good to see changes. An organized day really is possible.
Faith element: negligible.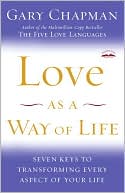 LOVE IS A WAY OF LIFE
Seven keys to transforming every aspect of your life
By Gary Chapman
ISBN 978-1-4000-7259-0
Waterbrook Press
Reviewer Sarah Sawyer
Most people desire to become more loving, but have few ideas of how to go about it. LOVE AS A WAY OF LIFE is a resource that will assist in the journey of cultivating love in your life by taking the vague concept of love and breaking it down into concrete, easily applicable, parts.
Chapman identifies seven components of love: kindness, patience, forgiveness, courtesy, humility, generosity, and honesty. In each of these spheres, he provides stories of how this aspect of love changed lives, a test for self-evaluation, and practical advice and discussion on how to incorporate it into your daily life. While his use of Scripture is rarely overt, his advice rests on a solid biblical foundation, and he shares aspects of his faith as appropriate throughout the book.
This is not a guide to read once and be done with, but to delve into deeper over time, making use of all the discussion questions, self-evaluation tools, and application ideas to start to more intentionally love the people in your life.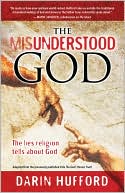 THE MISUNDERSTOOD GOD
By Darin Hufford
ISBN 1-935170-05-1
Windblown Media
Reviewer Carolyn R Scheidies
Do you see God as someone to bargain with, someone who loves you only when you behave in a certain way? Maybe you see God as some sort of monster who plays chess with people's lives, just because He can. If so, you need to read this book. THE MISUNDERSTOOD GOD takes the reader from a self-centered, mean-spirited God to the truth, a God who wants you to know Him—the God, not just of might and miracles, but the God of deep, passionate love for His creation.
Too many have a warped view of God and it impacts how they view themselves and how they treat others. But God is so much more than a God who loves conditionally. I grieved the author grew up with such a twisted view of God, but his journey to God's love can help others find the depth of God's heart as well.
While I had problems with some of what he said, mostly I am saddened that even Christians serve a false God out of fear rather than love. This book can show them the truth.
Faith element: high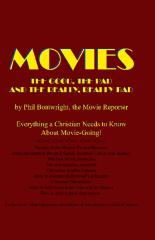 Click here to read the review.
MOVIES THE GOOD, THE BAD AND THE REALLY, REALLY BAD
Everything a Christian Needs to Know About Movie-Going
By Phil Boatwright
ISBN 978-1442142152
Word Crafts
Reviewer Carolyn R Scheidies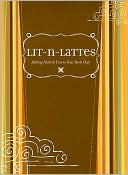 LIT-N-LATTES
Adding Faith & Fun to Your Book Club
ISBN 978-0-7644-3714-4
Group
Reviewer Carolyn R Scheidies
Book Clubs are a fun way to mix faith and fellowship with friends with the love of books and discussion.
LIT-N-LATTES pushes this up a notch by providing a discussion guide for an eclectic selection of both Christian and secular books that carry messages of imagination, faith, trials, mystery, gender roles and so much more.
LIT-N-LATTES offers more than well thought out discussion questions--though it does that. It also offers a total themed environment from appropriate recipes to decorations to getting everyone involved. I'm not much of a cook, but some of these recipes are too good to pass up.
Some of the books covered are classics such as JANE EYRE and TO KILL A MOCKINGBIRD. Some I'd read like Francine River's haunting THE SIN EATER. Others I've not read, but now I plan to.
LIT-N-LATTES covers 24 books. This discussion guide is small, but holds the key to offering directions or starting a fun, faith-filled book club.
Great selection of books. Recommended reading for readers and book clubs.
Click here to read a 2nd review at Associated Content
THAT MAKES TWO OF US
Lifestyle Mentoring for Women
By Connie Witt and Cathy Workman
ISBN 978-0-7644-3828-8
Group
Reviewer Cynthia Hickey
Life is full of kindred spirits. Bosom buddies. We only need to know where to look. To open our eyes to the possibilities of close friendships and the opportunity to mentor a younger woman.
THAT MAKES TWO OF US is an easy-to-understand bible study that shows us how easy it is to connect with other women and form relationships that last a lifetime. This bible study dispels the myths that we don't have what it takes to make a positive impact on another woman's life. Not only is mentoring sharing God, but it's a chance to share life. What has life taught you that you can pass on to someone younger?
Learning to keep our eyes open and look for opportunities presented will change our life with the people we open up to. Share a piece of yourself. You won't regret it.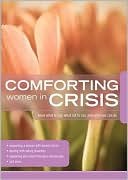 COMFORTING WOMEN IN CRISIS
Know what to say, not to say, and what you can do
ISBN 978-0-7644-3831-8
Group
Reviewer Carolyn R Scheidies
Who doesn't have friends who've gone through painful situations in their lives? What can we do? What can we say that won't make things worse instead of better for our friend? No matter how much we care, most of us have little idea of how to help.
COMFORTING WOMEN IN CRISIS may be a small, purse-sized book, but it packs a lot of information, common sense and help. COMFORTING WOMEN IN CRISIS has helps for the individual and the group (such as a Bible Study or discussion group of women who care about one another) in dealing with painful situations such as divorce, infidelity, empty nest, rape, miscarriage, menopause and other things we women may deal with in our life time.
COMFORTING WOMEN IN CRISIS lists scripture references, book resources and the practical help of what not to say or do, and the things we can say or do to affirm the person, and to steer them to whatever help they may need. Each chapter has Care Tips, Counseling Tips, Group Tips, What Not to Say, What To Say, along with additional resources.
For example, in the chapter on Infertility, Care Tips includes the following in the list: Make yourself available to talk, but don't force the issue. Scripture Help includes references to I Samuel 1:9-2:11, Psalm 147:3-5 and more. Counseling Tips includes, among other suggestions, Help her identify her strengths. One thing not to say: So when are you going to start having kids? What to say: I'm so sorry for your loss.
COMFORTING WOMEN IN CRISIS helps us become part of the healing process. Each chapter also has tips to help us know when professional assistance is needed and what to do.
This small volume can take the uncertainty out of being there when a friend turns to us in a time of need. Recommended for all women and women's groups—and friends.

STILL GOING IT ALONE
Mothering with Faith and Finesse When the Children Have Grown
By Michele Howe
ISBN 978-1-59856-241-5
Hendrickson Publishers
Reviewer: Elisabeth H. Bantz
Launching each chapter with short snippets from other women's lives on subjects like endurance, making wise choices, and in-laws, Michele Howe begins with a study, and ends it with a prayer.
STILL GOING IT ALONE: Mothering with Faith and Finesse when the Children Have Grown, follows Howe's previous book, GOING IT ALONE: Meeting the Challenges of Being a Single Mom, and helps us choose life instead of defeat, forgiveness instead of bitterness, courage instead of fear, joy instead of sorrow, contentment instead of envy, thankfulness instead of grumbling, and love instead of hate.
As children leave home, mothers' roles change. This book helps them face the challenges of an empty nest. It could be read like a devotional, a little at a time as time permits. Faith element, medium.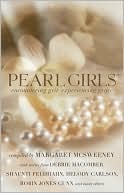 PEARL GIRLS
Encountering grit, experiencing grace
Compiled by Margaret McSweeney
ISBN 978-0-8024-5862-9
Moody Publishers
Reviewer Carolyn R Scheidies
Life isn't perfect. Christians aren't perfect and being a Christian does not wipe away all problems, not in this world. PEARL GIRLS is a compilation of stories of women who've gone through "stuff" and not only survived, they've learned to thrive. Adversity drew them to God's amazing forgiveness, comfort, grace and hope. In Him, they've found a reason for living and a reason for joy beyond the hurt, problems and pain.
The stories grip the heart, sometimes eliciting laughter, but more often tears as the reader identifies and is drawn back, over and over, into God's loving heart.
A good read and a good gift.
Faith element: high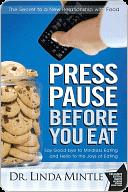 PRESS PAUSE BEFORE YOU EAT
Say good-bye to mindless eating and hello to the joys of eating
By Dr. Linda Mintle
ISBN 978-1-4391-4864-8
Howard Books
Reviewer Cynthia Hickey
Food is meant to sustain our bodies, caress our palates, yet we often turn to it in times of stress or boredom. Food has many names such as comfort food, mood food, relaxing food, etc. Hence the reasons why America is one of the most overweight nations in the world. A reason why dieting often fails.
In PRESS PAUSE BEFORE YOU EAT, Dr. Linda Mintle explains the reasons why we eat and the reasons why we should eat. Using simple applications and exercises, she helps us look at food as God intended, not as mindless grazing, but a joyous endeavor. Eating should be a pleasure, not a crutch to lean on when we're troubled. This book will guide you in finding the reasons why you eat mindlessly, and encourage you to eat as you were intended, without feeling deprived.
This is not a "diet" book, but a guide in helping us have the correct perspective. It is God we should lean on, not food.
An eight on the faith scale.


THE PRINCIPLE OF THE PATH
How to get from where you are to where you want to be
By Andy Stanley
ISBN 978-0-8499-2060-8
Thomas Nelson
Reviewed by Elisabeth Bantz
If you don't want to end up saying, "This isn't where I thought I'd be at this point in my life," then this book will help you get back on track.
The thing about any principle is that it is in effect whether you are aware of it or not. Like the principle of sowing and reaping, you can't plant oats and expect a crop of sweet corn. Yet we go about our lives making random choices, not realizing that they set us on a path toward a certain destination, and we're surprised when we arrive where we don't want to be. Good intentions are not enough. Following the right directions is.
The Principle of the Path steers us onto the right path. Stanley gives real life examples and scriptural pointers so we can reach our desired destination. It's all about choices and decisions and consulting the map. Faith element, medium.

WHAT'S HE REALLY THINKING?
How to be a relational genius with the man in your life
By Paula Rinehart
ISBN 978-0-8499-1880-3
Thomas Nelson
Reviewer Sarah Sawyer
Have you ever wondered what the man in your life is thinking? Paula Rinehart tackles this big question by explaining the difference between men and women, how men view the world, and why they respond in the way they do. She bases her conclusions primarily on psychological research and her years of experience as a counselor, with some Scripture incorporated.
Part one of the book covers "understanding the man you love" and part two addresses "loving the man you understand," both of which are important in strengthening your relationships with significant men in your life—husbands, brothers, sons, or even friends. For example, Paula shares how men often process a request for change inwardly, not verbally, so their lack of response does not indicate lack of consideration. Greater understanding helps facilitate stronger relationships, and the information she shares is aimed at that end. At the book's conclusion, there are resources to dig deeper into the material.
Personally, I would have liked to see a stronger Biblical foundation, but there is still excellent food for thought here that will assist you in relating to the men in your life.
SERENITY PRAYERS
By June Cotner
ISBN 978-0-7407-7918-3
Andrews McMeel Publishing
Reviewer Carolyn R Scheidies
In our busy, hectic, never-stop schedules, we often long for a moment of peace and serenity. During times of pain and hurt, we search for that elusive something that centers us and helps us find peace. Of course, God is, or should be, our center. His Word is the calm in the storm.
Sometimes though, a turn of phrase, a verse, a poem draws us back to that center in old and new ways. Cotner has once again compiled a small book that speaks to the heart and soul of each of us, this time with a collection of prayers, poems and prose from classic and modern authors as well as new voices that lead us to that place of serenity in each one of us. The poems draw us to the beauty of creation, of stillness of appreciating the small things. I especially liked Alfred Grant Walton's poem "The World We Make," that included the line "We make our world by the life we lead." How true.
SERENITY PRAYERS makes a nice lead in to that quiet time to walk, to contemplate, to find that place of peace inside. A good gift.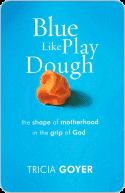 BLUE LIKE PLAY DOUGH
The shape of motherhood in the grip of God
By Tricia Goyer
ISBN 978-1-60142-152-4
Multnomah
Reviewer Carolyn R Scheidies
Before my husband and I had kids, I wanted to wait until I could be the perfect parent though I knew how impossible that would be. Once we had kids I realized, sometimes with despair, how far from perfect I really was, Motherhood is exhaustion, constantly on the move, constantly second guessing decisions and a house that often looks like a tornado hit full force.
Motherhood is much more as Tricia points out in BLUE LIKE PLAY DOUGH. Using her own experiences, Tricia shows mothers the joys of motherhood and how God can shape each of us as we mold our children God's way. BLUE LIKE PLAY DOUGH is right where young mothers are today.
Since my kids are grown and gone, how do I know? Because my dear, daughter-in-law shares her heart with me. This book deals with so many of the things she struggles with faith, responsibility, misbehavior, home-schooling, death, growing up and so much more. I'm going to make sure she gets a copy of this book.
I recommend this book for all those stressed out young moms. Give it to one you love.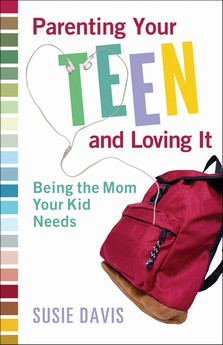 PARENTING YOUR TEEN AND LOVING IT
Being the Mom Your Kid Needs
By Susie Davis
ISBN 978-0-8007-3318-6
Revell
Reviewer Cynthia Hickey
And we thought parenting toddlers was hard. From tempter tantrums and yelling to covering up for our little "darlings'" mistakes, PARENTING YOUR TEEN is a hands-on guide to a biblical way of raising teenagers. Susie Davis shows us how to set our expectations, choosing which battles we really want to fight about, and how to enjoy the growth in our child, while keeping our focus on what God would want. With humorous examples from her own parenting, she helps us see the importance in the job God has set before us.
As a parent of several teens, two at home and several moved out, this book would have been an invaluable tool during those tumultuous years. Now, it will have a place of prominence as I hope to improve the parenting of the two still under my wing. PARENTING YOUR TEEN should be a must read for anyone dealing with teenagers, whether they be teachers, parents, or church staff. A ten on the faith scale.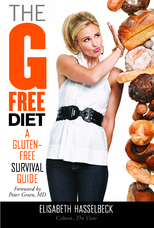 THE G-FREE DIET
A Gluten-Free Survival Guide
By Elisabeth Hasselbeck
ISBN 978-1-59995-188-1
Center Street
Reviewer Carolyn R Scheidies
THE G-FREE DIET is more than Hasselbeck's personal journey to the discovery that her lethargy and pain had a cause—celiac disease. She is intolerant to gluten, a protein found in wheat, barley and rye. Unfortunately, gluten is a glue, a binder, that is now found in a high percentage of processed products from bread to meat. This makes grocery shopping challenging and eating out a nightmare.
However, as Hasselbeck shares, the blessing with celiac disease/gluten intolerance is that it is directly tied to diet. Medicine can't cure, but a diet change can. This book shows what the problem is and how to deal with it with sanity and humor as well as offering a wealth of information and resources.
Highly recommended for parents of children showing abdomen pain, and for anyone who questions if their problems might be tied to a gluten intolerance. Mine were.
Click here for a more in depth review of THE G-FREE DIET
Click here THE GLUTEN CONNECTION: Journey of Discovery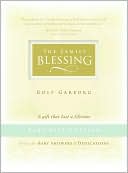 THE FAMILY BLESSING
By Rolf Garbprg
ISBN 978-1-934770-62-7
Summerside Press
Reviewer Cynthia Hickey
God's Word encourages us to bless others; even those who curse us. If we are to do this, how much more so should we bless our families? Our children, in particular? As gifts from God, our children are to be cherished. In what better way can we cherish them, but by blessing them?
In THE FAMILY BLESSING, Rolf Garborg tells us how he and his wife came to bless their children each night before the children fell asleep. The impact this act had on their family was huge. It's not always easy to bless someone, even your offspring, when they've upset or hurt you, but the benefit to both parties is priceless. Who can't use a daily blessing?
This book is a wonderful gift for mothers-to-be, parents-in-training, or those who've been around the block a few times. It will become a cherished book on anyone's shelf as a constant reminder to bless those we love.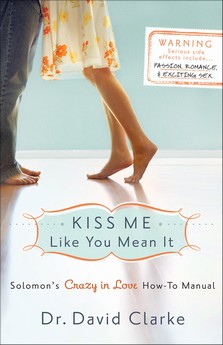 KISS ME LIKE YOU MEAN IT
Solomon's Crazy in Love How-to Manual
By Dr. David Clarke
ISBN: 978-0-8007-3329-2
Revell
Reviewed by Elisabeth H. Bantz

Sometimes funny. Sometimes tragic. Dr. Clarke tells stories from his own experiences and those who have come to him for counsel. "Why doesn't passion between us last?" he is asked. "What's killed that glorious, heart-pumping feeling of love and desire we had?"

Dr. Clarke has the answer. And it's not pretty. Ready? The person you fell passionately in love with is replaced by an alien. You have both been replaced by aliens. He doesn't talk to you anymore. She talks too much. He snores. She hogs the blankets. Who can be passionate with an alien like that.

Step by step, Clarke reveals how to find the spouse you fell in love with. The secret is doing it God's way. Here are a few of his tips: Put your wife/husband ahead of your job, your children, and yourself. Ask each morning, "Honey, what are your needs today. What can I do for you?" And periodically ask, "How am I doing meeting your needs? How can I do better?" And instead of pointing out each other's faults, praise their good qualities.

I heartily recommend this inspiring message of restoration. Your marriage can only get better.

THE HOLE IN OUR GOSPEL
What does God expect of us? The answer that changed my life and might just change the world
By Richard Stearns, Pres. Of World Vision
ISBN 978-0-7852-2918-6
Thomas Nelson
Reviewed by Elisabeth H. Bantz
As a kid from a broken home, raised in relative poverty, Richard Stearns worked hard through two ivy league colleges and went on to become the CEO of not just one, but two large corporations. He had everything he could ever want: a wife who shared his faith, five children enrolled in fine Christian schools, and a magnificent house in a gated community. Until two telephone calls rocked his safe little world.
"Don't ask me to explain it, but God told me that you are going to be the next president of World Vision," his friend Bill said.
And try as he might, Rich could not fight the Holy Spirit any longer when six months later the second caller forced him to face the real question: "Are you willing to be open to God's will for your life?" To answer it, he had to let go of the things in his life that possessed him, and stop hiding behind the fallacy that God could not use him.
Are we willing to be open to God's will for our lives? If not, there may be a hole in our gospel. And before we can offer the whole gospel to the rest of the world, we have to fill that hole. There is no "whole gospel" without compassion and justice shown to the poor. It's that simple, he says.
Be prepared to be as challenged as Stearns was. Faith element: very high.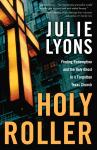 HOLY ROLLER
Finding redemption and the Holy Ghost in a forgotten Texas church
By Julie Lyons
ISBN 978-1-4000-7495-2
Waterbrook Press

Reviewer Carolyn R Scheidies
Julie was a white crime reporter for a Dallas newspaper. What she was searching for was a good story, a church in dangerous South Dallas that made a difference in the violent, drug-infested mostly black neighborhoods. She found not only a story, but also new life—and a church home.
With the title HOLY ROLLER, not usually a positive description of a pentecostal phenomenon, I expected an examination, more likely a critique of some kind. But this book is, instead, Julie's personal journey not only into the darkness of South Dallas, but into the healing, saving power of Jesus Christ and how it not only changed a neighborhood, but also her life.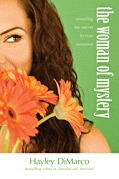 THE WOMAN OF MYSTERY
Unveiling the secret of true romance
Hayley DiMarco
ISBN 978-1-4143-2468-5
Tyndale House Publishers
Reviewer Sarah Sawyer
THE WOMAN OF MYSTERY sets forth the belief that all women seek mystery and romance in life and that these longings can only be satisfied in the context of relationship with Christ. It encourages women to spend their lives focused on this true romance, rather than expending all our energy on seeking earthly romance and to become women of mystery by living life in such a way that we reflect Christ.
In this context, the book tackles practical subjects such as modesty, the words we speak, the attitudes we hold, and the way we relate to others, suggesting that these things and more are all part of cultivating a God-centered lifestyle as a woman of mystery. Scripture is sprinkled in lightly, with the main focus on sharing advice and stories of real-life women.
The chapters are focused and easily readable, each concluding with some ideas for application of the topics discussed.
Since this book is geared toward women, at times it gives an imbalanced picture—for example suggesting if there are problems in a marriage, the woman needs to change.
Therefore I propose some caution in reading it. If you take it as intended—a guide for women seeking to live a Christ-like lifestyle rather than a complete picture of the dynamics of a healthy lifestyle then you will likely benefit from the tips and stories shared.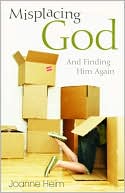 MISPLACING GOD (And Finding Him Again)
By Joanne Heim
ISBN 978-0-8254-2759-6
Kregel Publications
Reviewer Sarah Sawyer
In today's world, life is busy, and constant demands drain both time and energy. All too often, we fail to make room for what's most important: God. Joanne Heim provides a powerful reminder of this in MISPLACING GOD. She shares her journey from being a believer that kept God low on her priority list to being a believer that made room for quality time with God each day and learned to "practice his presence" even through the most difficult days.
Heim doesn't simply stop at pointing out a problem and detailing the solution, she also gives practical pointers on how to make God the center of daily life. She starts with intentionally making God a priority, and covers topics such as how to make the time and how to delve into the Word and prayer once you have set aside the time. An abundance of Scripture throughout supports the whole work.
A solid resource, especially for new believers.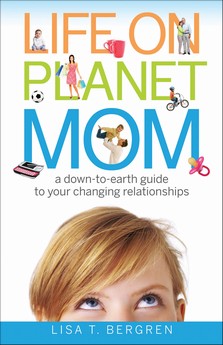 LIFE ON PLANET MOM
A down-to-earth guide to your changing relationships
By Lisa T Bergren
ISBN 978-0-8007-3365-0
Revell
Reviewer Sarah Sawyer
Want a practical guide on how to handle the relational changes motherhood brings? I suggest trying LIFE ON PLANET MOM, an easy-to-read, encouraging book on the importance of relationships to a mom and how to rightly handle them when raising small children.
Lisa T. Bergren tackles six areas of relational change for new moms: relationship with God, yourself, your husband, your parents, your friendships, and your community. Each chapter delves into one of these topics, starting with a short fictional illustration, then moving to practical advice, words from other moms, and helpful tips. Questions for further thought conclude the chapters.
While I am not yet a mother, I found much of value in LIFE ON PLANET MOM and will keep it on hand as a reference for the future. Moms with small children will benefit from the frank discussion on the joys and hardships of motherhood, and the helpful suggestions this book contains.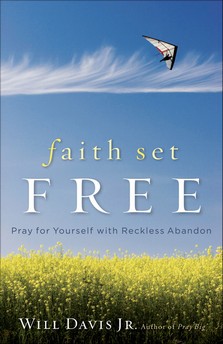 FAITH SET FREE
Pray for Yourself with Reckless Abandon
By Will Davis Jr.
ISBN 978-0-8007-3247-9
Revell
Reviewer Cynthia Hickey
Praying for ourselves? Imagine. It's easy to pray for others. Most of us do it all the time. But does God want us to seek him for our own desires and needs?
According to scripture He does. Even going so far as to tell us we can't live this life without praying for ourselves. So how do we do something we aren't used to doing?
FAITH SET FREE is a handy, easy-to-read guide that will lead us on a journey of self-discovery and worth. Will Davis Jr. uses humorous examples from his life as examples. FAITH SET FREE is much more than just a book on prayer; it will show you how to burst into a new relationship with God.
Within these pages are exactly what God tells us to pray, and what the prayers mean. And, yes, the prayers are centered around us as individuals. This guide is a must have for anyone who believes in the power of approaching God's throne, and for those who are still seeking. A ten on the faith scale.


CHRISTIANITY IN CRISIS: THE 21ST CENTURY
By Hank Hanegraaff
ISBN 978-0-8499-0006-8
Thomas Nelson
Reviewer Carolyn R Scheidies
I recently finished a book dealing with problems with the theology of Emerging Church Movement, Open Theism and other serious departures from Biblical Christianity. In this book, author Hanegraaff tackles another part of the drift away from Biblical faith, something that holds many desperate people in it's grasp. It is the radical Faith "Name it and Claim it" Movement.
I had no clue how far off-base some of these proponents have become, elevating man to a god-like status while sublimating the sovereign God to the status of beggar, loser and puppet.
Well known faith proponents such as Joel Osteen, Joyce Meyer, and TD Jakes hold radical views of faith, the cross and the finished work of salvation. It was a wake up call for me. I've read works by each and never realized how far off base they and other faith teachers had become. Though couched in spiritual terms much of what they teach has roots in paganism, New Age, and Scientology.
Hanegraaff doesn't just point out the errors, but points the reader to the truth, to Biblical reality, to Christ and how to discover truth from error. He quotes liberally from the works and teachings of the faith movements teachers and drills home his points in a heavy and detailed volume.
Recommended study for every Christian.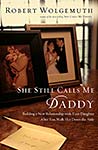 SHE STILL CALLS ME DADDY
By Robert Walgemuth
ISBN 978-0-7852-2170-8
Thomas Nelson
Reviewed by Elisabeth H. Bantz

Building a new relationship with your daughter after you "give her away" is one of the hardest things a man must do. It takes faith, faith that you've instilled everything she will need for her new role as wife and eventually mother, and faith that God will fill the low places she may face, as you walk her down the aisle and answer that milestone question: "Who gives this woman to be married to this man?"

It's a turning point, a moment of relinquishment. Robert Wolgemuth knows what he talking about. He has given his two daughters to the men they had all been praying for from the time the girls were born. And he guides the reader through the roller coast of emotions a father (and mother) feels at this turning point in life.

I wish I had known this sage advice when we :"gave away" our daughters . . . and sons. But having read it "after the fact," I can still put his guidelines into practice as I see my sons- and daughters-in-law in a new light. This book will bless all parents. Period. Even new parents, because now you can faithfully pray for your children's future mates.
Faith element: high.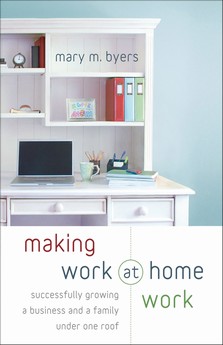 MAKING WORK AT HOME WORK
Successfully growing a business and a family under one roof
By Mary M Byers
ISBN 978-0-8007-3275-2
Revell
Reviewer Carolyn R Scheidies
Those of us who've juggled family and a work-at-home business know just how hard it is to balance our priorities. When we're at home, it is hard to shut out the conflicting obligations that, at times, seem to assault us.
Using her own and the experiences of other stay-at-home entrepreneurs, Byers takes us on a journey of discovering how we can be home with our children and run a business. But there are some definite guidelines to follow.
Of course, we need to be flexible (we're Moms, after all). We need to realize one size does not fit all and our solutions might be different from another stay-at-home business woman. We need to realize we can't "do it all" which means we need to schedule our time around priorities we've already decided upon in advance with input from other family members involved.
We need to get and stay organized, regularly plan for the next month, year, etc., setting down our goals and objectives. Then be honest and open about what we can actually achieve while leaving time for ourselves, our husband and our kids. There needs to be constant communication with our family and our clients. We need to learn to say "no," even if that no means a client is not happy.
Of course, we need to treat our work at home like a business, keeping accurate records. (The tax man will be in this mix.)
Don't forget, says the author, to network with other moms and stay-at-home women and others, recognizing our need for advice and support. A positive, never-give-up attitude is also important.
Pg. 117 "Act like the person you want to be."
Most of all, found your life on the best support and advisor possible—Jesus Christ.
Finally, from page 110, Byers advises, "I've come to the conclusion that I often make things harder than they need to be."
Good advice from a stay-at-home entrepreneur who's been there. I wish I'd had this book when my kids were small and I was juggling my writing and my career. Recommended.
Faith element: Low to medium
THE DISAPPEARANCE OF GOD
Dangerous beliefs in the new spiritual openness
By R Albert Mohler Jr
ISBN 9780-1-60142-081-7
Multnomah
Reviewer Carolyn R Scheidies
Our society has gods. Those gods haven't disappeared. They are more in evidence than ever. What has disappeared, is disappearing, and is being twisted and morphed into an "acceptable"Jesus and legislated and criminalized out of existence, is GOD, the God of the Bible. This all-knowing, all-present God who gave His life that we may live and who offers life to those who come to Him, but death and Hell to those who don't, has been marginalized by many of the very ones who sought to make Him more relevant.
From the Open Theists, who don't believe God knows the future (doing away with most of the Bible), to those who've shifted away from the foundations of the faith in many other ways, our culture is in a crisis of faith. Many churches no longer believe or teach the gospel message and are little more than social or self-esteem parlors and with about as much long-term positive benefits.
Many are led away, not realizing the very ones who should be upholding Biblical truth (such as those in the Emerging Church movement) no longer believe in knowable truth, some are ashamed to be known as Christians, and way too many so-called "Christian" leaders are leading their people down a path of quicksand to the very Hell they no longer believe in.
This book helps God's people realize what is happening, recognize the signs of apostasy, and become pro-active personally and within the church to restore the faith of our fathers.
This is a small, easily read and absorbed book. Highly recommended for every Christian and every seeker both individually and in Bible study or discussion group settings.
THE AMERICAN PATRIOT'S BIBLE
General Editor: Dr. Richard G Lee
ISBN 978-0-4185-4153-8
Thomas Nelson
Reviewer Carolyn R Scheidies
This Bible is much more than a family keepsake, for it is a keepsake with pages to record family genealogy and records of births, deaths, military service and more. It is also a piece of art with careful attention to detail and appearance as well as attention to functionality and readability.
Scripture is taken from the NKJV version and THE AMERICAN PATRIOT'S BIBLE has maps and a very nice concordance as well as a subject index. But, what makes this Bible unique is the juxtaposition of Bible principles alongside the values, quotes of both founding fathers and other great American leaders.
Included are such things as "The Bible and American Presidents," "Christianity in Colonial America," "The Bible and American Education," and many more inserts tracing each subject to it's Judeo-Christian source.
Size harks back to those hefty Bibles every family treasured and passed down from generations to the next. <I have two such family Bibles--both in Swedish.> This is a new generation of family Bible, one carefully crafted for the American family.
This would make a wonderful family keepsake, a great source for families, especially homeschooling families, and have a valued use for personal or family devotions.
As a journalist, I've already gotten several article ideas from this Bible.
Beautifully and reverently done.

EXPERIENCING THE SPIRIT
By Henry & Melvin Blackaby
ISBN 978-1-59052-911-9
Multnomah
Christian Living/Spiritual Growth
Reviewed by Elisabeth H. Bantz
It's all about experiencing Jesus; when the Spirit comes, He reveals The Messiah to us. It's not about us getting gifts, but having the giver of gifts within us. It's not about going out on assignments for God, but going out with Him on His assignments and watching Him work miracles--through us.
To give our best—what we can do in our own strength, is to cheat the world of God's best—what the Holy Spirit desires to do through us. God asks us to serve outside our areas of strengths, so that His strength is what others see. Without the Holy Spirit, the world sees the church doing good things for God, not God doing what only He can do through us.
"Are you content merely to give the world your best? Or do you want people to experience the power of the Holy Spirit when they encounter your life? What a difference!" Jesus is actively at work in the world, and He gives you the gift of the Holy Spirit so you can join Him in that activity.
I encourage you to read Blackaby's book, along with his companion books, "Experiencing the Cross," and "Experiencing the Resurrection." It's all about a relationship with God. How awesome is that?

PLANTING CHURCHES THAT REPRODUCE
By Joel Comiskey
ISBN 978-0-9790-6769-9
CCS Publishing
Reviewer Carolyn R Scheidies
For too long, Mega-Churches have gotten most of the attention in the Christian community. But another movement has started to gain ground. One that doesn't depend on enormous outlay of funds or programming. House and cell churches, small gatherings begun in homes, are gaining ground for a culture disintegrating and people, tired of church as usual, who desperately need to connect with others and God.
But many of these small cell churches fail. Others thrive and become the foundation for growth, spiritually and into other home/cell gatherings. Of course the basic is prayer and God's leading, but other factors also play a part.
PLANTING CHURCHES THAT REPRODUCE is a practical, common sense, easy to read manual of the principle of multiplication and how to grow into a vibrant community of believers who continue to reach out.
Every church should use this book in a study to kick-start God's people into understanding the basic principle of the gospel—reproduction. My copy is all marked up. (And I'm part of a church plant.)
THIS IS YOUR BRAIN ON JOY
A Revolutionary Program for Balancing Mood, Restoring Brain Health, and Nurturing Spiritual Growth
By Dr. Earl Henslin
ISBN 978-0-7852-2873-8
Thomas Nelson
Reviewer Cynthia Hickey
In today's society, Depression is everywhere. Postpartum blues, negative thinking, fatigue, and just plain brain weariness. We're bombarded by it. Sometimes even glorifying it, saying this is normal in today's world. Dr. Earl Henslin asks, "What does your brain have to do with experiencing joy?"
THIS IS YOUR BRAIN ON JOY uses science and biblical truth to guide us to true joy; to help us overcome depression and experience joy as we were meant to. Dr. Henslin gives readers books, movies, and scripture to lighten our hearts. He gives us reasons for being unjoyful and ways to pull out. For anyone suffering from depression, anxiety, or working in the psychology field, this book should not only sit on your bookshelf, but be tattered from flipping through the pages to find a way to help yourself or someone else.
Faith element 8

Julie had her life planned out, though she hadn't planned on the divorce. But that was the least of her problems when a young man ran a red light and crashed into her car. No one thought Julie could survive. She had massive head and body injuries that included traumatic brain stem injury.
So began a long, long journey back to life, but was the life she'd be living post accident worth the struggle—especially after getting a glimpse of Heaven? Julie discovered that even in the depths of despair, God is there and with His help she not only survived—she has thrived. That's not to say, she doesn't struggle, she does. But Julie has learned that in the midst of problems, life is precious.
From someone who went from health to a wheelchair due to Juvenile Rheumatoid Arthritis, I could identify with her humiliation at needing help for even the simplest of personal needs, her struggle to regain independence, and her triumph. A story of hope that we need today when it is too easy to pull the plug and turn off the machines.
DANGEROUS DEVOTIONS FOR GUYS
Dare to Live Your Faith
By Tim Shoemaker
ISBN 978-0-7644-3734-2
Group
Reviewer Carolyn R Scheidies
Guys don't do well sitting around listening to lectures. They usually tune out the speaker and begin to get into trouble, poking the person next to them, moving around, etc. Young men don't sit still. In fact, when they do, there is probably something wrong. Something wrong is the problem with lots of programs and devotions for teens, especially young men. Young men like to be active, at least have something in their hands, and are drawn to danger and excitement. DANGEROUS DEVOTIONS FOR GUYS builds on that reality.
Using exciting and often rather risky experiments (if safety isn't of primary importance), these devotions graphically illustrate important Christian concepts from God's plan for our lives and how to treat others, to avoiding temptations such as premarital sex and porn.
The book is clear about safety protocols while giving guys opportunities to "get" the point with hands-on illustrations. There are suggestions as to how to make these devotions more effective and drawing the young men to Christ.
The devotions are focused on those with some foundation of the Christian faith. I'd like to see a book like this for those who do not yet know Christ.

DON'T LET ME GO
What My Daughter Taught Me About the Journey Every Parent Must Make
By David W. Pierce
ISBN 978-0-30744-468-4
Waterbrook
Reviewer Cynthia Hickey
David Pierce and his daughter Chera climb many mountains and run many marathons together. When Chera first approaches David with this desire, he realizes she is growing up and decides to hold on to her for as long as possible. Even if it means miles of climbing. What they learn through the process is priceless. Not only does David write of their exploits; he writes a love story. One between him and his daughter.
The relationship between a father and a daughter parallels how our relationship with our heavenly Father should be. In DON'T LET GO, David gives us deep, sometimes humorous glimpses into the love he has for his daughter and takes us with him when he must "let her go" and give her to another.
Most parents don't literally climb high mountains, but there are obstacles to raising a child. DON'T LET GO helps us through our own climbs; our own marathons, gently nudging us to hold on and then let go when the time is right.
DON'T LET GO is not preachy, not full of scripture, yet interlaced with nuggets of God's love and wisdom. A great read for any parent.
DRED SCOTT'S REVENGE
A Legal History of Race and Freedom in America
By Judge Andrew P Napolitano
ISBN 978-1-5955-5265-5
Thomas Nelson
Reviewer Carolyn R Scheidies
The author is obviously distinguished, educated and intelligent. He has also done his homework on this issue. And, there is much in this book that we as Christians need to know about our own history, and the need for repentance for horrific acts of violence against our fellow human beings.
However, I had problems as well. At times there were assumptions made that were not backed up. He sees "government" as a single entity, whose policies have been enacted specifically against African-Americans at almost every turn. However, he focuses on the race issue from such a narrow perspective that he can't seem to see there might be broader reasons for certain political leanings that have nothing with race. Coming from my perspective, this seems to be jump. Government has never been one entity even as Americans are not one entity, but a conglomeration of individuals, sentiments and beliefs. For all the evil, there has also been much good. That aspect is missing in this book.
From his perspective, policies of both right and left have devastated African-Americans. Yet, he seems to have sympathy with men such as Jeremiah Wright. But while slavery imprisons the body, hate always imprisons the soul.
What is missing in this book is the Christian perspective, not just man's. Nonetheless, this is a valuable resource in a continuing growth and education for each of us in treating one another with respect.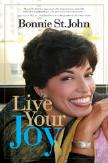 LIVE YOUR JOY
By Bonnie St. John
ISBN 978-0-446-57925-4
FaithWords
Reviewer Carolyn R Scheidies
She is Afro-American and female, has dealt with childhood abuse, surgeries and relearning not only to walk but ski with one leg, has dealt with divorce and being a single parent...and yet she has found joy. St. John finds joy comes not from outside, but from deep within. It is a well we draw from when our resources are low. Joy is not pleasure or happiness. It is accepting who we are and where we are and moving forward. Joy is a choice. If St. John can know joy and accomplish all she's accomplished with what she's gone through, so can you and I.
In chapters that deal with such topics as confidence, hope, humility, authenticity and friendship, St. John builds the foundation for joy in our lives. She uses personal examples as well as the examples from others to point us in the right direction.
But while joy comes from within and is a choice, the real joy is built on a solid foundation of faith in God and prayer. LIVE YOUR JOY is motivating as it is freeing.


THE POWER TO CHANGE TODAY
Simple Secrets to the Satisfied Life
By Gregory Dickow
ISBN 978-0-446-50414-0
FaithWords
Reviewer Carolyn R Scheidies
Unhappy with your life? Think that if you were smarter or had a better background, education, a better job or more money things would be better? They won't. As Dickow points out we will never be successful or satisfied if we spend our time living in the past or desiring a different future rather than living with and dealing with the here and now.
A satisfied life begins with viewing ourselves as God sees us and building a foundation on the truth of who He is and who He created us to be in Him. With God as our foundation we can let go our fear of failure to cultivate a positive outlook of friends, goals and lifestyle.
THE POWER TO CHANGE TODAY takes us from fear to faith with practical information, anecdotes, and real-life stories. A positive contribution to a life of faith, joy...and satisfaction.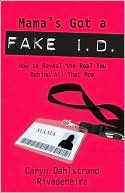 MAMA'S GOT A FAKE I.D.
How to Reveal the Real You Behind All That Mom
By Caryn Dahlstrand Rivadeneira
ISBN 978-1-4000-7493-8
Waterbrook Press
Reviewer Cynthia Hickey
Before our bundles of joy came along, we "were" something. A secretary, a CEO, a teacher, an artist, etc. Then came baby, and we became Mom. Our college degrees, our talents, our dreams, are often set aside and our new role consumes us. But is this what God intended for Moms? Were we to set aside our identities and "become" something else?
Christian women are often stereotyped, losing who we used to be. Relabeled into something new. But what if this "something new" isn't exactly what we want? What if we feel lost in the process?
God designed us. With all our quirks, our gifts, our dreams. He doesn't intend for these to be tossed aside when we take on the role of Mom. Instead, we are to add this new facet to our many others.
In, MAMA'S GOT A FAKE I.D., Caryn Dahlstrand Rivadeneira uses practical advice from God's Word to show us our true identity. Who we are in Christ, and how to let others see the "real" us.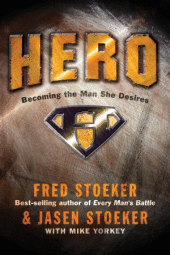 HERO
Becoming the Man She Desires
By Fred Stoeker & Jason Stoeker with Mike Yorkey
ISBN 978-1-4000-7109-8
WaterBrook
Reviewer Carolyn R Scheidies
Pg. 78 Alex had a serious stronghold of thought. ...strongholds are sympathetic attitudes toward sin, or buying in to the wisdom of this world...
Both men and women have bought into the world's idea of love. Myths abound that undermine relationships and that lead to perversion and lifelong addictions. The myths devalue women and encourages women to devalue themselves while almost deifying sexual expression and experimentation. Who cares that hearts and lives are destroyed in the process.
HERO tackles the myths head on with facts, figures, and examples from real people. The foundation of this book are the stories of father Fred and son Jason and the different paths they took. Fred was a child who bought into the 60's "free" love idea until he realized if something didn't change, he'd pass on to his son the heartbreak his father passed onto him. Jason took the path of purity and, despite rejection and ridicule, came to his marriage whole and pure—and it made all the difference.
Pg. 172: Respecting boundaries is an act of love.
An eye-opening look at truth. This book should be a must for every father talking to his son about "the facts of life," every youth group dealing with the subject of dating, husbands and wives and men and women in general.
Don't let your kids leave home without a grounding in the truths presented in HERO. Highly recommended.
Faith element: high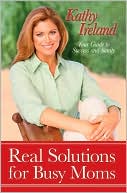 REAL SOLUTIONS FOR BUSY MOMS
Your Guide to Success and Sanity
By Kathy Ireland
ISBN 978-1-4165-6318-1
Howard Books
Reviewer Carolyn R Scheidies
What can Kathy Ireland tell me about being a mom? She's famous and wealthy and seems to have it all together. Appearance isn't reality. The more visible the person, the more open to often scathing criticism. Only she has learned to deal with the many hats in her life with confidence and balance.
No matter how high profile her life, Ireland doesn't have all the answers. She has built a solid foundation of faith and family and speaks to moms from a platform of experience about those things that matter mos--like how to stay sane and raise responsible kids in today's culture. What hit home to me was her sharing that, now as a mom, she wishes she'd said "no" to certain photo shoots.
Ireland is not afraid to be transparent as she shares strategies for dealing with finances, health both physical and emotional, safety, letting go, taking care of yourself as well as your family, and learning to lean on God.
She says...
Pg 91 Your family interactions will be most effective if everyone strives to meet three goals: communicate clearly, communicate directly, communicate with love.
Pg 183 Figure out what you value, and put boundaries in place to protect you and your loved ones from time-eating, compromising, or dangerous situations.
She also includes practical do-able suggestions and checklists. A winner for that mom in your life.
Faith element: High
THE LIGHT AND THE GLORY
By Peter Marshal and David Manuel
ISBN 978-0-6007-3271-4
Revell
Reviewer Carolyn R Scheidies
America was a safe haven for those willing to sacrifice for their faith. But as the authors of THE LIGHT AND THE GLORY reveal, from extensive research, was that the founders saw America not just as an escape, but a mandate to build a nation of, by and for God and God alone. America was to be a Light to the rest of the world, a City on the Hill of people who put God first.
This mandate dimmed and brightened with revivals and complacency, but it is clear from the written records that God had a hand in forming and maintaining the United States of America. THE LIGHT AND THE GLORY reveals the revisionist secular historian position that America was not founded on the Christian faith for the blatant lie it is.
A revealing look at America, warts and all. This should be mandated reading for every high school and college student and for every Christian.
Time for Christians to get back on their knees in repentance.
Faith element: high

A POEM A DAY
By Philip Comfort and Daniel Partner
ISBN 978-0-8254-6278-8
Monarch Books
Reviewer Carolyn R Scheidies
This devotional contains a year's worth of some of the choicest poetry written in the last several hundred years. You'll find the more well-known authors, Longfellow, Keats, Milton, Byron, and one of my personal favorites, William Blake (The Lamb, The Tyger), authors whose verse ended up as well-known hymns and many, many others. The opposing page takes the poems, clarifies the spiritual aspects, adds interesting information about the authors as well as an appropriate Scripture verse.
Each day, the reader can experience the depth of human expressions as the poetry leads to a deeper walk with Christ.
Making sure each book is completely read before a review is to be written is a mark of an ACR review. With this volume, I am breaking this rule. To get a review out in a timely manner, I'd have to gallop through this beautiful, uplifting, sometimes haunting and always challenging book of poetry and devotional thought. Though I am a speed reader, hurrying through this volume would be a crime. Such poetry, even those with which I am well acquainted, needs to be read out loud and savored. And though I am certainly reading more than one a day, I am savoring this book.
So while I have not finished this fat volume, I am writing my review. For all who love poetry, this devotional makes a delightful and thoughtful start (or end) to each day.
Faith element: high

LIFE EQUITY
Realize your true value and pursue your passions at any stage in life
By Marsha Blackburn
ISBN 978-1-5955-5159-7
Thomas Nelson
Reviewer Carolyn R Scheidies
In her book LIFE EQUITY, US Congressman Marsha Blackburn shows we women our potential. Using practical helps and information along with her story and the stories of other women, Blackburn helps us evaluate our skills in the light of reality. (Mothers learn leadership, management and negotiator skills in mothering, in volunteering, in surviving the childhood of our children with sanity intact.)
Blackburn has much to share. Pg 4: "It's not about demanding our rights. It's about displaying our gifts."
Pg. 191: "While some vestiges of glass ceilings still exist here and there, the most formidable barriers to our our achievement now lie within our own minds and hearts."
Pg 171: "I believe women instinctively know that you manage things but you lead people."

Too often we women do not value what we've learned by life expediences or recognize them for skills that can be transported into a work environment. We downplay strengths and undervalue our achievements and skills. We tend to magnify our weaknesses or use them to keep us from reaching our full potential.
Blackburn encourages us to focus on the possible positives not just the negative outcomes. To reach our potential we need to be bold, look failure in the face and be brave even when it isn't at all how we feel inside. We also need to be women of integrity, honesty, stick to our commitments and be willing to stretch. It isn't about comparing ourselves to others, but focusing on our unique gifts, skills and abilities. Be intelligent risk takers, confident that we have something to offer.
Blackburn's book gives us the focus and courage to do just that. Recommended.
Faith element: N/A
Click picture to read first chapter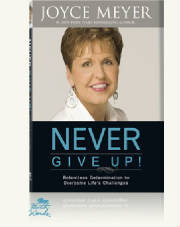 NEVER GIVE UP
By Joyce Meyer
ISBN 978-0-446-58035-9
FaithWords
Reviewer Carolyn R Scheidies
We often sabotage our lives by giving up, not letting go the past. We play the blame game, making our own and everyone else's life miserable, instead of appropriating God's promised forgiveness and freedom.
Meyer tackles the things, like fear, that undermine our relationship with God and others and keeps us from living the life of freedom and abundance God plans for each of us.
As always, Meyer's book is practical, readable and solidly based on God's truth. It certainly hits home as it enlightens, opening that door so we can step confidently into a future of hope.
Of all Meyer's books, this really meets a huge need for every one of us. My copy is all marked up. Highly recommended.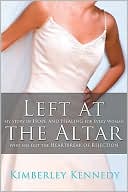 LEFT AT THE ALTAR
My Story of Hope and Healing for Every Woman Who Has Felt the Heartbreak of Rejection
By Kimberley Kennedy
ISBN 978-0-7852-2878-3
Thomas Nelson
Reviewer Cynthia Hickey
Love is patient; Love is kind, the Bible tells us. But what about the love between a man and a woman? What happens when one is rejected, cast aside, unwanted, by the person you've given your heart to?
Using her own painful example, Kimberley Kennedy shows a path to healing and moving forward. In an often poignant, sometimes humorous guide, we are given an insight to her pain and the experiences of others who were also rejected. She also helps women see into the heart and mind of men. They are not always the cause of pain and hurt, but often experience the same for themselves.
What are some of the reasons love is rejected? How can we prevent this? How can we recover? LEFT AT THE ALTAR helps us not to dwell on what might have been, but on what can be. Kennedy uses scripture to give the reader strength while traveling the difficult road to recovery.
ESCAPING THE DEVIL'S BEDROOM
By Dawn Herzog Jewell
ISBN 978-0-8254-6165-1
Monarch Books
Reviewer Carolyn R Scheidies
They are the men and women we try to pretend don't exist. We don't frequent their hang-outs and even when we believe in God's amazing grace, we somehow don't think it extends to those in the prostitution industry. But the truth is, these are hurting people often forced by sexual exploitation and circumstances into something that binds them as it destroys their souls.
ESCAPING THE DEVIL'S BEDROOM is a book about second, third, fourth chances, about restoration and hope and about those rescued and those who rescue. It is an eye-opening glimpse into a world of degradation, fear and hopelessness. It is a book about patience and a God who, unlike us, doesn't give up on those He loves.
Warning note: some language has not been cleaned up, but such expressions are not pervasive.
Christians need to read this book and reach out.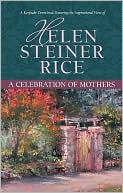 A CELEBRATION OF MOTHERS
Featuring the verse of Helen Steiner Rice
ISBN 978-1-60260-299-1
Barbour Publishing
Reviewer Carolyn R Scheidies
This gift book combines the heartwarming verse of Helen Steiner Rice, with short, sweet devotionals, vignettes of lessons learned from family. Add in appropriate Scripture and soft-focused background pictures and you have a book that is both encouraging and inspiring. It will become a classic gift for that beloved mother in your life.
Beautifully put together. I plan to give a copy to my daughter-in-law for Mother's Day.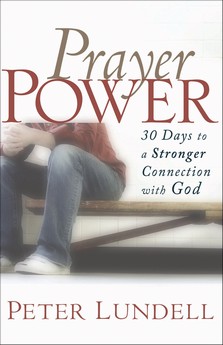 PRAYER POWER
30 Days to a Stronger Connection With God
By Peter Lundell
ISBN 978-0-8007-3263-9
Revell
Reviewer Cynthia Hickey
Do you feel like your prayers touch the ceiling and never go any further? Do you feel like God isn't listening? That what you're asking doesn't count or matter?
In PRAYER POWER, Peter Lundell gives us practical and biblical tips on how to be more effective in our prayer life. The Bible tells us that God hears all our petitions. But there are ways to be more effective in our communication with Him.
Like praying scripture, praying out loud, writing our prayers, etc. These are only a few of the ways Lundell uses as examples. How can we have passion in our prayer life? This, and many more questions are answered in an easy to read guide. This book is a must read for all Christians. Especially those new to the walk. An invaluable resource for any Christian library.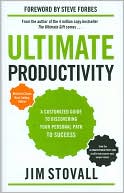 ULTIMATE PRODUCTIVITY
A Customized Guide to Discovering Your Personal Path to Success
By Jim Stovall
ISBN 978-0-7852-2888-2
Thomas Nelson
Reviewer Carolyn R Scheidies
Why aren't we working up to our full potential? What steps can I take to make success happen?
Stovall provides broad principles to help each of us find our ULTIMATE PRODUCTIVITY. He explores what we think we're doing as opposed to what we're really doing in terms of communication, activity, motivation and more.
He points out that activity is not the same as productivity. We can work less hours if we work with more efficiency. We need to realize productivity isn't a group sport and what works for someone else may not work for you.
Pg. 111 To communicate skillfully and effectively, you must communicate in a manner that is appropriate to the message's content, using the best avenue for the receiver's needs and preferences.
Pg. 22 Have a personal missions statement....
ULTIMATE PRODUCTIVITY is about learning to develop and use skills and abilities. It is about both motivation and implementation.
Stovall is more than a motivational speaker without a clue. He is a creative businessman, who did not allow his blindness to keep him back, and who now helps the rest of us to "see."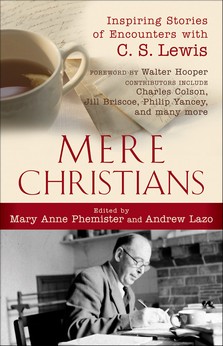 MERE CHRISTIANS: INSPIRING STORIES OF ENCOUNTERS WITH C. S. LEWIS
Edited by Mary Anne Phemister & Andrew Lazo
ISBN 978-0-8010-7184-3
Baker Books
Reviewer Carolyn R Scheidies
I can't recall the first time I was introduced to C. S. Lewis. I do know I am a life-long fan. In college I read his Space Trilogy and other works. When my children were young, we read through the Narnia series every Winter for years. It has made my son also a life long fan of Lewis. (I will be giving him a copy of this book for his birthday this year.)
This particular work is a compilation of contributions from authors, pastors, professors and more, including many eminent scholars and Christians, who've been profoundly influenced by C. S. Lewis and how. It is a revealing work not just about the contributors, but also about the heart of Lewis himself and his influence on Christian thought, talk and walk.
This book is intriguing and very readable. Lewis aficionados will want to add this book to their collection, while those who don't know Lewis's works will be drawn to check them out.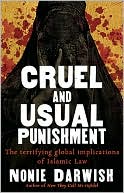 CRUEL AND UNUSUAL PUNISHMENT
The Terrifying Global Implications of Islamic Law
By Noni Darwish
ISBN 978-1-5955-5161-0
Thomas Nelson
Reviewer Carolyn R Scheidies
Noni was like a prisoner of her country simply because she was female in a Muslin country. She didn't know anything different. She didn't realize it wasn't normal for men to be able to beat their wives for any provocation or that it was ok to rape a woman who wasn't completely covered. She didn't know that Jews and Christians, in fact anyone other than Muslims, were loved by God.
What she discovered is that Muslim women are seen as just one step above the pigs and dogs, as Muslims refer to non-Muslims. There is no freedom in any country ruled by Sharia law, the Muslin system of government. It is basically a survival of the fittest that harks back to another time and place when might was the only way to hold the desert land.
Once she escaped to the West, Noni discovered freedom for women, freedom of worship and a looming crisis of ignorance and apathy. The West has no clue of what Islam really is. In her book, she clearly shows how Islam is not a religion of peace. In fact, with Sharia, it is a complete and total governmental system of enslavement. It is a system that cannot survive in a free society.
Muslim terrorists are not extremists, but adherents actually following the violent, anti-women, anti-freedom methods taught by their scriptures, by their laws, and by both secular and religious leaders. Moderate Muslims either aren't always aware of their own history or scriptures and try to put a positive face on a system that has destroyed nations and peoples for hundreds of years.
It is a system with adherents bent on destroying the West anyway it can, intermarriage with American women, intimidation, violence—anything. And we need to beware.
A book that should send us to our knees and to doing what we can to protect our country from an invasion that would enslave us all. Highly recommended.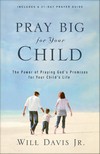 PRAY BIG FOR YOUR CHILD
The Power of Praying God's Promises for Your Child's Life
By Will Davis Jr
ISBN 978-0-8007-3246-2
Revell
Reviewer Carolyn R Scheidies
Parenting is stressful, to say the least. We worry about our kids, where they are, their friends, their future. What can we, as parents, do to help our children make wise choices and become all that God created them to be? PRAY BIG FOR YOUR CHILD takes our concerns and channels them into positive prayer for our children.
Things we can do. Model the faith and attitudes we want our kids to have.
Teach God's promises to our children and pray God's promises over them.
Pray God-centered, Biblical prayers.
The author says, "Let God direct your praying for your child. Seek a vision from Him for your child's future, and then pray that vision."
There is so much practical information in this book. It empowers parents, taking us from fear to boldly coming to the throne of grace for our kids. A must have for every parent.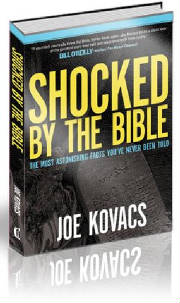 SHOCKED BY THE BIBLE
The Most Astonishing Facts You've Never Been Told
By Joe Kovacs
ISBN 978-0-8499-2011-0
Thomas Nelson
Reviewer Carolyn R Scheidies
Unfortunately, we live in an era of abysmal Biblical illiteracy. The author is correct to point out many, even of those who consider themselves "Christian," have little knowledge of Scripture. What knowledge many do have is little more than tradition, hearsay and speculation with little real basis in the very real Bible.
As a life-long student of the Bible, little of what Kovacs revealed was new to me. While he was dead on with many of his conclusions, I did not agree with all of them. Sometimes things left out of would have put a little different spin on the picture presented. Some conclusions reached did not adequately differentiate between Old and New, Jew and Gentile requirements. It did bother me that at some points the author implied that if the reader did not accept his particular take on a subject, the reader was most likely deriving his/her point of view not from Scripture, but from pagan beliefs. Not necessarily so.
However, Kovacs has done his homework. In SHOCKED BY THE BIBLE, he explodes certain common concepts, brings shocking stories and revelations to light and gives the reader motivation to dig deeper into the the very Word of God. A valuable resource for today's jaded but Biblically illiterate audience.
IN STEP WITH GOD
Understanding His Ways and Plans for Your Life
Charles F. Stanley
ISBN: 978-1-4002-0091-7
Thomas Nelson
Reviewer: Elisabeth H. Bantz

I understand that God can and does speak to us directly, but sometimes he uses a brother. At the time I began reading this book, I was about to have a small spot removed from my right lung. I already knew that this spot would prove to be cancerous, and I already knew the treatment they were going to prescribe for the other spots they had discovered.

Charles Stanley's words leaped out of the page at me: "God [is] saying, 'The more you trust Me; the more I will do for you.' . . . God says to open your mouth wide, that is: 'Expand your faith, trust Me in a big way, and watch what I will do in your life.' And I wonder if God is saying this to someone reading these words: 'Oh that you would walk in My ways. If you knew what I had planned for you; if you understood that the best lies ahead of you; ...If you knew that My plans and purposes are far greater than anything you could do on your own for yourself; I HAVE ALL THE RESOURCES AT MY COMMAND.'"

Somehow I have been prepared to face this very situation, because I already knew I was not going to go the chemo route. God had a different path for me to take, and He had been showing it to me in various ways over the years. I knew He was going to heal me in a natural way, building me up with the nutrients He created, which are powerful enough to defeat and expel the intruders from this Temple of the Holy Ghost. And Charles Stanley's words confirmed that God would indeed use all the resources at His command. The best is yet to come.

No matter what your circumstances look like, this book will bless you as you hunger for intimacy with God. I recommend it.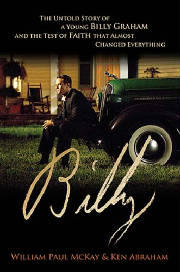 BILLY
The Untold Story of the Young Bill Graham
And The Test of Faith That Almost Changed Everything
By William Paul McKay & Ken Abraham
ISBN 978-0-8499-2067-7
Thomas Nelson
Reviewer Carolyn R Scheidies
From the time I was a child, I was aware of Billy Graham. My parents admired and prayed for him. I think they may have met him since they, too, were from the Minneapolis area and my father was a pastor. I've heard Billy preach on TV and saw his impact for Christ. I've read books and articles and news stories about him.
But BILLY isn't so much about his ministry, but an intimate portrayal of those younger years that gave him foundation for his ministry. BILLY contrasts his life and ministry with that of his friend Charles Templeton, who turned his back on God and the ministry God had for him. It is a story that grabs the heart of the reader. Reads like fiction, unlikely fiction at that, but with the truth and impact and depth of the gospel. This book stays in the heart and mind long after the last page is reached and the book closed. Highly recommended.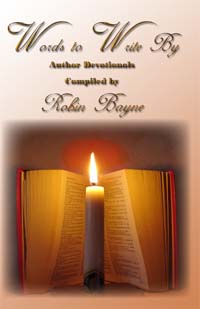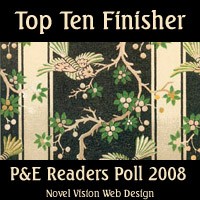 Click here for more info on WORDS TO WRITE BY
WORDS TO WRITE BY
Author Devotionals
Compiled by Robin Bayne
ISBN 978-1-932695-79-3
Treble Heart Books: MountainView Publishing
Reviewer Carolyn R Scheidies
How do authors write, get their ideas and inspiration, keep going when problems—family or otherwise—overwhelm? Authors are as different as the books they write, each offering a different perspective on writing and being an author. This book brings together the experiences of a host of authors (many very well known), giving the reader not only inspiration, but also very real "how to's" as they struggle in that dream to become an author.
Each author does one thing more, brings us to the heart of their inspiration—Jesus Christ.
A good book to give that budding author, bring hope to a discouraged author or new inspiration for the author further along on the journey. With the scripture for each short chapter, this book makes a nice devotional to start the day.
Note of bias. I contributed to this book. Truth is, I am asked to contribute to any number of projects. Many never get to the publication stage. This one did. It did because it is good. That I don't know until I read it cover to cover. This one indeed is a book of value to inspire an author.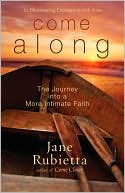 COME ALONG
10 Illuminating Encounters With Jesus
By Jane Rubietta
ISBN 978-1-4000-7352-8
WaterBrook Press
Reviewer Sarah Sawyer
The busyness of life can easily distract from the most important thing—knowing God and loving Him. COME ALONG is an invitation to set aside distraction and enter into deeper intimacy with God.
In this devotional book, each chapter illuminates portions of Scripture, incorporates personal experiences, and challenges the reader to sit in the presence of God and hear what He has to say. Topics covered include transparency, healing, relationship, and hope. At the end of each chapter there are prompts related to the subjects discussed that encourage the reader to focus on Jesus, renew their minds by dwelling on Scripture, and become transparent in the place of prayer.
While geared toward women, COME ALONG contains encouragement for the journey of every believer that seeks to walk in greater intimacy with God.
REFUEL
An Uncomplicated Guide to Connecting With God
By Doug Fields
ISBN 978-0-8499-2054-7
Thomas Nelson
Reviewer Carolyn R Scheidies
Ever tried to have a daily quiet time with God, but gave up in frustration that you couldn't follow some book or follow the example of some super (in your eyes) Christian? Author Fields takes the formula and frustration out of connecting with God. As he shares, our time with God has nothing to do with a formula and everything with pursuing a relationship.
I don't have time. Pg 41: The truth is, there is always enough time to do what God's wants us to.
I don't know how. Pg 81: Connecting with God isn't about mastering a formula; it's about a heart that desires to be closer to God. It's an attitude...
Fields shares several simple steps. Stop. In our busy scheduling we need to stop, a few seconds, a few minutes or more and focus on God.
Seek moments of silence. Turn off the TV, ipod, radio. A moment before the next student, client, patient. A moment in the car. Hide away in the bathroom. We know our schedules and where we can seek those fleeting moments.
Make a connection by coming with an attitude of thankfulness and trust. Pursue God. Share your heart, give thanks, and, in those moments of silence, listen to His still small voice.
Yes that close connection includes time in God's Word for that is one way He speaks to us. Keep His Word handy--in a purse, online, on that PDA or ipod.
We all need to refuel in our relationship with God or, like a car without gas, we'll be running on empty, empty of God's love, peace, hope and grace.
Need to REFUEL in your faith walk. This small, pocket-sized book might just be the key to finding the way to do just that.
Make a good gift. Questions for each chapter also makes this good for discussion groups.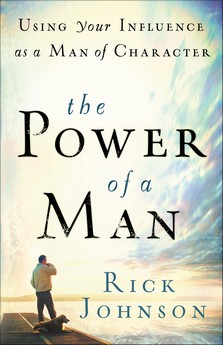 THE POWER OF A MAN
Using Your Influence as a Man of Character
By Rick Johnson
ISBN 978-0-8007-3249-3
Revell
Reviewer Cynthia Hickey
What makes a man? Is it a macho attitude? A lot of money in the bank? Or a true love for Christ and a desire to follow God's will?
Today's culture expects men to go along with the flow, having low expectations. A man will rise to what is required of him, given the chance. God gave man power. But where can he obtain it? The role of man is to help others, even if they fail when stepping out in faith. It is better to strive to do good, than not to try at all.
Rick Johnson has given the men of today an easy-to-understand tool to lead them to be the men of romance novels. The men of hero novels. The men God has called them to be. And to show them how to lead others along the same path.
High on the faith scale.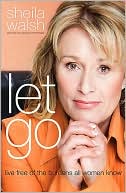 LET GO
Live Free of the Burdens all Women Know
By Sheila Walsh
ISBN 978-0-8499-0135-5
Thomas Nelson
Reviewer Cynthia Hickey
Be thin, be beautiful, wear designer clothes, stay home, juggle work and family. Women today are bombarded with rules and regulations about what we are supposed to be. But what does the Bible say? God wants to set us free from the world's view and make us His.
With Biblical scripture and Godly wisdom, Sheila Walsh gives us a book full of positive enforcement. A guide to help us see who we are in Christ. Who we are meant to be by God's standards. LET GO uses women from the Bible as examples, showing us their role in history and God's grace in their lives.
LET GO is a must have for the modern woman. A ten on the faith scale. Without being preachy, and in easy to understand examples, we are led to a closer relationship with our Father.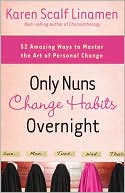 ONLY NUNS CHANGE HABITS OVERNIGHT
52 Amazing Ways to Master the Art of Personal Change
By Karen Scalf Linamen
ISBN 978-1-4000-7400-6
WaterBrook Press
Reviewer Sarah Sawyer
Most people desire change in some area of life, yet dread making it or find themselves unsure how to approach it. For those seeking to make difficult changes, large or small, Karen Linamen offers tools to master the art of change.
Linamen takes a practical approach to change, but her humorous tone prevents an otherwise serious subject from becoming overwhelming. Each chapter explores dimensions of personal change—becoming aware of harmful habits, forming new habits, letting go of past hurts, and similar topics, along with specific principles to implement the topic under discussion. Reflection questions at the end of each chapter provide the opportunity for greater personal exploration. Most importantly, Linamen highlights the ultimate "change agent" in our lives—God—and explores the power of His transforming work in our lives.
By the end of the book, you will have a wealth of information on how to tackle changes in your life. If you are dissatisfied, or struggling with needed change, ONLY NUNS CHANGE HABITS OVERNIGHT will be an excellent resource.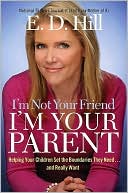 I'M NOT YOUR FRIEND, I'M YOUR PARENT
Helping Your Children Set the Boundaries They Need...And Really Want
By E D Hill
ISBN 978-0-7852-2810-3
Thomas Nelson
Reviewer Carolyn R Scheidies
Too many parents have just given up or they seek to be a buddy instead of a parent. Others just can't imagine little Johnny or Jane doing anything wrong. Others figure if you can't beat them, join them. But that isn't parenting.
As the author of I'M NOT YOUR FRIEND, I'M YOUR PARENT, when we abrogate our responsibilities as parents we raise monsters or losers rather than well-adjusted children. How we raise our children does make a difference not only for their future, but often for their friends and many, many others influenced by your children and your style of parenting.
Yes, parenting is both a blessing and a responsibility and there are some very specific ways we can help our children grow into self-confident, responsible adults. ED Hill shows us how through information as well as examples from her life and the lives of other parents. In fact, after I read the introduction to this book I told my husband the introduction itself was worth the cost of the book.
If you are a parent, especially if your children are elementary or teen age, this is an absolutely MUST READ!!! Highly recommended.
THE TODDLER BOOK
By Rachel Waddilove
ISBN 978-0-8254-6274-0
Kregel: Lion Hudson
Reviewer Carolyn R Scheidies
Advice for parents for the 21st century. Not that the basics change. Parenting is about affection, firmness, faith and lots of common sense. It is taking time for yourself, working with your spouse, and enjoying this exhausting but satisfying stage of your child's life.
The author deals with schedules, feeding, potty training, siblings and pretty much whatever else comes up during these years.
There is more emphasis on paid help than most books I've read, but that seems a more British thing than for the average American. Still, the information is solid and, from a mother of two and grandmother of three and the author of HELP! I'M A NEW MOTHER, this book is a valuable resource for the confused, exhausted parent of a toddler.
Recommended.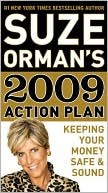 SUZI ORMAN'S 2009 ACTION PLAN
By Suzi Orman
ISBN 978-0-385-53093-4
Spiegel & Grau
Reviewer Carolyn R Scheidies
When I first had the opportunity to download Suzi's new book, I put it off until another author recommended it. I didn't need it. I'm very on track with Dave Ramsey. And yet, this was brand new. I've watched Suzi on Public TV and Oprah and liked her common sense approach, not that different from Ramsey's. So I got the book and was glad I did.
The information is practical and doable and must if we're going to survive in today's economic environment. Orman deals with credit, income, college expenses and debt, retirement, investing and much more. Her plan of action is both simple and difficult, because as with any change in life, commitment is the path to success.
What does the plan include?
Financial honesty
Make a reasonable plan and stick to it
Don't rob Peter (retirement) to pay Paul (college or credit card debt)
Save, not spend
Pay off debt.
And that's just the beginning.
Orman says, "Crises force us to take a clear-eyed view of what went wrong and compel us to make necessary adjustments to avoid the same pain and suffering again." (pg. 207)
I recommend this practical volume.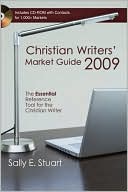 CHRISTIAN WRITER'S MARKET GUIDE 2009
By Sally Stuart
ISBN 978-0-30744-643-5
WaterBrook Press
Reviewer Carolyn R Scheidies
Received my copy and began to look it over. It is thicker than ever and yet the print version doesn't carry some of the resources we're used to. Why? Because they are on the accompanying disk, making accessing them easier and keeping the print version manageable. I do like seeing the resources in print as well, so I plan to print out these resources and keep them in a notebook by my desk.
More resources, new markets, new updates. What's not to like about the new CWMG?
With all the changes in the publishing business, this is one book that's a must for both would-be and the serious author.

AURORA
An American Experience in Quilt, Community, and Craft
By Jane Kirkpatrick
ISBN 978-1-4000-7428-0
WaterBrook Press
Reviewer Cynthia Hickey
Quilting as long been a pastime and way of living for people across America. In AURORA, historical author, Jane Kirkpatrick, takes us into Oregon's history, primarily the Old Aurora Colony of the lush Willamette Valley. With photo and facts, Kirkpatrick brings to life this period of America's west. Full color photographs of handmade quilts decorate the pages.
With such an accurate depiction of early Oregon life, the reader is taken into the early colony with each flip of the page. AURORA is a beautiful coffee table book for historical lovers everywhere. This book is sure to please someone who loves beautiful books or someone wanting to research the time and place. A wonderful gift no matter what season! AURORA isn't an inspirational book in the traditional sense, but as the reader turns the pages, we see what a difference faith makes in the founding of a colony.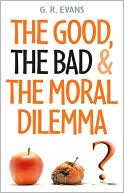 THE GOOD, THE BAD & THE MORAL DILEMMA
By G R Evans
ISBN 978-0-8254-6250-4
Kregel: Lion Hudson
Reviewer Cynthia Hickey
In today's politically correct world, we are bombarded by choices of right and wrong. Not only personally, but pertaining to the world around us. Will my choices hurt someone else? Will it hurt the environment? What about the financial stability of our economy? Questions abound from as small as a white lie to whether war is moral. How is the best way to discipline our kids?
In THE GOOD, THE BAD & THE MORAL DILEMMA, Evans asks questions throughout the book to prompt us to think through these issues ourselves. To dig deep inside to find out what is right for us and our world. Evans doesn't give personal opinion, but rather leads us to finding the answers by looking at scripture.
Although the book reads similar to some text books, it is full of mind probing information to many of life's questions. A nine on the faith scale.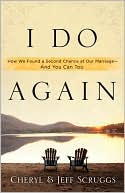 I DO AGAIN
How we found a second chance at our marriage--and you can too.
By Cheryl & Jeff Scruggs
ISBN 978-1-4000-7445-7
WaterBrook Press
Reviewer Carolyn R Scheidies
When we say "I do" we believe our love will take us through anything—together. But what happens with it is all surface and the soul begins to starve for something deeper? I DO...AGAIN is the story of a real-life couple who loved, betrayed, divorced, found real love—and each other again. It is a story of love that perseveres with a real life couple with all their faults and failures who, nevertheless, find healing in Christ and begin extending forgiveness to each other.
This is a book that every couple should read, not only once their marriage begins to crumble, but long before, when safeguards can be put in place and when there is still hope. Even so, I DO...AGAIN shows that God can bring hope and love into the most hopeless of situations when the couple seeks not their will, but His.
A must read for every couple.
UNCENSORED GRACE
Stories of Hope from the Streets of Los Vegas
By Jud Wilhite with Bill Taaffe
ISBN 978-1-60142-146-3
Multnomah
Reviewer Carolyn R Scheidies
As Christians, we know we are to hate the sin, but not the sinner. But in many of our churches what plays out when someone comes through our doors, is a cringe if that person is different, is grungy or does not measure up to our standards of behavior or lifestyle. Often, we turn our backs on the very ones that need Christ the most. In turning our backs or forcing a person to clean up before acceptance, we're adding to the simple message of the gospel our traditions, our works, our efforts. And it isn't what Jesus called us to do—extend grace.
UNCENSORED GRACE does just that. The stories and basic principles of the Word take us back to the basics of salvation by grace, God's grace and a people to who reach out no matter what. It doesn't take much imagination to have an idea of the stories contained within this book, since they take place in, of all places, Los Vegas--stories of broken lives made whole by God's grace as played out in a caring Christian community. The stories draw us to rejoice in God's love and power and force us to our knees in repentance for not reaching out beyond our own comfort zone.
A sobering, yet joyful read. Recommended for discussion groups and Christ followers who wish to make a difference.
Faith element: high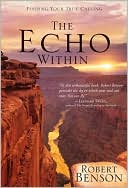 THE ECHO WITHIN
Finding Your True Calling
By Robert Benson
ISBN 978-1-4000-7434-1
WaterBrook Press
Reviewer Carolyn R Scheidies
From the time we're young we're constantly being asked what do we want to become when we grow up. Sometimes we know. Sometimes we desperately seek direction. In THE ECHO WITHIN, Benson takes us on his journey of discovering his calling. Along the way he shares a concept of calling that isn't all about education and knowing, but about listening to what God breathes within. The keys are prayer and listening.
Pg. 89 Our search for our calling leads us to listen deep within ourselves...But we are not meant to stay withing ourselves forever. We are meant to be given away, to sound our word in the world, to give it to others...our calling is about something considerably larger than our own fulfillment.
Pg 88 We church folks sometimes do things in the name of ministry and vocation for a host of other reasons. Just because it is done in and around a crowd of church folks does not mean it is a ministry. Just because we think God approves of what we're doing does not mean it is a calling.
We need to ask, "What can I do that no one else can do, write, say...?" It is living your life, not someone else's life.
As for writers we need to learn our craft and find our voice, know what we want to say...and say it.
A valuable resource for those who haven't quite found their calling, have doubts or are just plain discouraged. Just don't expect a simple answer—just an encouraging one.
Faith element: Medium to high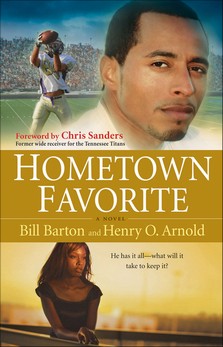 WIN THE DAILY BATTLE
By Steve Goss
ISBN 978-0-8254-6190-3
Kregel: Monarch Books
Reviewer Cynthia Hickey
As Christians, we are in a war as real as any battle involving guns and tanks. We fight a spiritual war. One in which we must choose sides and fight. Not to, leaves us open to attack from Satan's army. With repentance, prayer, and God's word, this is a fight where God gives us the tools necessary to win the battle. In God's strength, the war has already been won.
Steve Goss has given us, in addition to the Bible, a soldier's handbook. One that clearly draws the lines and gives us the weapons needed to stand firm. We have the tools to stand against the physical world, and the supernatural.
WIN THE DAILY BATTLE is one of four books in Goss's Freedom in Christ series. Each book is written to stand alone, or be used with the Freedom in Christ course. These books rank a ten on a faith scale and should be in every Christian's personal library.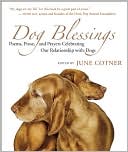 DOG BLESSINGS
Poems, Prose and Prayers Celebrating Our Relationship with Dogs
By June Cotner
ISBN 978-1-57731-616-9
New World Library
Reviewer Carolyn /R Scheidies
Those who've had dogs know how they crave attention. How they like nothing less than to be hugged and petted and, in turn, shower affection. Puppies are all wiggles and run. Old dogs are sedate and wise. In between are years of friendship and unconditional love. Dogs love their owners to distraction. They lend an ear when we pour out our hearts, because the heart of a dog is huge. The rewards of dog ownership are so much more than the drawbacks.
Cotner's book takes us on a journey, reminding us of all stages of ownership and a dog's life from that first puppy kiss to letting go. Poems are silly, sad, poignant and profound. From many different authors, the poems, prose and prayers in this book show us God's love through the eyes of one of his special friends to humankind—the dog.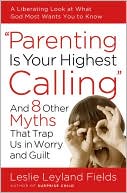 "PARENTING IS YOUR HIGHEST CALLING" AND EIGHT OTHER MYTHS THAT TRAP US IN WORRY AND GUILT
By Leslie Leyland Fields
ISBN 978-1-4000-7420-4
WaterBrook Press
Reviewer Carolyn R Scheidies
How many of us have bought into one or more of our society's beliefs about child rearing: having children brings happiness and fulfillment; good parenting leads to happy children; if parenting is difficult, you aren't following the right plan; you will always feel love for your child; your success as a parent can be measured by your child's behavior? Each of these has spawned whole methods of child rearing with numerous books and adherents that swear the method works.
Unfortunately, these parenting myths effect the way we parent. When we don't always feel warm and fuzzy toward our children, we feel guilt. In the book "PARENTING IS YOUR HIGHEST CALLING" AND EIGHT OTHER MYTHS THAT TRAP US IN WORRY AND GUILT page 94, the author says, "It is possible to spend ourselves in the preserving our children's happiness only to have them grow up weak, unable to withstand life, seeking their immediate happiness over lasting holiness and blessing."
Parenting is realizing we're raising human beings with their own ideas and will. Children aren't perfect and neither are we, their parents. What we can do is keep the long-term goal of raising loving, caring, strong children that have a solid foundation of faith. God calls us to let go the guilt, do the best we can and leave the results to Him.
This book helps us do just that. It should be a must read for every parent.
Faith element: high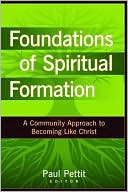 FOUNDATIONS OF SPIRITUAL FORMATION
A Community Approach to Becoming Like Christ
By Paul Pettit Editor
ISBN 978-0-8254-3469-3
Kregel
Reviewer Carolyn R Scheidies
We, as Christ followers, were never meant to walk alone. The message of the gospel is one of relationship between the individual and God and between God and a fellowship of believers—community. It is through community we grow, stay on track (accountability), and know the fullest joy of security in fellowship.
FOUNDATIONS OF SPIRITUAL FORMATION takes the academic reasoning behind our need for community and, using the foundation of Scripture, shows us how and why community is a vital element of our faith walk. The varied, learned authors deal with their respective aspect of community in different styles—some more academically than others. But the whole work provides a solid foundation for what is so needed in our individualistic, self-centered culture—each other.
Pg. 275: ...Christian spiritual formation consists of knowing your identity in Christ, so that you can make yourself known to others in the Christian community, so that you can pursue a lifetime of integrity in the context of community, so that you are fully equipped to glorify Christ by serving others in ministry.
My copy is now well marked and there is so much, I will be going back for a second go-over.
Recommended.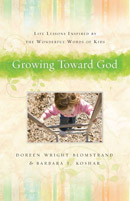 GROWING TOWARD GOD
Life Lessons Inspired by the Wonderful Words of Kids
By Doreen Wright Blomstrand & Barbar J Kosher
ISBN 978-0-8254-4186-8
Kregel Publications
Reviewer Carolyn R Scheidies
How many lessons have we learned from our kids? Too many to count. Somehow they manage to get to the heart of an issue, our rationalizations and our petty hypocrisies, leaving us with new insight into ourselves and the heart of God.
GROWING TOWARD GOD uses anecdotes from children to share spiritual truths. The short devotionals based on childrens' comments and/or actions start with a verse and end with prayer.
What better way to begin a day than with spiritual lessons gleaned from kids, just being their honest, observant selves.
Faith element: high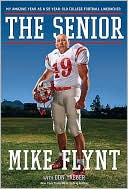 THE SENIOR
My Amazing Year as a 59-year-old College Football Linebacker
By Mike Flynt with Don Yeager
ISBN 978-0-8499-2063-9
Thomas Nelson
Reviewer Carolyn R Scheidies
He was 59 and trying out for his college football team, the team he got kick off of so many years earlier for one fight too many. Mike regretted his actions leading to that life-altering situation. He went on, made something of his life, found Christ and returned to make a difference.
He'd kept in shape, even coached and he wanted a chance to make things right at his alma mater. This is the story of one man and what happened when he faced his past. As Mike says, "..the past does not have to define your future; step out in faith and become someone you like and admire." (Pg. 181)
Moving, entertaining, challenging and inspirational—for any age.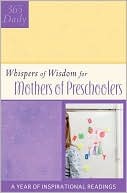 WHISPERS OF WISDOM FOR MOTHERS OF PRESCHOOLERS
A Year of Inspirational Readings
ISBN 978-1-60260-138-3
Barbour Publishing
Reviewer Cynthia Hickey
Being a mother is one of the most daunting tasks a woman can undertake. Being the mother of a preschooler is even tougher. In today's modern world of hustle and bustle, we can find help for our struggles as a mother in God's word.
With 365 nuggets to help busy or harried mothers of preschoolers, this devotional keeps the readers eyes focused on the goal of heaven, and riveted in the blessings of motherhood.
I no longer have small children at home. Mine are mostly gone or entering the turbulent years of teens. But, within the pages of this book, I found many sources of encouragement. A must-have for any mother.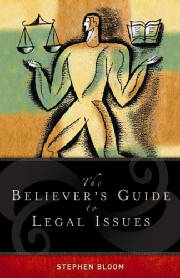 A BELIEVERS GUIDE TO LEGAL ISSUES
By Stephen Bloom
ISBN-10: 0-89957-031-3
ISBN-13: 978-0-89957-031-0
Living Ink Books
Reviewer Sarah Sawyer
Most likely everyone will have some interaction with the legal system in their lifetime, even if it is in a matter as seemingly simple as estate planning or creating a will. However, not everyone will know how to evaluate the issues they face from a Biblical perspective and make informed decisions. That's where A BELIEVER'S GUIDE TO LEGAL ISSUES comes in.
Stephen Bloom, a Christian lawyer, shares from his years of experience how to evaluate common legal situations from a Scriptural perspective. He takes the often complex world of law and makes it understandable, then holds up the legal situations to the lens of Scripture.
Each chapter of the book explores an issue—such as living wills, litigation, prenuptial agreements. In every chapter, lists of Scriptures are given, alongside a thoughtful analysis of the issue at hand. To give a fuller understanding to readers, Bloom also uses examples of fictitious individuals faced with legal circumstances, contrasting what happens to those who use a Biblical approach with what happens to those who go their own way.
A valuable resource for those seeking to live all aspects of their lives according to Biblical principles.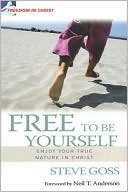 FREE TO BE YOURSELF
By Steve Goss
ISBN 978-0-8254-6189-7
Kregel/Monarch Books
Reviewer Cynthia Hickey
The Bible tells us that in Christ we are a new creation. The old is cast away. But the world tells us different. We must conform, perform, and model what society says is acceptable. Being ourself is not something the majority seeks. God tells us not to conform to the world. But when we follow the guidelines the world gives us to follow, they can not only take us away from God?s will, but make us miserable living a lie.
FREE TO BE YOURSELF is a book about freedom. About searching for God's will. Seeking God's expectations. Finding out who we are. There is only one we need to please, and that is God himself. Imagine a life free from worldly restrictions and expectations. A life where we are FREE TO BE OURSELVES. A life of security.
Steve Goss gives us godly guidelines to help us achieve this freedom in a short, easy to read format. A ten on the faith scale.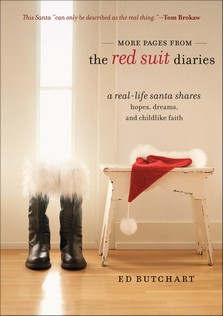 MORE PAGES FROM THE RED SUIT DIARIES
By Ed Butchart
ISBN 978-0-8007-1904-3
Revell
Reviewer Carolyn R Scheidies
The spirit Santa Claus is real and he spent 18 years being a professional Santa at Stone Mountain, Atlanta, Georgia. Ed Butchart has written another book of Santa stories that will make you laugh, cry, and be fully convinced Santa Claus is alive and well.
He also shares stories of reaching out to those with physical, mental and spiritual needs through the organization, Friends of Disabled Adults and Children (FODAC) he start to do just that--reach out in a very real way.
But Ed does more than simply portray Santa. He also shares the real story of St. Nicholas and draws us back to The Christ of Christmas.
A Perfect complement to Christmas.
Faith element: Medium to high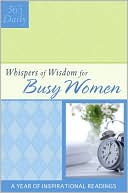 WHISPERS OF WISDOM FOR BUSY WOMEN
A Year of Inspirational Readings
ISBN 978-1-60260-137-6
Barbour Publishing
Reviewer Carolyn R Scheidies
In our busy days, sometimes we just don't take time for what is most important—time with God. This volume gives incentive to take that time to start the day out right with a verse, a short devotion and a prayer. WHISPERS OF WISDOM FOR BUSY WOMEN covers those topics that make up the days of women from all walks of life who have one thing in common—we're busy.
It also helps us slow down, take time for God, for ourselves, for our families.
Prayer from Day 51: Lord, correct my thinking and clear my clutter. Help me to work a margin into my day so that Your plans, last-minute notes, corrections, and additions can find a place in my life. Let me not be so busily focused on my own agenda that I miss Yours. Amen.
This prayer is a good summary of this book. Recommended for busy moms everywhere.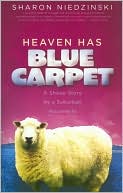 HEAVEN HAS BLUE CARPET
A Sheep Story by a Suburban Housewife
By Sharon Niedzinski
ISBN 978-0-8499-2004-2
Thomas Nelson
Reviewer Carolyn R Scheidies
What happens when a city family buys a farm? What happens when the wife, Sharon, decides a farm needs idyllic sheep on the pasture land? Sharon discovers, though sheep are usually docile and innocent, they are also self-centered, greedy, frustrating and often totally disgusting.
Sharing incidents sometimes poignant, sometimes sad and often humorous, Sharon draws in the spiritual insights she learned from being a shepherd. She came to understand why God likens us to sheep and just how like sheep we are. She knows from experience.
I like non-fiction, and expected HEAVEN HAS BLUE CARPET to be an average read. Instead, it was so delightful and had such spiritual depth, I found it difficult to put down. Though HEAVEN HAS BLUE CARPET reads like fiction, it is grounded in reality and truth.
This one is for all God's lambs.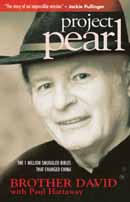 PROJECT PEARL
By Brother David with Paul Hattaway
ISBN 978-0-8254-6195-78
Kregel:Monarch Books
Reviewer Cynthia Hickey
After being saved at a Billy Graham crusade, Brother David asked God to use him to draw others to Him. A former football and marine, Brother David had only a small inkling of what that prayer would entail for him. While working in Manila for a broadcasting company, Brother David became introduced to the plight of Chinese Christians hungry for the word of God. In PROJECT PEARL, we read a first person accounting of the trials taking the word to China entailed.
In an act of insurmountable bravery and trust in the Lord, Brother David, with a handful of servicemen, sail a barge into Chinese waters to deliver one million Bibles to the starving Chinese people. When life throws one trial after another at this amazing man, he continues on the path God chose for him. China will never be the same. Even after Brother David's death, his legacy lives.
A ten on the faith scale.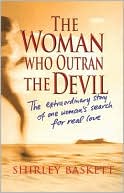 THE WOMAN WHO OUTRAN THE DEVIL
The extraordinary story of one Woman's search for real love.
By Shirley Baskett
ISBN 978-0-8254-6095-1
Kregel: Monarch Books
Reviewer Cynthia Hickey
Shirley Baskett grew up in the shadow of a mentally-challenged brother. Her over-zealous mother had no time for a rowdy, constantly questioning little girl. Thus began Shirley's search for love.
She begins her search in church, but the immediate satisfactions available in the world draw her into its clutches. For many years she lives a lesbian lifestyle, drowning her guilt and pain in bottle after bottle, and living in one slum after another. During her down-slide, she turns periodically back to her childhood faith, only to be lured away again.
It isn't until Shirley contemplates ending it all in a final act of desperation that she truly turns to the Living God and receives the strength to pull her life out of the gutter. She finds more than an earthly love when she turns back to God's arms.
THE WOMAN WHO OUTRAN THE DEVIL is an amazing story of one woman's redemption and God's powerful mercy. High on the faith scale.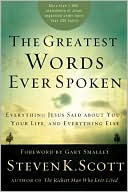 THE GREATEST WORDS EVERY SPOKEN
Everything Jesus Said About You, Your Life, and Everything Else
By Steven K Scott
ISBN 978-1-4000-7462-4
WaterBrook Press
Reviewer Carolyn R Scheidies
Sometimes we want to know what Jesus said about a particular topic. Pretty difficult to wade through the entire New Testament searching for Jesus' thoughts on certain issues. Many of us turn to the lists in the back of our Bibles, but these are not complete.

But what if there was a book that contained all of Jesus' words in an easy to find topical reference? That day is now.

THE GREATEST WORDS EVERY SPOKEN has done just that. What does Jesus say about sin? Look it up. About faith? Find the topic and every single verse, laid out in this handy, if weighty, volume. In fact it contains over 1,900 of Jesus' statements under 200 topics.

What a blessing. What a handy tool for Bible study and group discussion.

As the author put it "As you study the words of Christ on the matter of faith, you'll discover that faith always includes an act that demonstrates that faith." (Pg.444)

"...true faith is founded on the Words of God." (Pg.445)

THE GREATEST WORDS EVERY SPOKEN is a great resource to help us know the Words of Jesus--and follow them.

Highly recommended.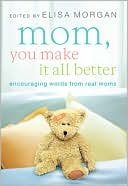 MOM, YOU MAKE IT ALL BETTER
Encouraging words from real moms
Edited By Elisa Morgan
ISBN 978-0-8007-1910-4
Revell
Reviewer Carolyn R Scheidies
Pg 108 Moms are the best at creative problem-solving, conflict resolution, motivational training, bringing out the good in others, multitasking and delegating to name just a few.
Pg 85...the journey of motherhood is more like a choose-your-own-adventure novel than a fairy-tale story in which the ending is always known.
Such is motherhood and such is this fat, little book that inspires and encourages moms with short, poignant, inspiration and/or humorous devotional stories with an "aha" moment of hope, Scripture and inspiring quotes. As a reviewer I tend to speed through books, but this book forced me to slow down and savor the stories and learning, growing moments between moms and kids. I was reminded of all those moments with my own two and how we all grew in the process.
Need a lift or feeling overwhelmed, check out this book. MOM, YOU MAKE IT ALL BETTER shares the very real joys and struggles of motherhood and helps us all to realize we can do it with God's help and a sense of humor. Makes a beautiful gift, not just for that new mom but for moms of older kids as well.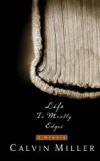 LIFE IS MOSTLY EDGES
A Memoir
By Calvin Miller
ISBN 978-0-8499-2057-9
Thomas Nelson
Reviewer Carolyn R Scheidies
This autobiography is no small volume. All Calvin Miller, the writing is rich and thoughtful and personal, drawing the reader into the story of his life and leaving the reader with deeper understanding of Miller and his faith. Miller does not shy away from the topics that make Christians uncomfortable, ie sex, the emerging church, dissension within the church, and yet writes with understanding about the all too human foibles of people, Christians and churches. The more I read, the more I wanted to read until I was reluctant to close the last page. While this may be an autobiography, it is so much more with insights into faith and walking the walk each moment.
Well worth the time and effort to read, especially for Miller fans. LIFE IS MOSTLY EDGES might bring his other books new fans.

Pg. 318: ...good teachers teach what they are, more than what they know.
Faith element: High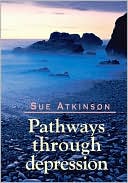 PATHWAYS THROUGH DEPRESSION
By Sue Atkinson
ISBN 978-0-8254-6260-3
Kregel
Reviewer Carolyn R Scheidies
Many of us think someone deep in depression can simply "Get over it," but depression is more than having an off day or two. It effects every part of a person emotionally, spiritually and physically.
But even in the worst of circumstances there is a way out of the maze. PATHWAYS THROUGH DEPRESSION, written by one who has been there, takes the reader on a journey of discovery and hope. It is small, purse-sized book that provides real answers and practical help that can be read over and over as depression overwhelms and as healing begins.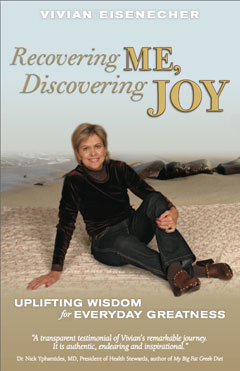 RECOVERING ME, DISCOVERING JOY
By Vivian Eisenecher
ISBN 978-0-9814871-5-1
KTW Publishing
Reviewed by Elisabeth H. Bantz

At birth, some of us are given a deck of cards to play that seem stacked against us. How does one recover from her mother's suicide? How does one recognize the presence of social anxiety and depression? Vivian didn't, and turned to alcohol in order to just get by. But the remedy turned into a nightmare.

The author takes us lovingly through her climb back out of the black hole she found herself in, and up to a place of triumph. The process is an ongoing one, and not easy, especially if you think you can do it alone and by your own strength, but joy is definitely possible. There is hope for those who seek it, hope in God.

This spiritual, physical, and mental journey is for everyone seeking freedom from addictions. Faith content: high.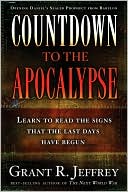 COUNTDOWN TO THE APOCALYPSE
Learn to read the signs that the last days have begun
By Grant R. Jeffrey
ISBN 978-1-4000-7441-9
WaterBrook Press
Reviewer Carolyn R Scheidies
Jeffrey takes a new look at Daniel, interpreting Daniel's prophecies in the light of today. Is it the end time? Certainly could be. Certainly Daniel's prophecies have proven remarkably accurate over the years. And why not, God himself gave Daniel a glimpse of the future.
But will anyone listen as our world disintegrates around us? Whether or not, we're in those final days, COUNTDOWN TO THE APOCALYPSE cautions us to draw near to God. Though carefully researched, this book is easy to read and comprehend. For those serious about the future, this book is a place to start. A definite discussion starter for small groups.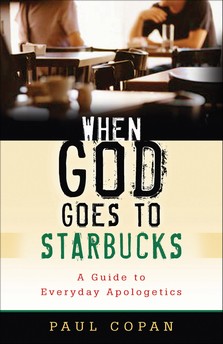 WHEN GOD GOES TO STARBUCKS
A Guide to Everyday Apologetics
By Paul Copan
ISBN 978-0-8010-6743-3
BakerBooks
Reviewer Cynthia Hickey
As Christians, we are faced every day with questions tackling today's tough issues. Sin, lying, homosexuality, miracles, wars, poverty…the list goes on in an endless stream. From the beginning of history, people have questioned the foundation of Christianity, and many Christians try to clarify their beliefs with apologies.
In WHEN GOD GOES TO STARBUCKS, Paul Coban uses biblical references and research books to back up what Christians believe. He points those who question in a direction where they can find the answers themselves.
WHEN GOD GOES TO STARBUCKS is not an easy read.
Instead, it is a thought provoking book that will take time to go through, often having the reader thumb back through the pages to gain more insight. For those who are questioning, or want to be able to answer tough questions in a more insightful way, this book is a valuable resource.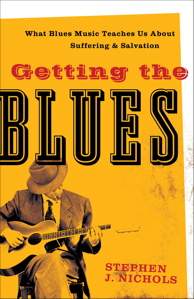 GETTING THE BLUES
What Blues Music Teaches Us About Suffering & Salvation
By Stephen J Nichols
ISBN 978-1-58743-212-5
Brazos Press
Reviewer Carolyn R Scheidies
Is it possible that blues music that bemoans the problems of life has a spiritual component? Yes, according to Nichols who takes us on a journey into the deep south from early in the last century to the present and into the lives of those who sang the blues. In sharing the lives of many of these men and women, he makes a case for the spiritual roots that infiltrated the music of gospel and blues.
Some of these musicians waffled back and forth in their musical preferences, singing songs of both faith and blues that still touches our hearts today. He shares how the enslaved people saw themselves in the story of Moses and in the suffering Jesus and in redemption through Him and shows how the blues cannot be separated from this influence.
Though not an easy read, this book, filled with history most of us have never heard, plays a vital role in the musical history of America, opening our eyes in ways history class never did. A well researched book that should take it's place on the shelves of libraries and those who love music.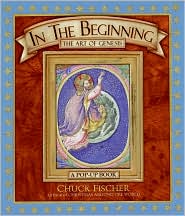 IN THE BEGINNING: THE ART OF GENESIS
By Chuck Fischer
ISBN-13: 9780316118422
Little, Brown & Company: Hachette Book Group
Reviewer Carolyn R Scheidies
Wow! That's my response to this unique creation. Yes, creation. IN THE BEGINNING: THE ART OF GENESIS is so much more than a mere book. And, though it is a pop-up book, it is not really for the little kids—though they will enjoy the pop-ups.
Using the main themes of Genesis from the creation to Joseph in Egypt, IN THE BEGINNING: THE ART OF GENESIS takes the reader/viewer on an informational and visual journey. Each double page three dimensional spread opens to a magnificent, colorful, intricately detailed pop-up image. It is flanked by mini-books on each page filled with pictures of classical art and a synopsis of the Biblical story as well as further details. (Some classical art, as we all know, features semi-nude depictions and so must carry a parental caution for the little ones.)
This is a visual experience that will grace a coffee table or shelf with room enough to keep the book open to one or another page spreads. A definite conversation starter. (I have mine open to Jacob's ladder.)
Beautifully executed.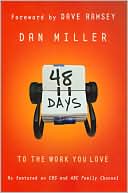 48 DAYS TO THE WORK YOU LOVE
By Dan Miller
(Foreword by Dave Ramsey)
ISBN 978-0-8054-3188-9
Broadman & Holman
Reviewer Carolyn R Scheidies
Whether you are a stay-at-home Mom, wanting to use your abilities to bring in some extra income, an out-of-work employee, a worker unhappy on the job, or someone just entering the work force, this book is for you. It takes you to the core of who you are, your abilities and capabilities and helps you shape them into into positives for the work force.
This book helps you realize doing work that empowers rather than drains is important to health for yourself and your family, and good for business. But it does more than send you off with high-sounding rhetoric. 48 DAYS TO THE WORK YOU LOVE gives you the tools needed (assessments, samples, examples, information, etc.) to re-assess and find work that best suits YOU!
This book should be taught in every high school, college and as part of every financial course.
Highly recommended.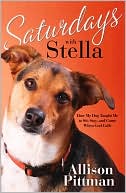 SATURDAYS WITH STELLA
How my dog taught me to sit, stay and come when God calls.
By Allison Pitman
ISBN 978-1-60142-139-5
Multnomah
Reviewer Sarah Sawyer
In SATURDAYS WITH STELLA, Allison Pittman gives a glimpse into her life and her interactions with her beloved dog, Stella. After many attempts to train Stella with no success, Allison enrolled her in a six week obedience school—never suspecting that through the sessions, God would speak to Allison about His heart for her.
As Stella learns new commands, such as sit, stay and come, Allison reflects on the importance of sitting at Jesus' feet, running to Him when He calls, and abiding in His presence. Through all the difficulties of working with Stella, Allison's affection for and delight in her dog never wavers—a parallel to how God feels about us, even in our times of disobedience or difficulty. Allison weaves together anecdotes from Stella's training, personal testimony, and Scripture to create an inspirational testimony of God's heart for His people.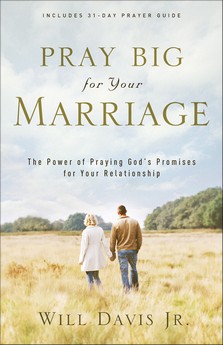 PRAY BIG FOR YOUR MARRIAGE
The Power of Praying God's Promises for Your Relationship
By Will Davis Jr.
ISBN 978-0-8007-3145-5
Revell
Reviewer Cynthia Hickey
Prayer is the most powerful tool Christians possess. In PRAY BIG FOR YOUR MARRIAGE, Will Davis Jr. gives us practical guidelines to enable us to make our marriage all that God plans for it to be.
With humble examples from his own life, Davis gives us simple prayers to introduce us to the practice of following this daily advise from God's word. Whether you are a newly-wed, or a couple who's approaching a fiftieth anniversary, there is much to be learned within the pages of this book.
Learn to pray together in all circumstances, in all situations, and obtain an intimacy in marriage you never dreamed possible. Christians are not immune to the disaster of divorce in this century, but prayer can keep us from becoming a part of the statistics. Whether your marriage is floundering, or healthy, PRAY BIG FOR YOUR MARRIAGE is an invaluable tool to keeping this sanctified union healthy or set you on the road to recovery. A great tool for every engaged or married couple.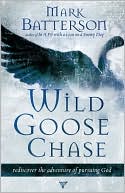 WILD GOOSE CHASE
Reclaim the Adventure of Pursuing God
By Mark Batterson
ISBN 978-1-59052-719-1
Multnomah
Reviewer Sarah Sawyer
The phrase "wild goose" chase often has negative connotations, suggesting an unpredictable pursuit with no guaranteed end. Yet in WILD GOOSE CHASE, Mark Batterson suggests that truly following the Holy Spirit is similar to such a pursuit—we chase after that which we cannot physically see or touch—but different because though we don't know the ending, God does, and we are therefore guaranteed of its goodness.
The Celtic name of the Holy Spirit, An Geadh-Glas (the Wild Goose), inspired this book, which explores both the need for whole hearted pursuit of the Spirit of God as well as the things in our lives that hold us back from following him. Batterson gives six key areas or "cages" which restrain us: responsibility, routine, assumptions, guilt, failure, and fear. In the exploration of these key areas, he shares tips for freedom, testimonies, stories from the Bible that illustrate his point, and encouragement for the journey. At the end of each chapter, there are questions to provoke further thought.
WILD GOOSE CHASE invites believers to go on the adventure of a lifetime—following the Wild Goose wherever He may lead.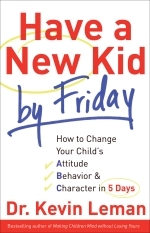 HAVE A NEW KID BY FRIDAY
How to Change Your Child's Attitude, Behavior & Character in 5 Days
By Kevin Leman
ISBN 978-0-8007-1902-9
Revell
Reviewed by Melanie Jones
The author of MAKING CHILDREN MIND WITHOUT LOSING YOURS has packaged parenting tips broken down into daily segments for HAVE A NEW KID BY FRIDAY, subtitled "How to Change Your Child's Attitude, Behavior and Character in 5 Days."
Despite the days reference, don't think this is an easy fix. Some of Dr. Leman's advice makes NANNY 911 look like a walk in the park. Why? Because before the children can change, the parents have to. If you really want changes in your household, I'm sure Dr. Leman's advice can help, if you're willing to follow it.
And that means sticking to one foundational truth that everyone knows but few follow: Be 100 percent consistent.
If you believe you can stick with that one, you're ready for the rest of the book, but he does warn that, depending on your children's ages, things may get worse before they get better as the children try to force you back into old patterns.
This book isn't about easy parenting, it's about successful parenting.
Faith element: Dr. Leman doesn't cite chapter and verse throughout the book, but being a good parent is scriptural. Besides, it makes life easier for all of the Sunday school teachers out there.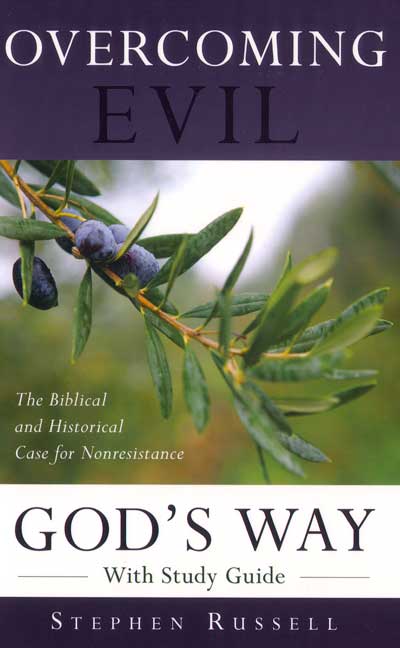 OVERCOMING EVIL GOD'S WAY
The Biblical and Historical Case for Non-resistance
By Stephen Russell
ISBN 978-0-9816569-0-8
Faith Builders
www.christianlearning.org
Reviewer Cynthia Hickey
No one will dispute that today's world is full of evil and that staying true to God's Word is difficult. Yet, as His followers, we are not of this world. We have been called to a greater purpose. Can we, as Christians, succeed in a fallen world ravaged by war and violence while maintaining our dignity and being ambassador's of peace?
In OVERCOMING EVIL, Stephen Russell takes us back to Jesus' day, and through history, to our point in time, giving us guidance and spiritual help to keep us on a path of peace. God has given us a blueprint. He has shown us the way. Unfortunately, His way may not always be the easiest.
In Russell's book, though it does read somewhat like a textbook, we are pointed toward scripture to tackle the problems of our modern life. Russell teaches of the path of nonresistance. An honest seeking of what Jesus and the church's teachings are.
How do we succeed in this fallen world? The Bible and Stephen Russell's OVERCOMING EVIL.
THE MAN WHISPERER
Speaking Your Man's Language to Bring Out His Best
By Rick Johnson
ISBN 978-0-8007-3197-7
Revell
Reviewer Cynthia Hickey
There are horse whisperers and dog whisperers, and some say ghost whisperers. Now, Rick Johnson has written a book that encourages women to be a men whisperers. Giving traits of what females look for in males, and why men act the way they do, Rick lists helpful tips on how we can love our man into being what we, as women, desire. The world is inundated with men not living to their full potential. A lot of this is the fault of the women in our society who are often willing to settle for a man's second best. When women learn to step up to the plate, men will follow in their desire to be what we need.
Men want to please, be respected by, and provide for their women, but often, it is our very actions that prevent them from reaching their full potential of masculinity. There have been many books written on the differences between men and women. THE MAN WHISPERER gives us easy to remember ways to bridge these differences with Bible verses to support each issue.
Whether you are married, or searching for the "perfect" mate, THE MAN WHISPERER is a great guidebook to help you on your journey. Although not preachy, this self-help book definitely shows God's hand in designing his people.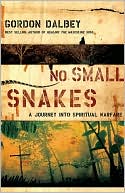 NO SMALL SNAKES
A Journey into Spiritual Warfare
By Gordon Dalbey
ISBN 978-0-8499-1984-8
Thomas Nelson
Reviewer Carolyn R Scheidies
Most Christian churches and Christians have abandoned the battlefront of the Christian faith for comfortable pews and a faith that tries not to offend anyone. The trouble with this scenario is that we are in a very real battle with a very real enemy that will do anything to stop and silence us—even providing cushioned seating and teaching that won't rock our little world too very much. It also makes our faith little more than a comfort blanket with very little real substance in time of need.
The author of NO SMALL SNAKES didn't believe in this battle either...until God got a hold of him and he discovered his preconceived notions were not only wrong, they were dangerous. NO SMALL SNAKES takes us on a journey of discovery that is not easy, not something we even want to tackle, but must if we're to be truly victorious in Christ.
Pg. 159: "A true soldier fights not out of hatred for those ahead of him," as G. K. Chesterton noted, ""but out of love for those behind him."
The author is careful to stay Scriptural even when some of what he deals with is still controversial in some sectors of Christianity—the work and ministry of the Holy Spirit and the gifts still being practiced today as well as the very real problem of demonic activity.
The book is not always an easy read and at times bogs down in technicalities that are nonetheless necessary for the exposition of the subject with the result of a body of fully submitted servants of Jesus Christ.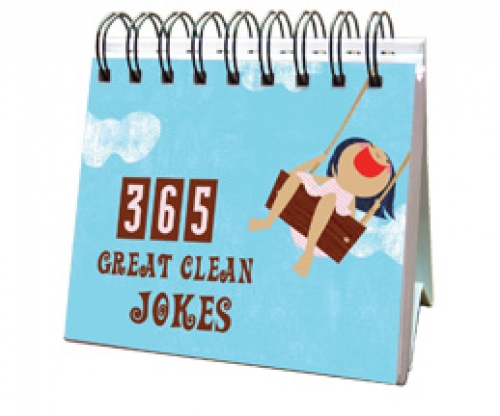 365 GOOD CLEAN JOKES Perpetual Calendar
ISBN 978-1-60260-173-4
Barbour Publishing
Reviewer Carolyn R Scheidies
We all have those people in our lives who love telling jokes, often bad jokes, that make us groan even as we laugh. Well, now you can have jokes to tell as well. 365 GOOD CLEAN JOKES supplies a whole year's worth of jokes that won't make you blush, but may make others groan.
March 20: Why did Mozart sell his chickens?
They kept saying, "Bach, Bach, Back."
August 13: What vegetable was not allowed on the Mayflower? The Leek.
A fun gift for the jokster in your midst, or for yourself—in self-defense. (And a good way to start the day.)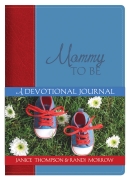 MOMMY-TO-BE Devotional Journal
By Randi Morrow & Janice Thompson
ISBN 978-1-59789-641-2
Barbour Publishing
Reviewer Carolyn R Scheidies
Those months leading up to the birth of that precious child and after, we mom's have all sorts of thoughts, fears, and every emotion possible running through our minds. We may read every book out there or rely on the advice from our doctor or female relatives or friends. We wonder about our relationship to our husbands, God and that new little being for which we are responsible.
This beautiful blue and red leather-look devotional journal for mom's-to-be may be the answer. Not only does it contain lots of information to calms those fears, it also includes lots of room for journaling those thoughts, ideas, fears, prayers and insights.
The book includes short informational passages on mothering, taking care of, preparing for and bonding with that little one. They also draw the mom-to-be into a closer relationship with God and undergirds the relationship between husband and wife. The book also includes Scripture, prayers and insights.
A great gift for that mom-to-be.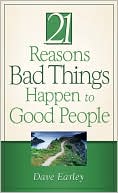 21 REASONS BAD THINGS HAPPEN TO GOOD PEOPLE
By Dave Earley
ISBN 978-1-60260-219-9
Publisher: Barbour
Reviewer Melanie Jones
We've all been there. Those dark places where it seems God can't reach. The aching soul that longs for answers.
Dave Earley recognizes that becoming a Christian doesn't create a life without suffering and sorrow. And it isn't against the rules to wonder why.

So Earley has asked why and searched through the Bible for answers. The result is 21 REASONS BAD THINGS HAPPEN TO GOOD PEOPLE.
At first glance, some of the topics may sound like the same meaning reworded, but Earley delves into each one and provides supporting Scripture, making each topic unique.
Working primarily from Job and Paul's letters, as well as from the life of Christ, Earley provides Biblical examples of bad things happening to good people — in the case of Christ, the ultimate good — and points out ways we can learn from them.
For example, in reason number five, To Produce Greater Intimacy with God, he reminds us the God as Christ is very familiar with suffering, having endured more than most of us will ever have to. He is a God who knows our suffering, and if we take our heartache to Him, we can grow closer to Him.
The faith factor is through the roof because the book is all about faith, the kind of faith required to come out of suffering with our hope in Christ intact.
POWER PRAYERS FOR TEACHERS
By Denise Shumway
ISBN 978-1-60260-192-5
Barbour Publishing
Reviewer Carolyn R Scheidies
Sometimes it is easy to think we don't make a difference. Teachers, especially in a culture that has all but banned God from public education, can struggle with their purpose. This devotional brings those fears to light and encourages with twenty one short chapters with a lead in to the subject (Ex. My Faith, My Calling, My Students, My Fears, etc.) and 14 days of short but appropriate devotions with Scripture for each devotion. Starting a busy day with a devotion wouldn't take a great deal of time, but would start the day out with Scripture and a thought that just might positively impact the whole day.
Though I'm not a public school teacher, the devotions were incredibly uplifting, thought provoking and encouraging. Not only is this a must for that teacher in your life, it also would be a good guide for those who pray for our teachers.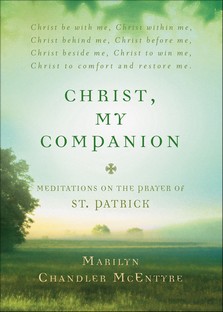 CHRIST, MY COMPANION
Meditations on the Prayer of St. Patrick
By Marilyn Chandler McEntyre
ISBN 978-0-8010-7159-1
Baker Books
Reviewer Elisabeth H. Bantz

Reflecting on the prayer attributed to St. Patrick, "Christ be with me, Christ within me, Christ behind me, Christ before me, Christ beside me, Christ to win me, Christ to comfort and restore me. Christ beneath me, Christ above me, Christ in quiet, Christ in danger, Christ in hearts of all that love me, Christ in mouth of friend and stranger," McIntyre makes some profound statements. For instance, she says: when referring to God, things we usually regard as nouns are actually verbs. So I made myself a list, and sure enough: Peace, Light, Life, Love, Bread, and Word (to name a few), really do denote an action. Cool!

I also jotted down a few memorable quotes I want to remember: "When I am aware of Christ within me, I become more aware of Christ within you." "Receive all guests as [you would] Christ." "Only in quiet can we be released from the tyranny of habit . . . [and] change our point of view to God's. We must lay aside our agendas for that to happen."

I was amazed at how many scriptural references there were to "Christ before me, Christ behind me," like Exodus 14:19-20, and I Samuel 14:13. "Christ in the lead" sets the pace for us, and "Christ in the rear" encourages stragglers. What a picture!

And her final paragraph was like icing: "God awaits us everywhere. Christ accompanies us. The Holy Spirit puts words in mouths of friend and stranger. That is the point of St. Patrick's prayer. . . . If we listen with willing hearts, we will hear him."

Do I recommend this devotional? You betcha! Faith element: off the charts.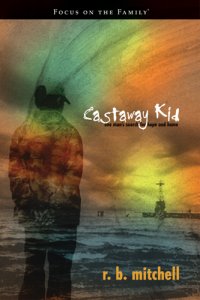 CASTAWAY KID
One Man's Search for Hope and Home
By R B Mitchell
ISBN 978-1-58997-434-0
Tyndale House
Reviewer Cynthia Hickey
Robbie Mitchell was three years old when his mother dropped him off an orphanage. Confused and scared, he spent the next fifteen years of his life looking for someone to love him. Someone who cared. Being a "castaway kid", he encountered scorn from people he met. People who expected him to be nothing when he grew up.
In the heart-wrenching spirit of A CHILD CALLED IT, Mitchell takes us deep into the emotions of a child searching for a home. Time-after-time, God places a role-model, a loving person in Robbie's path, only for Robbie to test their patience. Why can't someone love him? Why won't one of his relatives step forward and give him a place of permanence?
Through tears and groans of agony, CASTAWAY KID makes the reader aware of how society often views these "unwanted" children. Despite a troubled and difficult path, Robbie Mitchell embarks on a path to his "real" home. His "real" father. No person is ever unwanted or unloved. They just need to know where to look to receive it. R. B. Mitchell brings this fact to life.
Having been a foster parent for nine years, I encountered many children with Robbie's outlook on life. I recommend this book to every teacher, foster parent, social worker, youth leader, and child psychologist. This book should be a required read before anyone takes on the daunting task of working with troubled children.
A real eye-opener.
Castaway is definitely a 10 on the faith scale.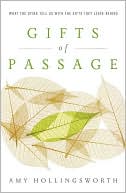 GIFTS OF PASSAGE
What the Dying Tell Us with the Gifts They Leave Behind
By Amy Hollingsworth
ISBN 978-0-8499-1920-6
Thomas Nelson
Reviewer Cynthia Hickey
Losing someone we love is difficult. No matter how you look at it. The grieving process is long and painful. How does one get through this difficult time? Do our loved ones leave something behind? Something we can see or touch?
In GIFTS OF PASSAGE, Amy Hollingsworth uses real life accounts from her loss and others to show us how to find, and hold on to, the gifts our loved ones leave us.
Hollingsworth has written a guide to help those who are grieving see the beauty in someone's passing to heaven, and to show how to see what we often can't find through our sadness.
Some gifts are physical things we can touch; others memories, feelings, a love for God. GIFTS OF PASSAGE not only helps the reader discover a gift left behind when a loved one passes, but also leaves us thinking…what will we leave behind when God calls us home?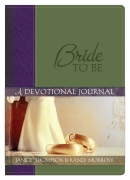 BRIDE TO BE—Devotional Journal
By Randi Morrow & Janice Thompson
ISBN 978-1-59789-640-5
Barbour Publishing
Reviewer Carolyn R Scheidies
Many of us love to journal, writing down our thoughts. What better time than those months/weeks leading up to that big day...our wedding. BRIDE TO BE offers lots of room to journal those thoughts, doubts, joys and prayers in a beautiful leather-like two-toned cover with pages that look like they came out of a wedding album.
BRIDE TO BE offers much more. Think about all those issues that come to mind as you plan for that big day and for marriage. This book addresses issues from those before to those after you say, "I do." It also includes appropriate Scripture and short prayer as well as room to journal after each subject addressed. A thoughtful gift for that special friend.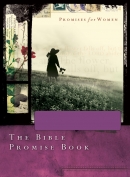 THE BIBLE PROMISE BOOK FOR WOMEN
New Life Version
ISBN 978-1-59789-682-5
Barbour Publishing
Reviewer Carolyn R Scheidies

Ever feel overwhelmed, too exhausted to search that worn Bible beside your bed, but still need answers? This book just might help. Set up much like BIBLE ANSWERS FOR STUDENTS (See Teens/YA) with an alphabetized list of subjects and verses under each, providing, through selective verses, the Biblical answer to the subject. Easy to look up just the verses needed on any number of issues.
However, the list of subjects is geared more for women than students. Unlike the simple paperback for students, this small, purse-sized volume is packaged beautifully with a soft, leather-look cover and thin Bible-like pages. Each subject also includes an appropriate quote such as this quote for FAITH from Corrie Ten Boom. "Faith sees the invisible, believes the unbelievable, and receives the impossible."
THE BIBLE PROMISE BOOK FOR WOMEN would make a precious, keepsake gift for yourself or a friend.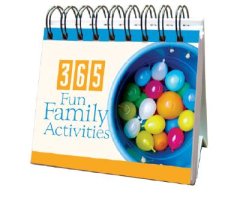 365 FUN FAMILY ACTIVITIES Perpetual Calendar
ISBN 978-1-60260-172-7
Barbour Publishing
Reviewer Carolyn R Scheidies
Have kids? Have bored kids? Have kids who spend too much time watching TV or playing video games? Too much time on the cell? Are you just plain out of ideas? Then check out this perpetual calendar. Every day offers a different activity the family can do together.
Some are fun, some education or informational.
March 24: Draw your children's attention to people with disabilities, whether physical or mental. Plan a family activity to reach out to someone who is "differently-abled" in your neighborhood, church, or school.
September 16: Go for a walk and pick up different rocks. Sort them into igneous, sedimentary, and metamorphic.
December 26: Make a scrapbook page about Christmas using leftover wrapping paper, cards and pictures.
Bring the family together with fun things to learn and do. Would make a great gift for the family.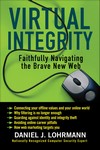 VIRTUAL INTEGRITY
Faithfully Navigating the Brave New Web
By Daniel J Lohrmann
ISBN 978-1-58743-234-7
Brazos Press
Reviewer Carolyn R Scheidies
We're solid, we have standards and we live by them—in the real world. But what happens when we get online? Who wouldl know if we surf "those" sites. And my Avatar isn't real so why not do all the things in a virtual world, I wouldn't do in real life? My online screen name doesn't really connect with who I am, so when I get ticked, I spout language I would never use in real like.
We have become an online world and with that world, too often, we've separated our integrity to the real and the virtual world. Anything goes in the virtual world. What we don't seem to "get" is that how we act online, can and will influence how we act in "real" life.
We've all heard about marriages breaking up over online porn or relationships that get acted out in real life. How long if you're unfaithful or dishonest online will it come home to roost? Potential employees have lost jobs because of online postings. (Employers DO check.)
VIRTUAL INTEGRITY takes us from what is to what can be the future. The author, an expert in his field, takes us beyond security for ID theft to the more vital integrity theft---and this we do to ourselves. But there are ways to keep ourselves people of integrity and it starts with commitment. This book offers any number of practical ways to secure our ID, ensure our children's safety and keep our selves faithful to our faith and family.
An excellent book with lots of practical suggestions, helps and links.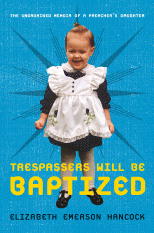 TRESSPASSERS WILL BE BAPTIZED
The Unordained Memoir of a Preacher's Daughter
By Elizabeth Emerson Hancock
ISBN 978-1-59995-708-1
Center Street/Hachette Book Group
Reviewer Cynthia Hickey
Growing up Southern. Growing up Baptist. Growing up Southern Baptist. What a combination! There's no other way that's as fun and wholesome as growing up GRITS (Girls Raised in the South).
TRESPASSERS WILL BE BAPTIZED is the memoir of Elizabeth Hancock's, detailing the riots and trials of being the "perfect" preacher's kid. Using real accounts from her childhood, Hancock presents a hilarious coming of age story that is much more than growing up. It's growing in the Lord as only a child can see it.
How can a girl be perfect when she has a daughter that won't speak, unless it entails "preaching" to her toys? How does a child question life without sounding "sassy." With quirky, true-to-life people, TRESPASSERS WILL BE BAPTIZED is a joy to read. Laugh out loud funny. True and honest, as seen through the eyes of an innocent child.
Having grown up Southern Baptist myself, with a little Presbyterian and Church of God thrown in, I enjoyed this book immensely. I had two uncles who were pastors and could completely relate. For anyone who is searching, or just wants a laugh, this is a curl up with a cup of soda book. Be prepared to laugh your heart out.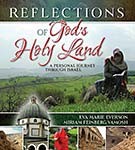 REFLECTIONS OF GOD'S HOLY LAND
A Personal Journey Through Israel
By Eva Marie Everson & Miriam Feinberg Vomaosh
ISBN 978-0-8499-1956-5
Thomas Nelson
Like Liz Curtis Higg's personal journey through Scotland MY HEART'S IN THE LOWLANDS, REFLECTIONS OF GOD'S HOLY LAND is Everson's moving and descriptive journey through Israel. The difference? This is God's anointed land where every rock, mountain and stream has Biblical history.
REFLECTIONS OF GOD'S HOLY LAND uses a mix of stunning photos, scripture, legends and personal reflections to draw in the reader.
Pg. 96: My senses—physical and spiritual—have come alive in ways I didn't know possible. My eyes and ears are treated to a wonderland of sights and sounds. My soul is stirred to a particular plane, understanding worship and its best and its worst.
Each place she visits, Everson describes the landscapes in detail as she shares with the reader her physical highs and lows, emotional responses and spiritual insights until the reader sees and feels the experience. The reader comes away with a deep sense of awe and worship. God is real. He does move in history. And, He cares for me.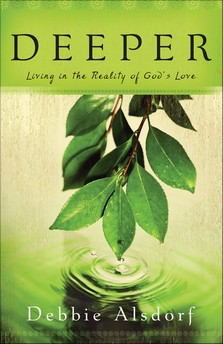 DEEPER
Living the the reality of God's love
By Debbie Alsdorf
ISBN 978-0-8007-3215-8
Revell
Reviewer Carolyn R Scheidies
Over the years, I've probably read hundreds of inspirational books, many of which have offered new insights or took me back to basics. DEEPER, the story of Debbie's faith walk from the wife of a pastor to unexpected divorce to healing as she got real with God, is one that had so much to offer I kept pen and paper handy.
How hard we try to be enough, be accepted, work hard, be a good person. Debbie points out what should be obvious to those of us who claim the name of Christ, we are not enough. We will never be enough. If we could be enough in and of ourselves, we wouldn't need Jesus. Knowing that is a relief.
Makes the difference in application: Pg. 91 It's not what you know that makes a difference, it's the choices you make based on what you know and believe.
Pg 152 Even though we are part of His glorious plan, we are still under construction. (Why do I have to learn this over and over?)
Pg 154 Believing we have value is a faith choice. ...It is recognizing a value that is not based on conditions but in God and God alone.
Pg 199 He (God) knows me.
He protects me.
He made me.
He values me.
Believing these principles leads me important choices.
Taking His side.

Loving what He loves and hating what He hates.
Choosing to live differently.
Like Debbie, we often live a Christian life on what we think others expect, rather than get real with God, recognizing our value, His love for us and loving and living for Him. This book helps us refocus on Him. Recommended.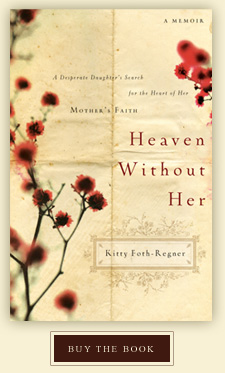 HEAVEN WITHOUT HER
A desperate daughters search for the heart of her mother's fath
By Kitty Foth-Regner
ISBN 978-0-7852-2744-1
Thomas Nelson
Reviewer Sarah Sawyer
Though raised in a Christian home, Kitty Foth-Regner was swept into the culture of the late 1960s and became an ardent feminist and a determined agnostic. The values that drove her life were pleasure, success in her career, and preserving her independence. For years, she found satisfaction in her way of life, suppressing any thoughts that there could be more.
Despite the differences between her lifestyle and that of her godly mother, they maintained a close relationship, and Kitty's mother continued to share of her faith and live it out in a way Kitty found difficult to ignore. When her mother became fatally ill, Kitty began to feel that there might be flaws in her current worldview.
A promise made to her mother on her deathbed sent Kitty on an exploration of the world's major religions. She investigated historical and scientific evidence for various religions, and consumed a copious amount of reading material from people in a variety of professional and religious fields. In the end, she came to the conclusion that Biblical Christianity was truth, and found in it the answers she yearned for.
Once she accepted this truth, her entire life changed as God moved powerfully in her, transforming her, taking away her anger at the world, and giving her the peace and freedom from fear she so desired. No longer did she fear death, and she could rest confident in the knowledge she will be with her mother again one day.
This memoir testifies of one woman's journey to faith and the power of God to change lives.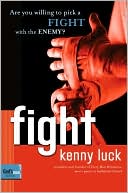 FIGHT
God's Man Series
Are You Willing to Pick a Fight with the Enemy?
By Kenny Luck
ISBN 978-1-57856-988-5
WaterBrook Press
Reviewer Melanie Jones
FIGHT is a hard read. The writing is engrossing, entertaining and informative, but it contains hard truths. In fact, author Kenny Luck's warnings that reading the book and taking it to heart places you square in Satan's bull's-eye could be enough to make you put it down.
But don't. By reading FIGHT, you may be issuing a challenge, but the book helps equip you for battle.
The men's pastor at Saddleback Church, Luck knows his audience well. He peppers the pages with military history, sports and even a bit of rock-and-roll. But everything furthers his message that God will give you everything you need to fight the battle — but the tools Satan will use most likely lie within you. To win, you have to root out every shadow of darkness within.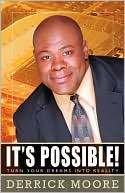 IT'S POSSIBLE
Turn Your Dreams into Reality
By Derrick Moore
ISBN 978-0-8254-3359-7
Kregel Publications
Reviewer Carolyn R Scheidies
Have you given up your dreams, found life's challenges too difficult? Moore takes us on a journey, showing how we can go from nothing to being everything God wants us to be.
Using Biblical stories and his own story of rise to the NFL, Moore explains God's principles of success. He cautions those who believe the idiom about trusting God and waiting shouldn't use it as an excuse for inaction. Nor should we get discouraged and give up when our lives don't unfold as we plan. Our lives should be all about trusting God and stepping forward as God opens doors. We'll never get anywhere if we don't act on the opportunities presented.
An interesting and readable book, firmly grounded in God's Word. For those who dream, those who've been discouraged and for those graduates just starting the journey.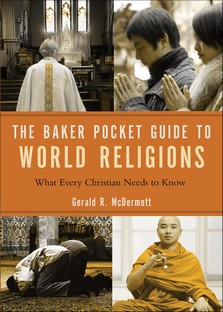 THE BAKER POCKET GUIDE TO WORLD RELIGIONS: What Every Christian Needs to Know
By Gerald R McDermott
ISBN 978-0-8010-7160-7
Baker Books
Reviewer Carolyn R Scheidies
This is a small volume, easily tucked into a purse, that packs a whole lot of information. The book takes the main religions of the world and compares and contrasts them with Christianity. It also covers Christianity, giving believers, in a short chapter, the reason for their faith and the reality of Christ and following Him.
As Christians we often dismiss religions as demonic and not worth our time to explore or understand. In doing so, we do several things: show our ignorance and arrogance, keep ourselves from discovering better ways to witness using the person's own concepts of belief, and we fail to do what is the core of Christ's approach—loving and reaching out to others where they're at.
I found this book a valuable learning tool and a good resource for beginning to comprehend why someone believes and responds as they do to the "typical" Christian witness.
(I would like to see a format where the sidebars were in a print large enough not to make me squint or use a magnifying glass.) Recommended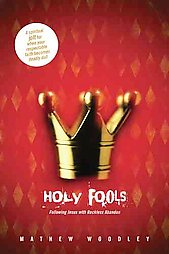 HOLY FOOLS
Following Jesus with Reckless Abandon
By Mathew Woodley
ISBN 978-1-4143-1630-7-3
SaltRiver a division of Tyndale House
Reviewer Cynthia Hickey
A holy fool. Not a very attractive or desirable term. Nobody wants to be called a fool. But what was Jesus, besides the Son of God? Not a man who stood back and kept his mouth shut, but rather a man who preached the Word without abandon. A Holy Fool. The bible is full of such people. Do we want a tepid spiritual life, or one shouting to the rafters with Christ's love?
Mathew Woodley takes us from mundane to outrageous. Our faith from lukewarm to fiery hot. But first, he makes us look to see exactly where we stand in our religious indifference. Are we a wall flower for Jesus or a fool that tells everyone we meet about him?
HOLY FOOLS makes the reader think, an often painful but necessary process. Awaken your spiritual passion with surrender and discernment. Set your soul on fire for Christ and become a holy fool.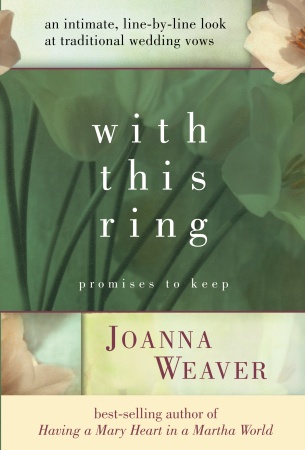 WITH THIS RING
Promises to Keep: An intimate, line-by-line look at traditional wedding vows
By Joanna Weaver
ISBN 978-1-4000-7476-1
WaterBrook Press
Reviewer Carolyn R Scheidies
Taking the wedding vows line by line, Weaver expands on them. Using Scripture, quotes, anecdotes and stories of love even through adversity, we all come to a realization of the depth of what we promise when we make our commitment before God, each other, family and friends. Some of the stories made me laugh, some brought a tear...all showed me the depth of love possible between husband and wife.
She adds ample pages for writing down memories to keep about love, wedding, life.
Vows are sacred and meant to be forever, as God's love is for us. This small volume brings us back to the core of love and what marriage is all about. A great gift for the soon to be wed as well as those already married. Recommended.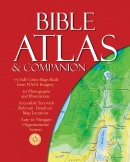 BIBLE ATLAS AND COMPANION
By David Barrett and Christopher D Hudson
ISBN 978-1-59789-779-2
Barbour Publishing
Reviewer Carolyn R Scheidies
As you read the Bible, do you have trouble visualizing the locations, where and when things happened or their context on the map, in the Bible and in the chronology of history?
BIBLE ATLAS AND COMPANION sets all this out in an easy to see, read and visualize format, from stunning full color maps to pictures of the area explained in the text. And not just any old maps, these were based on the latest NASA imagery.
The book includes lists and Bible passages and makes a wonderful companion to Bible study.
An excellent discovery for any Bible student.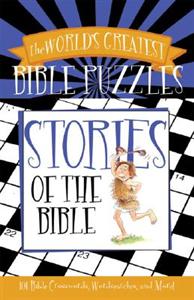 THE WORLDS GREATEST BIBLE PUZZLES—STORIES OF THE BIBLE
ISBN 978-1-60260-029-4
Barbour Publishing
Reviewer Carolyn R Scheidies
Puzzles. Some can't help themselves when it comes to doing puzzles. Some will do any puzzle. Others, like me, have their favorite types. I learned some fun new ones going through this book. No, I didn't do every puzzle, but I did some and figured out how to do all of them. Some took more figuring out than others, and, I was delighted they had my favorite type of puzzle. There were also some nice twists on some common puzzle styles
Each puzzle encourages digging into God's Word for answers, though there is an answer key when completely overwhelmed. These aren't puzzles for the younger set. Think in terms of tweens on up. But for those who like puzzles, this makes a great gift for oneself or a friend.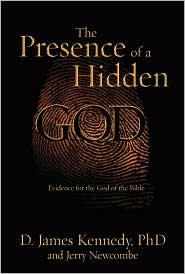 THE PRESENCE OF A HIDDEN GOD
Evidence for the God of the Bible
By D. James Kennedy PhD & Jerry Newcombe
ISBN 978-1-60142-077-0
Multnomah
Reviewer Carolyn R Scheidies
This book is a wonderful last book from D. James Kennedy, delineating the deep and abiding faith by which he lived his life, and by which he died.
In clear, easily read chapters, Kennedy and Newcombe take us from the accusations against Christianity to the reality of life in Christ. Chapters include Evidence for God, Is God Truly Hidden?, How to Know God, Doubts About God, If God is Love, Then Why... and many other thought provoking chapters.
Pg. 15 ...this world was made with a purpose and that purpose was mankind.
Pg. 39 Atheism not only makes life cheap, but it derives it of any meaning of significance.
This book is for those who need to be reminded of who we are in Christ, for those who are questioning, for those who witness to others and for those who are searching. Makes a good gift and a good addition to any library.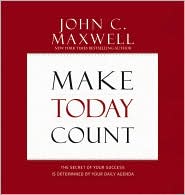 MAKE TODAY COUNT
John C Maxwell
ISBN 978-1-60024-180-2
HachetteAudio
Reviewed by Elisabeth H. Bantz

If you'd rather listen to a book on SUCCESS than read it, this is for you. True success is based on wisdom from God, and the decisions you make based on that wisdom.

The first CD begins: "Your agenda determines your success," and continues with simple yet profound words of wisdom like, remove negative words from your mouth, and replace them with the appropriate ones. And express gratitude always. The second CD expounds on the wisdom of putting your family before success in the workplace. Instead of giving THINGS to your family, devote your TIME to them. And invest your money wisely. Maxwell suggests 10% to God's work, 10% to investments, and 80% to live on. The third CD discusses faith and success. We all have faith in something, but is it faith in the truth or untruth? A weak faith will be weakened by catastrophe, but a strong faith will be strengthened by it.

The purpose in this life is not "to have and to hold," but "to give and to serve." Our purpose is to add value to others. Treat everyone with respect. In doing so, it adds value to ourselves, for we cannot give what we do not possess. Be generous before you become prosperous; THAT'S SUCCESS.

A modern Book of Proverbs, I recommend this faith-filled and Bible based audiobook.
LIFE IS A GIFT
By Bob and Judy Fisher
ISBN 978-0-446-19636-9
FaithWords
Reviewer Melanie Jones
I confess. I didn't want to read LIFE IS A GIFT. Face it, with a subtitle like INSPIRATION FROM THE SOON DEPARTED, you know it isn't going to be a happy, fun read.
But within one chapter, I got over it.
The Fishers interviewed 104 hospice patients and their families for this book. They make it clear from the outset that none of the 104 lived to see the book's publication. Yet the book isn't about death and dying. The book is about living. The hospice patients talk about regrets — or the lack of them. They talk about the importance of loving your family while you can. About the importance of forgiveness. The promise of Heaven.
That's not to say I didn't leave the book with a few soggy pages. In fact, to confess again, there was one element I couldn't make myself read: Lyrics written in honor of a 5-year-old girl dying of a painful nerve disorder.
The faith element is strong with Scripture to back up much of it. However, some portions are presented in the interview subjects' words, which left me with concerns about a message of works-based salvation.
LIFE IS A GIFT comes with two warnings: One, some parts may break your heart; two, the whole book will change your outlook on life.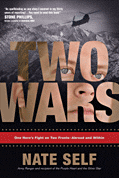 TWO WARS
One Hero's Fight on Two Fronts—Abroad and Within
By Nate Self
ISBN 978-1-4143-2009-0
Tyndale
Reviewer Carolyn R Scheidies
He won medals for heroism and yet returns home conflicted, not about his duty or loyalty, but with the immense difference between being a soldier at war and a citizen at peace. Where does faith fit when men, young men, died under his command, when a mission goes horribly wrong, when one as a Christian must not hate, but wage war and kill nonetheless? This is his story.
Nate is a young man with dreams of the military. He graduates from West Point, marries his teen sweetheart and begins his life as a soldier. He is good. He's a ranger, the best of the best. Nate seeks to be the best at what he does as a soldier and commander, as a husband and eventually a father and as a Christian. For any soldier it becomes difficult to switch between war readiness and the normalcy of family life. But after 9/11 everything changes and Nate finds himself in Afghanistan leading his men into battle to rescue a Navy SEAL. The battle that takes a toll on both body and mind makes him a hero to his government and the media. But the battle doesn't stay on the battlefield.
Eventually, weary of war, Nate closes down to the still small voice of God inside and ends his military career. It is then he wages another war one he fears will drive away his wife and family, the war against Post Traumatic Stress Disorder. Only his wife and family don't abandon him. He discovers God hasn't either. Broken, Nate, with Julie at his side, begins the road back to healing for himself and their marriage.
A close up of war and the men who fight not only for their country, but for their very soul. Definitely well worth the read.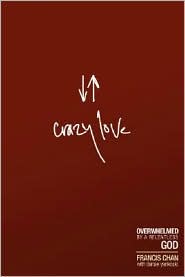 CRAZY LOVE
Overwhelmed by a Relentless God
By Francis Chan
ISBN: 978-1-4347-6851-3
David C. Cook
Reviewer Kay Tira
Challenging, refreshing and face-slapping, CRAZY LOVE is Francis Chan's postmodern wake-up call to the American church. Chapters begin with "Stop Praying" and conclude with "The Crux of the Matter," alerting the reader to the need to replace lukewarm religion with pure relationship and worship of the Creator Who loves with a crazy love.
"I wrote this book because much of our talk doesn't match our lives," writes Chan (p. 166), in his fresh but ancient message that calls his readers to a genuine response. With Scripture, straight talk, on-line videos and mini-biographies (profiles of the obsessed) Chan presents a winning combination of challenge and encouragement.
Great read.
WHERE DID I LEAVE MY GLASSES
The What, When, and Why of Normal Memory Loss
By Martha Weinman Lear
ISBN 978-0-446-58059-5
Wellness Central Publishing
Reviewer Cynthia Hickey
What a relief to discover that walking into a room and wondering why you are there is a normal part of the aging process! Who is that woman across the room? Should I know her? What is her name?
With humor, statistics, scientific facts, and clarification from doctors, Martha Weinman Lear leads us through the reasons our memory lapses after the age of thirty. WHERE DID I LEAVE MY GLASSES? gives us practical and fun ways to stimulate the memory part of our brain. With exercises, both mental and physical, we can learn how to retain the information our brain stores in order to prevent "overload."
Although not classified as "Christian," WHERE DID I LEAVE MY GLASSES is a thought-provoking, informative resource book written in layman's terms. A wonderful read for anyone approaching the magic age of thirty and beyond.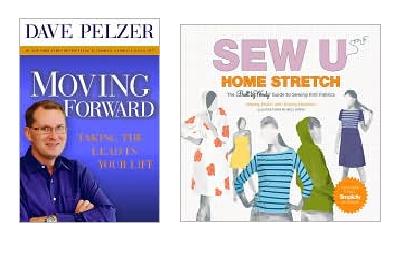 MOVING FORWARD
Taking the Lead in Your Life
By David Pelzer
ISBN 978-1-59995-065-5
Center Street
Reviewer Carolyn R Scheidies
If there is someone who has the right to tell us how to get on with life, David Pelzer certainly does. If you haven't read his story which began in the book A CHILD CALLED "IT" you are missing out. That book begins his story of incredible abuse to finally rescue and learning to live life. In this book he shows the reader how to deal with the past, leave it behind and move on.
Wallowing in the past, in abuse, in mistakes, in guilt, in bad choices, leads no place. At some point if we want to become the person God created each of us to be, we need to decide to deal with the crud and move on. If Pelzer can do it, anyone can and that includes each one of us.
Told with honesty and humor as well as slices of his past, Pelzer helps us reach for the life we can live, are meant to live, a life that inspires as it satisfies. This might be my favorite book of his, though it wouldn't have had the same impact had I not read most of his other books. Nevertheless, this book does stand alone. Worthwhile read.
For those who prefer the audio version. I recommend,
MOVING FORWARD
Taking the Lead in Your Life
By David Pelzer
ISBN 978-1-60024-228-1
HachetteAudio
Though the text may be the same, different things "jump" out when I listen rather than read. In the audio version over and over the message was clear. Deal with your problems, with counseling if needed, but don't use your problems as an excuse not to let go and move on to do something positive with your life. Don't be a victim. Your have the power to choose. Choose to move on, be kind, reach out and help others. Don't waste your life. Good advice!


SEW U: HOME STRETCH
The Built by Wendy Guide to Sewing Knit Fabrics
By Wendy Mullin with Eviana Hertman
ISBN 978-0-316-11837-8
Little Brown and Company
Reviewer Carolyn R Scheidies
Love those T-Shirts? How about T-Shirts and other comfortable, stretch knit clothing that actually fits and is fun to wear? Think you can't create them on your own. SEW U: HOME STRETCH shows just how wrong that assumption can be.
With a few included patterns and some basic and practical information and directions, the author shows how to created a whole lot more than the basic T-Shirt. With her instructions, some basic equipment (though a sewing machine will do, a serger works better) and a creative mind, even the novice sewer can go from T-Shirts to hoodies to a variety of tops, skirts, dresses—all with a few basic patterns. And, I repeat, those patterns are included.
The author also shows how to recycle those comfortable knits and fleeces you already own. Get this book today and have a whole new wardrobe in a very short time.
This book is a keeper for anyone with that itch to stitch.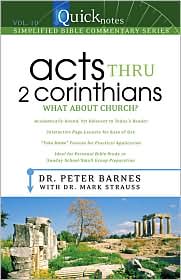 ACTS THRU 2 CORINTHIANS Vol 10—WHAT ABOUT THE CHURCH
Quick Notes: Simplified Bible Commentary Series
Dr. Peter Barnes & Dr. Mark Stauss
ISBN 978-1-59789-776-1
Barbour Publishing
Reviewer Carolyn R Scheidies
This isn't some heavy, hard backed, hard to comprehensive, exhaustive treatise on God's Word. This is an overview that helps us understand the basic message of the passages and provides practical applications as well as thoughtful questions.
This series makes wonderful Bible studies for Sunday School or other discussion groups as the book brings us back to the authority of THE WORD. I used it during my morning quiet time and found it helped give a good start to my day.
As in other books in this series, the format helps the reader stick with it by breaking up information into "bites" such as overview, explanation of the passage and broken up with Critical Observations and Demystifying the passages, finally a Taking it Home section providing the key observations from the passage.
This series is a winner for those who want more than a shallow knowledge of God's Word.

MILLIONAIRE BY THIRTY
The quickest path to early financial independence
By Douglas R Andrew, Emron D Andrew, Aaron R Andrew
ISBN 978-1-60024-149-2
Hachette Audio
Reviewer Carolyn R Scheidies
There is lots of information on these CDs. The Andrews go through any number of scenarios for building wealth, many counter to prevailing wisdom. Do they work? According to Douglas, he didn't give his sons wealth, just a good start and information. According to him, using this system, they became millionaires—and neither has reached 30 yet.
I do like that he balances monetary wealth with what he calls the "real" wealth of family and giving back. The system certainly seems to work for some, but it does have its detractors (
http://www.dougthorburn.com/reviews.html
). Truth? I don't know, but I'm not an expert. I do think some of the ideas have merit. But, like any "big" decision, financial decisions need examination and competent advice.
If I have a problem with the CDs, it is the almost constant suggestion to get further information from the web site. That said, this book might at least get the younger set to realize that saving and investing may have more long-term merit than squandering money on things gone tomorrow.